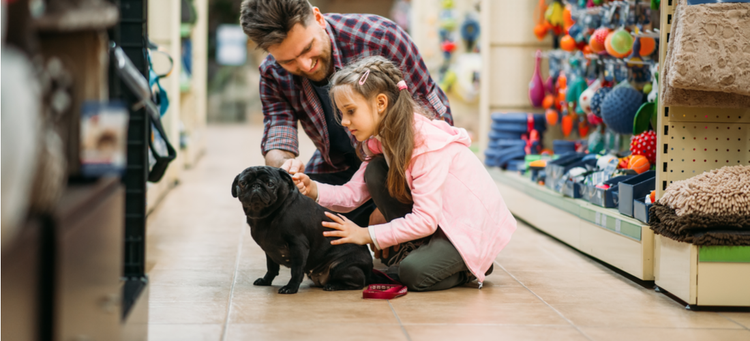 Pet Expenses: Can You Afford a Pet?
Pet parenthood is a big business. In 2020, American pet owners spent more than $100 billion on their furry, feathered, and scaly family members. That number is expected to rise in 2021 as more people adopt their first pets and the nation's 85 million pet-owning households continue to purchase essentials, pay medical bills, and splurge on the occasional gift.
Pets Cost More Than You Might Think
According to a Credit.com survey, the majority of pet owners underestimate how much they'll need to spend both in the first year of pet ownership and throughout their pet's lives. The site's data suggests that average pet costs total around $1,000 each year, but a majority of respondents believed they'd need to spend closer to $500.
American pet owners aren't the only ones who tend to miscalculate potential pet costs. A poll conducted across the Atlantic by the UK-based People's Dispensary for Sick Animals (PDSA) found that a whopping 98% of respondents didn't know how much owning a pet could cost. While the organization's data estimates the lifetime cost of a cat or dog could top $42,000, most respondents predicted to pay no more than $6,445 over their pet's lives. More than 10% believed their lifetime expenses would not exceed $644. That hefty price tag may frustrate pet owners, but it doesn't seem to discourage them. 93% of PDSA survey respondents said that their four-legged friends made them happier despite the costs and occasional stress.
Even if it's money you'd happily spend, it's best to gain a thorough understanding of pet parenthood's financial side before making a commitment. "A pet isn't an impulse purchase," notes American Kennel Club (AKC) judge Sandy Weaver. She urges prospective pet owners to carefully reflect on their financial readiness and find a pet to suit their lifestyle. Failing to prepare could lead to financial struggles over a pet's lifetime and could force you to relinquish your pet to a shelter later in life, a heartbreaking and potentially traumatizing experience for the both of you.
Purchase or Adoption Costs
If you're set on a particular breed, be prepared to do your research and potentially pay thousands of dollars to a breeder. Your breeder may use part of this fee toward early-life medical expenses and other necessities during a pet's early weeks and months.
Adoption fees will vary depending on where you live and where you go. You may find an opportunity to welcome a pet home for free or for just a small donation. In other instances, fees could total in the hundreds. PetFinder notes that a high adoption fee could actually end up saving pet parents money. In addition to helping keep adoption centers open, these fees often go toward ensuring pets are fed, vaccinated, and spayed or neutered.
More One-Time Pet Expenses
Your initial fee may not cover all of the one-time expenses that puppies and kittens bring. Core vaccinations against diseases like calicivirus in cats and canine distemper in dogs can set pet parents back around $100. Optional shots against rabies and bordetella (which your vet may recommend) cost closer to $20 on average. Unless you're planning on breeding your pet, you'll likely want them spayed or neutered. That medical bill could add up to around $200, though lower-cost options may be available.
That's not to mention gear like collars, leashes, identification tags, crates, carriers, water bowls, food bowls, beds, and toys. Altogether, the team at Credit.com estimates that one-time expenses for dog owners range from $381 to $1,030 and that one-time feline expenses are slightly lower, between $340 and $900.
Some of those expenses aren't really one-time costs at all. Pets may outgrow collars, chew through toys during the teething process, or make a bed unusable through years of wear and tear. Survey data from the American Pet Products Association (APPA) found that cat owners spend an average of around $30 on toys alone each year. Dog-owning households spend nearly $50 annually on bones, balls, and other diversions.
Food and Treats
Food isn't a category where you should seek out budget buys, advises Weaver. "The basic rule of thumb," she notes, "is the more you pay for food, the less you'll pay at the vet." She elaborated by noting that a poor diet can contribute to chronic health conditions including "skin and coat problems at a minimum" and life-shortening diseases like cancer in more extreme instances. The APPA reports that dog owners spend $259 on average each year while cat owners spend $228. Certain health conditions may necessitate a special diet for pets and extra spending on foods and supplements.
Treats aren't just useful as snacks. Chewing on certain treats is helpful for discouraging tartar buildup (and avoiding unexpected dental fees) and pet parents can use any type of treat to aid in the training and bonding processes. Per the APPA's 2019-2020 National Pet Owners Survey, they cost dog owners an average of $76 and cat owners an average of $58 yearly.
Routine Medical Expenses
Each year, dogs and cats make an average of 1.5 and 0.7 trips to the veterinarian respectively. Kitten and puppy parents, however, will likely head to the veterinarian more regularly, especially during their pets' first year. Jamie Thomas, executive director of Washington-based Motley Zoo Animal Rescue, suggests that puppies should visit their doctor four times during year one and that kittens should make 2-3 visits. Speaking to U.S. Weekly News & Report, she advises pet owners to budget at least $150 for routine veterinary appointments. This sum can cover expenses associated with fecal examinations and vaccine boosters, but owners may need to spend more on care for aging pets with medical conditions.
Preventive treatments against parasites like fleas, ticks, and heartworms should cost around another $50/month, though pet parents in high-risk areas may spend even more to keep pets safe. Between preventive care and other recurring costs, the APPA survey reports an average of $212 in annual routine costs for dogs and $160 in annual routine costs for cats.
Emergency Medical Expenses
It's probably not the first thing on your mind when you introduce a new pet to the family, but pet health emergencies can strike at any time. One in three of the nation's pets experiences one every year and the ordeal means unexpected costs for their owners. On average, a trip to the veterinary emergency room will lead to a bill between $800 and $1,500. Claim data from pet insurance providers confirms that broken bones, foreign body ingestion, and other serious medical mishaps can cost much more, particularly for uninsured owners.
Pet Insurance
To help manage the above medical costs, some pet owners purchase insurance policies for their cats and dogs. Costs and coverage details vary from provider to provider. A basic plan covering expenses related to accidents and injuries alone, for example, might be available for a premium under $20/month. More comprehensive plans, such as those offering reimbursement for routine care, prescriptions, or alternative therapies will likely cost much more. Rates and eligibility will depend on factors including breed, age, and ZIP code. Coverage is generally less expensive for puppies and kittens, and preexisting conditions are almost never covered. Discuss pet insurance with your veterinarian during your initial visits to better determine whether a policy makes sense for your pet and pet care budget.
Annual Costs of Owning Fish and Small Mammals
Want a list of average costs for fish, guinea pigs, and other types of pets? The American Society for the Prevention of Cruelty to Animals (ASPCA) has you covered with this detailed annual pet expense chart. Here's a quick summary:
Rabbits ($477.80/year on average)
Guinea Pigs ($304/year on average)
Ferrets ($573.80/year on average)
Small Birds ($317/year on average)
Fish ($27/year on average)
Cost-Saving Tips for Pet Owners
With hard work and creativity, it's possible to provide everything a pet needs to thrive on a limited budget. Need some inspiration? Check out these cost-saving tips.