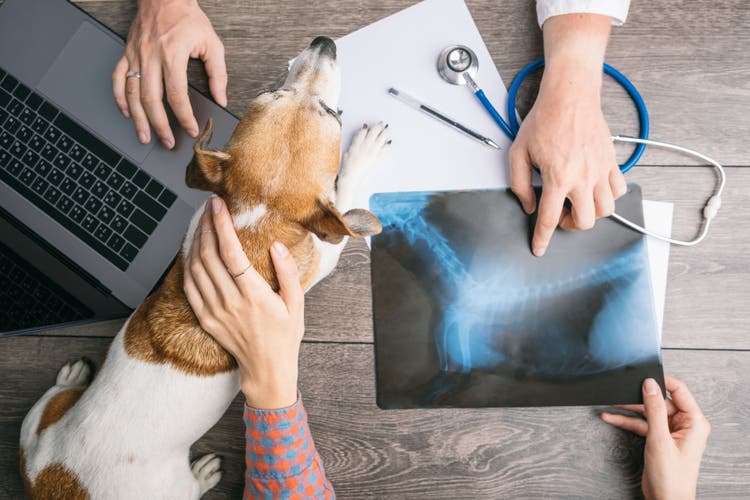 Pet Insurance: What It Covers & What It Doesn't
Pet owners can face a dilemma when it comes to offering their pets the best veterinary care. We all love our pets and want our pets to live the healthiest and happiest lives possible, but many times we have to make difficult choices due to the high cost of veterinary care. Unfortunately, pets get sick and accidents happen. Even the most cautious pet owner in the world who takes tremendous care of their beloved pet is susceptible to their pet falling ill or having an accident that requires an unexpected visit to the vet. Wouldn't it be great when these unforeseen, unfortunate things happen to your pet if you could make the decisions regarding your pet's health absent of the financial demands the care will cost you?
Good news! You can, with pet insurance.
Pet insurance is a somewhat new concept that is starting to gain more and more popularity as pet owners continue to learn about its one-of-a-kind value. How does pet insurance work? Pet insurance is similar to the health insurance we all have. Different providers will have different processes and methods, but for the most part, all pet insurance providers feature a similar structure. A pet owner will pay a monthly premium to an insurance provider. This premium is usually a reasonable price, ranging anywhere from $20-$45 per month. Then, varying based on the amount of your monthly premium, pet owners will have a set deductible. This number usually falls somewhere between $100-$300.
How it works is once your veterinary expenses for a year eclipses your deductible, your pet insurance provider will cover the remainder of your veterinary bill. With pet insurance, if your beloved puppy unexpectedly requires an $850 surgery, you no longer have to crunch numbers to decide whether you can afford to cough up the hefty sum to pay your veterinary bill. Instead, you would just pay up to your deductible, and your pet insurance provider takes care of the rest. How awesome is that?
Sound a little too good to be true? You may be thinking that there is a hidden catch. There isn't. However, it is important to know what your pet insurance will cover. So we wanted to put together a quick guide to lay out some of the things that pet insurance covers, and some of the things that it doesn't.
What Pet Insurance Covers
A common misconception about pet insurance is that it's very limiting in its coverage. While pet insurance doesn't cover every pet-related thing you can think of, it covers a great deal of stuff. Coverage typically includes:
Illnesses: As pet owners know all too well, an illness for your pet can pop up out of nowhere. Whether your dog is having digestive issues or if your kitty has lost her meow, your pet's illness is covered by pet insurance.
Accidents: There are few more nerve-wracking times in raising a pet than when your pet experiences an accident. With pet insurance, you're able to think only of your pets well being, as accidents are covered.
Preventive and Wellness Care: There's a whole list of things you can do for your pet that will limit the likelihood that they require veterinary care. Preventive care is covered by pet insurance, so your pets can take advantage of annual exams, vaccinations, deworming, dental cleanings, and more.
Chronic Conditions: Chronic conditions are things like allergies, diabetes, and cancer. With pet insurance, your pet is covered and can receive treatment for these chronic conditions.
Some Behavioral & Alternative Therapy: Some insurance companies and plans will extend coverage for your pet to receive behavioral and alternative care. These types of care often require exams, testing, and medications, which are also covered.
What Pet Insurance Doesn't Cover
As you learned above, pet insurance covers a whole lot of pet-related expenses. There are a few things that pet insurance won't cover. They include:
Inhumane Treatment: As troubling, sad, and difficult as it is to comprehend, animals are occasionally abused and mistreated by their owners. Injuries caused by mistreatment are not covered by pet insurance providers. They are also illegal. If you see or discover someone is mistreating their animal, you should report them to the authorities for the protection of the animal.
Pre-existing Conditions: As is the case with many health insurance plans for people, pre-existing conditions are not always covered by pet insurance providers. If your pet has been diagnosed by a vet prior to obtaining insurance, any expenses related to that diagnosis may not be covered. Some pre-existing conditions are treated differently than others. If your pet has a pre-existing condition, check with your vet and your provider for eligibility. Different providers will have different language and waiting periods for when a prior diagnosis is no longer considering pre-existing.
Pet insurance is an excellent option for pet owners. Without having to stress about the high price of providing your pet with all the veterinary care they require, your pet will leave a happy and healthy life. And, you'll live a happier life armed with the confidence that you'll be able to provide your pet with care if an unforeseen illness or accident occurs. Want to learn more about pet insurance? Check out these articles that pertain to pet insurance for dogs, or these articles that relate to pet insurance for cats.
Is Pet Insurance Right For You?
Can you afford a $1,000 vet bill? Medical care for pets, including emergency care, diagnostic tests and treatment options, is becoming increasingly more sophisticated and more expensive.
Did You Know? 4 out of 5 pets will have a medical emergency in their lifetime, and every six seconds a pet owner will face a veterinary bill of $1,000 or more.
Visit PetPartners and get a quote today to see if pet insurance is right for you.