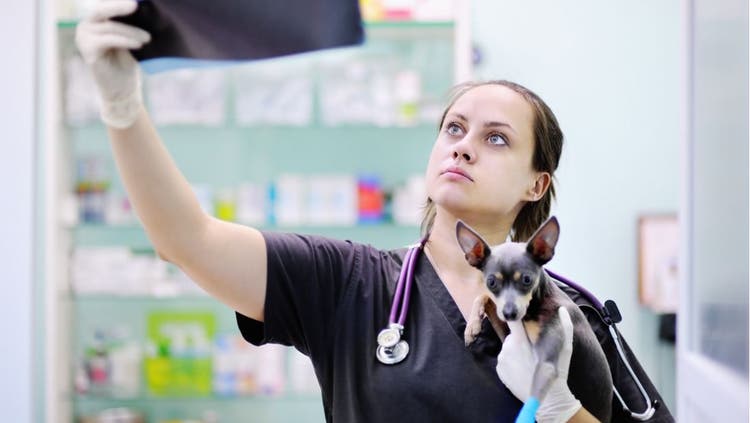 How to Become a Veterinary Technician
What is a Veterinary Technician/Nurse?
A Veterinary Technician (as they're known in the United States) or Veterinary Nurse (as they're known in the rest of the world) is a person who has been trained in animal care, laboratory and clinical procedure, and pathophysiology. They perform a variety of nursing duties under the supervision of a veterinarian. Many of these tasks are similar to those of human nurses, including examinations, obtaining medical histories, helping doctors with procedures, assisting in surgery and monitoring anesthesia, taking radiographs, drawing blood, running lab tests, administering medications, and educating clients on caring for their pets at home. Technicians are able to do many of the same things veterinarians do, however, they are not allowed to diagnose diseases, prescribe drugs, or perform surgery.
What are the Educational Requirements for Veterinary Technicians?
Most states require individuals to be credentialed to work as a veterinary technician, however, a few states allow individuals to practice as a veterinary technician without certification. Different states have different requirements for credentialed veterinary technicians, but the main three are:
Graduation from a program that is approved by the American Veterinary Medical Association (AVMA)
Passing score on a credentialing exam
Keeping up to date on the Continuing Education required for your state to maintain certification.
College Programs
Veterinary Technicians have to complete a 2 year Associate's Degree or a 4 year Bachelor's Degree in Veterinary Technology. Required courses include Anatomy, Physiology, Pharmacology, and Clinical and Lab Procedures. They also take specialized nursing courses in things like Surgical Nursing, Emergency Nursing, Research Animal Nursing, and Large Animal Nursing. Students will have hands-on experience nursing animals, often in conjunction with local animal shelters. In the last year of education, students do externships and work in animal hospitals alongside seasoned technicians.
The AVMA accredits programs that meet the standards it has laid out for appropriate technician education. Find a list of accredited programs here.
Veterinary Technician National Examination (VTNE)
Once a student has graduated from their program they are considered '"license eligible," meaning they need only pass their credentialing exam to obtain a license. The VTNE is given 3 times a year and is a standardized test for veterinary technicians. Once you have passed the test, you must apply to the appropriate governing board for your state to give your credentials.
A veterinary technician preps a dog for surgery.
What Types of Credentials Are Available?
Certified Veterinary Technician (CVT). Certified Technicians are credentialed through a private governing body, usually their state veterinary technician association. Certification is not required by the government and is voluntary. States that certify technicians include:

Arkansas
Arizona
Colorado
Florida
Idaho
Illinois
Massachusetts
Minnesota
Montana
Mississippi
New Hampshire
New Jersey
Oregon
Rhode Island
Pennsylvania
South Carolina
Vermont
Wisconsin
Wyoming

Registered Veterinary Technician (RVT). Registration is basically a list of technicians that is kept by a government agency. It differs from licensure in that technicians may not need to be registered to practice. States which register technicians include:

California
Indiana
Iowa
Kansas
Louisiana
Maine
Maryland
Missouri
New Mexico
North Carolina
Ohio
Oklahoma
South Dakota
West Virginia

Licensed Veterinary Technician (LVT). Licensure is permission given to an individual to practice by a governmental agency. Licensure is required by the state and there are strict guidelines that must be followed to keep your license in good standing. States that license technicians are:

Alaska
Alabama
Delaware
Georgia
Michigan
Nebraska
Nevada
New York
North Dakota
Tennessee
Texas
Virginia
Washington
What Continuing Education is Needed to Maintain Credentials?
Once you have earned your credentials, you are required to keep them up to date. The governing body that you received your credentials from will have guidelines about how many CE (continuing education) hours you need to have to stay certified. There are quite a few ways to complete your hours, including: attending conferences in person, attending online classes, and even by reading journal articles. The amount of CE hours greatly varies from state to state.
What is Veterinary Technician Specialization?
Some technicians find that they want to focus in specific disciplines, so they get their Veterinary Technician Specialty (VTS) certification. Getting your VTS means that you have met rigorous standards and have proven advanced skills and knowledge in your discipline. It is not a simple process and takes years of work to be able to apply to take the exam. You must work in your chosen field for 3-5 years after becoming a credentialed technician, prove that you have the advanced skills needed for your specialty, receive multiple letters of recommendation, and collect over 50 case logs and written case reports that showcase your advanced knowledge and understanding of the specialty. Once you have passed the application process, you are allowed to sit for the yearly exam. Passing the exam is the only way to get your VTS. Find a list of specialties here.
Credentialed veterinary technicians have gone through an immense amount of training to be able to appropriately take care of animals. They work hard to make sure their patients get the care they need to live happy and healthy lives. Being a veterinary technician is a very rewarding career choice that has great benefits for pets, pet parents, and pet enthusiasts.