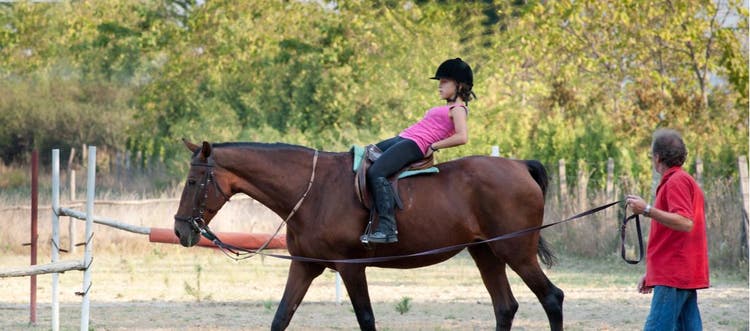 What is Equine-Assisted Therapy?
The majestic horse isn't just for cowboys, race jockeys, and little girls dreaming of riding a show pony. Equine-assisted therapy (also known as hippotherapy or therapeutic horseback riding) is gaining attention as an alternative to traditional therapies for rehabilitation and individuals with special needs.
Who Can Benefit from a Therapeutic Horseback Riding Program?
If you're an animal lover and have been around horses, you may have felt their strong, yet gentle and peaceful, presence calm your mind. Horses are incredibly intuitive creatures and very sensitive to touch, sound, smell, and sight. That is why even a first-time rider can change a horse's walking direction just by looking at the desired location.
Therapeutic horseback riding programs are designed to bring a horse and human together to work in tandem, improving the riders physical and emotional strength. The program's purpose is to assist individuals with cognitive, physical, and/or emotional special needs. Its supporters claim these activities may be beneficial for those with stroke, autism, developmental delay, learning disabilities, traumatic brain injury, cerebral palsy, and multiple sclerosis.
According to PATH International, the organization that certifies instructors and promotes therapeutic equine-assisted activities, "Throughout the world, there are thousands of individuals with special needs who experience the rewarding benefits of horseback riding. A disability does not have to limit a person from riding horses. In fact, experiencing the motion of a horse can be very therapeutic. Because horseback riding rhythmically moves the rider's body in a manner similar to a human gait, riders with physical disabilities often show improvement in flexibility, balance and muscle strength."
The program, which began over 50 years ago, has broadened to not just include those with special needs, but at-risk youth and trauma survivors, such as veterans suffering from PTSD.
What Activities Does the Program Offer?
With safety as the utmost priority, the horses in the program are carefully selected for their temperament and go through extensive training in order to serve as a therapy horse. In hippotherapy, the program focuses on how a horse's movement helps the rider. In therapeutic riding, the program consists of 'mounted' riding lessons and 'unmounted' sessions, which teach hands on essential horse care to develop and further strengthen the horse-human bond, as well as confidence and self-esteem.
For mounted sessions, a new rider is generally assisted by three specially trained staff or volunteers for safety: two sidewalkers who walk alongside the horse, and a horse leader who literally leads the horse by a leadline. Mounted lessons are supervised by a seasoned instructor who has ample coaching experience, and is trained in working with various disabilities. Some may have physical or occupational therapy experience as well. The rider learns proper form, basics of riding (such as changing direction), how to stop a horse, trotting, cantering, and other skills depending on their abilities.
Unmounted activities often take place in the barn or a classroom. Participants learn about good horsemanship, which includes grooming (done in a particular sequence and involving physical movement), fine motor skills, and following a routine. Other lessons may be on basic equine anatomy, equine nutrition, first aid, identifying types of horses, different riding styles, and assisting in tacking up a horse for a mounted lesson. All of these activities are tailored to the participant's abilities.
What Are the Benefits?
Benefits for participants may vary depending on their diagnosis and abilities. Perhaps the biggest advantage of equine-assisted activity is that even the most severely disabled riders receive the opportunity to enjoy being outdoors, participating in a recreational activity. Many of these activities involve group learning, adding an element of social interaction as well. This type of setting can help develop relationships with others, unlike one-on-one traditional therapy sessions.
Physical benefits from therapy riding and unmounted sessions may include improved strength, endurance, balance, coordination, posture, and mobility. Since horses communicate with their body language, requiring riders to focus, the program can strengthen concentration, awareness, verbal communication, and stress-management skills, which helps immensely, since horses prefer a calm companion.
Best of all, with each successful and enjoyable session, students gain confidence, trust, and a sense of empowerment. If you are interested in learning more about therapeutic horseback riding, read through some of these testimonials and search the directory for a certified center near you.