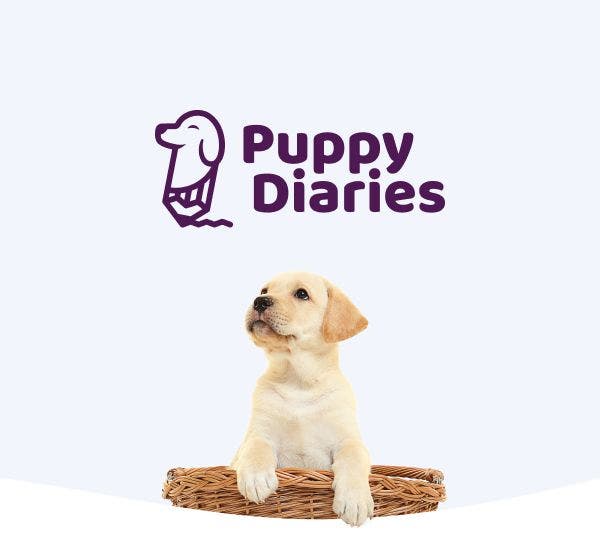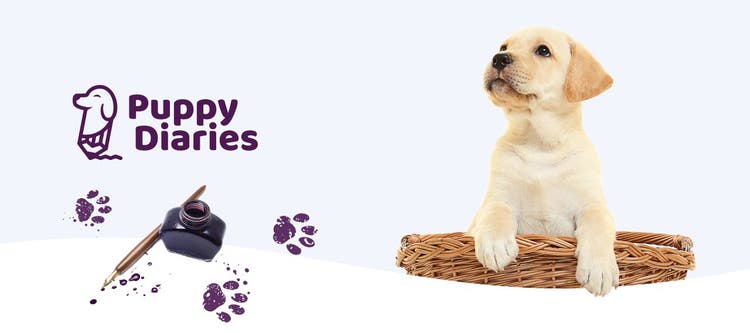 Can We Get a Puppy?
In 2018, PetPlace introduced readers to Laura Tiebert and her dog, Sommer. Over twelve installments, the Puppy Diaries series shared the ups and downs of first-time pet parenthood, including tips on diet, environment, and exercise for young dogs.
Good news: the series is back for 2021! Check out the first diary entry from the newest pup mom, Anne Stauff, her family, and their brand new Golden Retriever, Eddie.

Meet Anne and Eddie
Hello everyone! My name is Anne Stauff and I am thrilled to be PetPlace's newest "puppy diarist." I am originally from Erie, Pennsylvania, but have made Wilton, Connecticut my home for the past 15 years.
Our family of 4 (husband Joe, college sophomore JR, and high school senior Maeve) recently welcomed home a new Golden Retriever puppy who you're about to meet. The year 2020 has been a super ruff one for everyone, however, it brought Eddie into our lives and we can't wait for you to join us on our puppyhood adventure for the next 12 months!
Can We Get a Puppy?
My two teenagers have been home with me in quarantine since March 5th. For most of the spring and summer, they both lobbied hard for a puppy. Since I assumed my son would be going back to school in August, I thought I'd be able to put him off. Then we learned that he would not be going back to school for the fall semester as Yale sophomores won't return to campus until February of 2021.
In a moment of weakness I caved, saying, "Ok, let's get a puppy." I only agreed, however, on the condition that the kids would handle all the work. I thought this would discourage them, but I was wrong. In September, they found a rescue puppy named Eddie. My Dad (Ed, Fast Eddie to his friends) passed away from ALS last year. He spent his last few months in Connecticut with our family. It was a gift to have that time with my dad and it seemed like fate that this puppy was named Eddie. We lost out though. There's a puppy shortage in America and another family was quicker to claim him!
Bringing Eddie Home
That really accelerated the work that went into finding a puppy. During one late-September day, the kids spent 8 hours calling and emailing breeders, shelters, and adoption centers. We were vetted and accepted at several different rescue organizations, but were about 130th on the list for a puppy!
One breeder in Central PA finally reached out regarding a female Golden Retriever. As we had previously owned a Golden named Maisy, we knew the breed well. It helped that we instantly fell in love with her photo too! After talking to Melvin the breeder, we verbally committed and sent him a down payment that night. We heard from Melvin on and off for the next few weeks: he kept us up to date on her visits to the vet and ensured us she was happy and healthy.
On Saturday, October 17th, my son and I made the 4-hour trek to Lancaster, Pennsylvania to pick up our new puppy. Her name was Bella, but I had my heart set on Eddie. Since she was only 8 weeks old, we immediately started calling her Eddie. We pulled up next to a horse and buggy (Lancaster's in Amish Country) and saw Eddie playing with another littermate. It was honestly the cutest scene you can imagine! We met her mother as well as Melvin and his wife, who we could tell really loved these pups.
Eddie slept on my son's lap the entire way home. I had read so much about puppies getting motion sickness that I was fully prepared for some vomiting, but she was perfect! We stopped a few times for her to pee and we discovered what a "chick magnet" a cute Golden Retriever puppy can be!
Once we were home, Eddie settled right in. I created a pen by my side of the bed for her first night and took her out to the yard twice. I have a bunch of windy stairs in my house and was very afraid of tumbling down the stairs in the dark, but we made it! She didn't cry or whimper much during the night and so far she's made a perfect addition to the family!
Tips and Tricks: Safely Searching for Pups Online
Like all members of Generation Z, my kids rely on the internet far more than word of mouth. Rather than asking around, they went online and searched "Golden Retriever puppies near me." I wasn't thrilled to learn that they'd given out my phone number to so many people, but we only received one phone call in return.
The internet's certainly a valuable resource when it comes to finding pets and providing care, but it can also expose prospective pet parents to risks. CBS News recently reported that scammers have stolen more than $2.8 million through online pet adoption scams in 2020. Make sure to research breeders and organizations carefully and watch out for common red flags like a high-pressure adoption process or inconsistent communication. Thorough research won't just safeguard your finances, but can also keep you from unwittingly participating in the puppy mill pipeline.
Be Prepared
As previous pet owners, we have some experience. If you're considering adopting or purchasing a pet for the first time, make sure you really understand what you're committing to. Pet parenthood comes down to more than purchasing the essentials and partnering with your vet. It's a full-time job!
Not sure if you're ready to commit to pet parenthood? Consider becoming a foster paw-rent. After an application process, you'll be paired with a pet and may be given right of first refusal if you ultimately decide to adopt them.
Follow Eddie and Anne
Make sure to visit PetPlace.com each month throughout 2021 to read Anne and Eddie's diary entries. Follow us on Instagram for extra pictures, videos, tips, and stories. We look forward to sharing in this exciting journey with you.
The Stauff Family was compensated for their participation in this series by PetPartners, Inc., an indirect corporate affiliate of PetPlace.com.