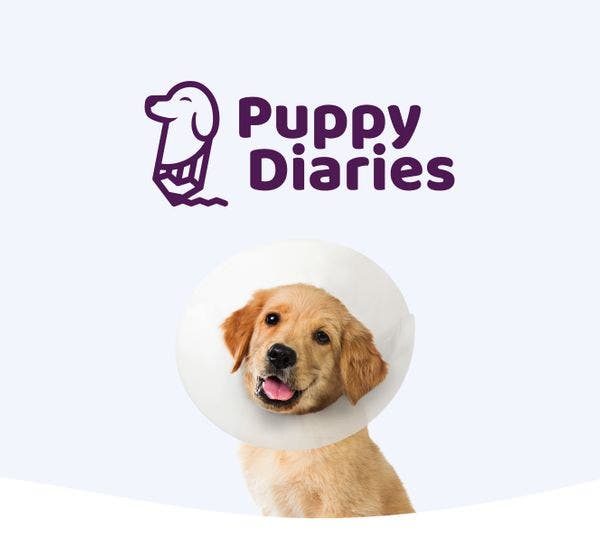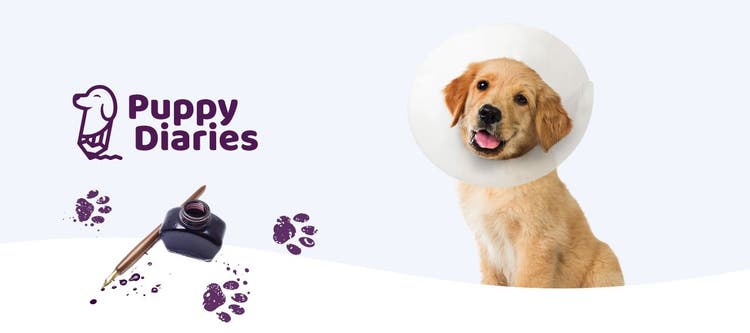 To Spay or Not to Spay?
Spaying or neutering can be a scary process for any puppy parent. In the fourth installment of our Puppy Diaries series, Anne Stauff shows us the lighter side of surgery and recovery, and provides must read tips for concerned dog moms and dads.

"To spay or not to spay?" was never a question for us. The question was, "When should Eddie be spayed?"
Since Eddie is a female Golden Retriever, the question of when exactly to spay her was very much on my mind from Day 1. I spoke to friends and fellow puppy owners on Facebook and then broached the subject with my vet. We decided to err on the side of caution and get her spayed early: 6 months. We were definitely not going to breed her, and I had zero desire to watch her go through a "cycle" before getting spayed.
There is one drawback to spaying this early; it's possible that Eddie won't reach her full growth potential. Since she takes about 2 nanoseconds to eat breakfast and dinner every day, we decided this probably wasn't too much of a risk.
Spay Day
Here's what we needed to prepare for Eddie's spaying:
1 box of tissues (for me)
Because of social distancing restrictions, I still can't go into the vet's office with Eddie. The thought of dropping her off and having her spend the night away from home made me so sad! I spoke to our vet the night before the surgery. She answered all of my questions, fully explaining the before, during, and after of the procedure. This brought on more tears, but it made me feel much better. I knew Eddie would be in good hands and that I could feel good about leaving her overnight. The next morning, Eddie obliviously got into the car and I dropped her off for her procedure.
While I waited, I spoke to friends about the recovery process. All in all, it didn't sound too bad. Most said the "cone of shame" is horrible and that I should do whatever possible to avoid subjecting Eddie to it. I asked my vet about an alternative, but she was adamant that Eddie wear the cone. Nothing else would prove more effective in keeping her from licking her wound, she said. Just in case, I ordered the 'recovery suit,' which is an adorable onesie that you can unsnap when your dog goes outside. I ordered it in pink camo, because of course.
Eddie wearing "The Cone of Shame."
Our vet called that afternoon to let me know that Eddie did great and was recovering nicely. I was so relieved.
The "Cone of Shame"
I was beyond excited to pick her up the next day! She came out with the cone of shame on and I learned how to pick her up and cradle her for going up and down the stairs. The best part is that she's now too heavy for me. That means my husband has to carry her and I can sleep in for the first time in months! I got her home and settled her comfortably in bed. She was still pretty tired and slept most of the day.
Now, to discuss the "Cone of Shame." When I picked Eddie up, her cone stunk. I really wondered if someone had rubbed dog poop on the cone before strapping it on. Really! When I got her home, we tried wiping it off with Lysol (a valuable commodity, as you know), but that just made the cone smell like Lysol mixed with poop.
I called a good friend whose dog had just gone through this. She said the same thing: it's awful. She recommended getting an inflatable collar. So, I ran down to our local pet store and bought the Kong Cloud. It looks kind of like those inflatable neck pillows for airplanes and it made an immediate difference. Eddie loved it! Her spirits perked up the second the cone came off and the inflatable one went on. She fell asleep with it on as well. I bought 2 other brands, but found the Kong Cloud to be her favorite. Best of all, it's washable.
The comfort of an inflatable collar.
Taking It Easy
The real challenge during Eddie's recovery period was to keep her chill. This is a serious task when you're dealing with a six-month-old puppy. I mean, that's really a crazy thought. No walks, no hikes, and no playing with her next door neighbor and boyfriend, Hudson. This last one was the hardest of all for Eddie. I would see her sitting at the fence, looking longingly over for a glimpse of him. After two weeks, she was cleared for normal activities and the first thing she did was race over to play with Hudson. Watching the two of them reunite was the best part of this whole experience!
Tip: With so many of us bringing home pets during quarantine, vets are super busy. That can require a little extra persistence. When my vet's front desk called to remind me about Eddie's spay appointment, I asked a bunch of questions she could not answer. I then asked to speak to the vet, which came with a terse "No." I insisted. I have the same direct attitude when it comes to my kids' pediatrician, whom I love. If you don't advocate for yourself, your kids, and your pets, nobody else will. So, be nice, but be forceful when you have to. If you aren't happy with the level of care your pet is receiving, make a change. Ask friends and family members who they use, and why. Ask what their vets' response time is like. Do your homework and you will be satisfied with your choice!
Check Out Past Puppy Diaries
Make sure to follow PetPlace on Instagram for more updates from Anne and Eddie.
The Stauff Family was compensated for their participation in this series by PetPartners, Inc., an indirect corporate affiliate of PetPlace.com.