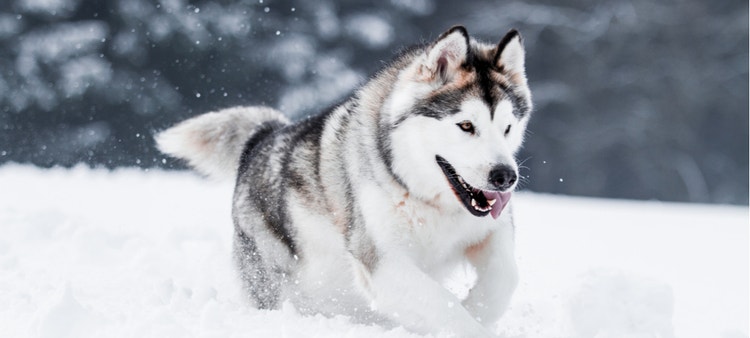 Alaskan Malamute
Life Expectancy
10 - 12 years
Area of Origin
United States
The Alaskan Malamute is a powerful, dignified working breed dog that has been prevalent in the Arctic for centuries. They were bred for their ability to haul heavy goods across hundreds of miles of treacherous mountain terrain. Their thick, double haircoat is what allows them to survive in harsh climates. The Malamute was built for endurance, not speed, which is made evident by their large size and massive bone structure. The breed was well respected among Alaska's indigenous people, based on their hardworking nature and resilience. The Malamute is highly intelligent and a true pack dog. They will dominate any family member (adults, children, or other dogs) that has not earned their respect and, therefore, require very early socialization and training to establish both your role and theirs within the "pack." After firm (yet positive) early training, the Malamute will become a devoted and loyal family pet. They are not well-suited for guard dog work, as they are friendly to most people, including strangers. The Malamute likes to stay active and enjoys leisurely backpacking, hiking, or walking with the family. They are best suited for cooler environments due to their double coat and will easily overheat in warmer weather. They are relatively quiet and don't bark often. Instead, they howl when bored or persuaded by either human voices or sirens. The Alaskan Malamute is a truly beautiful, affectionate breed that loves being part of the family.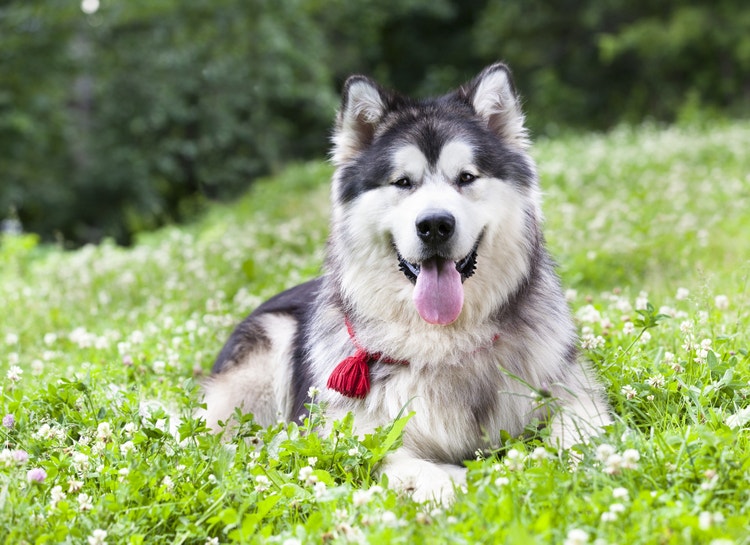 Friendliness to strangers
5
friendliness to other pets
3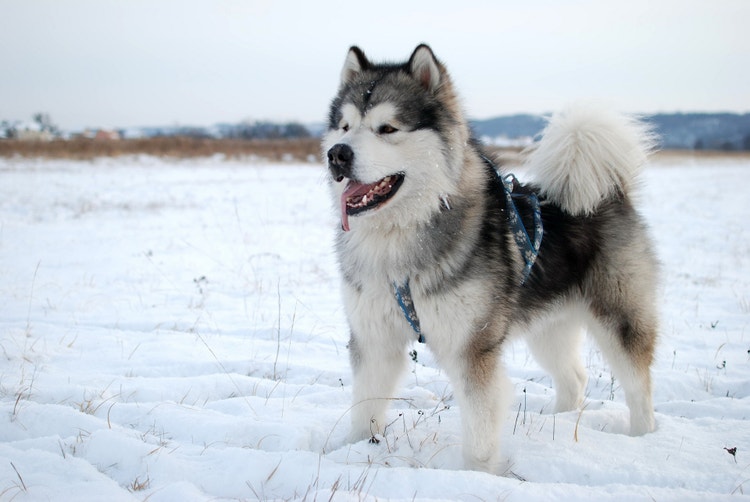 Where Are Alaskan Malamutes From?
The true origin of the Alaskan Malamute is unclear, however, many think the breed's wolf-dog ancestors migrated to North America via the Bering Strait some 4,000 years ago. They have been noted as the arctic sled dogs of indigenous people hundreds of years before Alaska was part of the United States. The Mahlemut were an Inuit tribe located in northwest Alaska that used the breed as sled dogs to carry their belongings from place to place. Their powerful, massive bone structure was built for strength, not speed, and the Mahlemut were content with their leisurely pace. The Mahlemut were known as peaceful and hardworking people and that demeanor was clearly passed on to their sled dogs. The breed was well respected among other Inuit people for their courage, incredible stamina, and ability to hike mountainous terrain.
As dog racing became widely popular in the early 20th century, the Alaskan Malamute was mixed with outside strains to improve their speed. This caused a decline in true arctic sled dogs, and the breed nearly vanished. In 1926, after a resurgence in sled dog racing in the United States, breeders began developing pure strains of the Alaskan Malamute. Since that time, they have been used for expeditions and even missions in World War II. In 1935, the Alaskan Malamute was recognized by the AKC and has maintained its popularity in the U.S. ever since.
Caring for an Alaskan Malamute

What Kind of Diet Does an Alaskan Malamute Need?
What Kind of Diet Does an Alaskan Malamute Need?
The Alaskan Malamute should be fed a high-quality, age-appropriate diet. They can become overweight if their caloric intake is not properly monitored. Obesity can worsen arthritis or hip dysplasia, so it is ideal for your pet to maintain a healthy weight.

How Much Grooming Does an Alaskan Malamute Need?
How Much Grooming Does an Alaskan Malamute Need?
Ideally, the Alaskan Malamute should receive daily brushing to avoid mats, but brushing 2 – 3 times a week may be acceptable. They shed heavily twice a year and a raking brush should be used to remove the undercoat. They are prone to mats and skin infections, and their skin should be closely monitored during each brushing. They should be bathed every 6 to 8 weeks and their nails should be trimmed regularly.

Are Alaskan Malamutes Healthy?
Are Alaskan Malamutes Healthy?
The Alaskan Malamute is a relatively healthy dog, but some health concerns have been associated with the breed. Their double haircoat makes them more prone to skin diseases. One reported skin disease is zinc-responsive dermatosis, which causes hair loss and crusting around the orifices. It is seen most often in Alaskan breeds and is typically due to inadequate zinc absorption within the intestines. Seek veterinary care for treatment.
They are also prone to hypothyroidism, which is an endocrine disorder that affects the thyroid gland by decreasing the thyroid level in the blood. Some signs of hypothyroidism include lethargy, weight gain, depression, decreased heart rate, dry skin or hair loss, low body temperature, and exercise intolerance. This disease is easily treated with daily thyroid supplementation.
The Malamute has also been associated with several ocular diseases. One is hemeralopia, which causes vision loss in bright light, but normal vision at night. Other ocular diseases include corneal ulceration, glaucoma (increased pressure within the eye that can lead to pain and blindness), and cataracts (loss of transparency in the ocular lens, which can lead to blindness). Routine ocular examinations by your veterinarian can help detect eye conditions. Also monitor, your pet for squinting, tearing, vision loss, or pain, and seek veterinary care if noted.
The Alaskan Malamute is predisposed to: zinc-responsive dermatosis, demodectic mange, hypothyroidism, polyneuropathy, renal dysplasia, hemeralopia, corneal ulceration, cataracts, progressive retinal degeneration, glaucoma, anal sac adenocarcinoma, gastric torsion, hip dysplasia, dwarfism, diabetes, and hemophilia.

How Much Training Does an Alaskan Malamute Need?
How Much Training Does an Alaskan Malamute Need?
The Alaskan Malamute has a natural pack instinct and requires socialization and training as early as 3 – 5 months of age. They will easily dominate any person or animal they do not respect. Establishing your alpha role in the "pack" very early on will help them develop into a loving and devoted companion. They require firm training along with positive reinforcement methods. Since they can become aggressive with dogs of the same sex, early socialization is an absolute necessity.

How Much Exercise Does an Alaskan Malamute Need?
How Much Exercise Does an Alaskan Malamute Need?
The Malamute requires daily exercise in a cool climate. They enjoy long, leisurely walks, hikes, and agility trials. They can become destructive if bored and not properly exercised. Keep in mind that their haircoat was meant for arctic climates and they can easily overheat in warmer temperatures. They should never be left outside for longer than a few minutes in the heat!
What Are the Physical Characteristics of an Alaskan Malamute?
How Big Are Alaskan Malamutes?
Alaskan Malamutes are a large, muscular breed that exudes power and strength. They stand 23 – 25 inches tall and weigh 75 – 85 pounds. Their thick, double haircoat allows them to withstand extremely cold temperatures. They have distinctive face markings, including a cap over the head and an all-white face or mask-like appearance.
What Color Eyes Do Alaskan Malamutes Have?
The Malamute has brown eyes with dark rims. Their heads are wide and rounded, featuring a large muzzle, triangular ears, and a black or brown nose. The breed's gentle disposition is evident in their facial expression.
Are Alaskan Malamutes Strong?
The Alaskan Malamute breed is known for its endurance. Physically, they possess a strong neck, sturdy frame, and deep chest.
Do Alaskan Malamutes Have Curly Tails?
Malamutes carry their tail curled up over the back, unless they are hauling. The tail itself is fluffy and set in line with the spine.
Alaskan Malamute Front Legs
Malamute forelimbs consist of well-developed muscles and dense bones. Their shoulders are sloped to aid in hauling heavy loads. They have snowshoe feet with thick pads and arched toes.
What Color Are Alaskan Malamutes?
The Malamute coat comes in various shades of gray, black, sable, and red, or is completely white. This dense, double coat consists of a coarse outer layer and soft undercoat. It is short to medium in length.
Alaskan Malamute Hind Legs
Malamute hindquarters contain muscular thighs and dense bones. The hindlegs are parallel to the front legs.
Alaskan Malamute Facts
Alaskan Malamutes have the ability to carry almost half their body weight as far as 20 miles per day.
The Malamute was represented on U.S. postal stamps in 1984 as part of the AKC Centennial Show collection. Only four breeds were awarded this privilege.
In 2010, the Alaskan Malamute became the official state dog of Alaska.
Other Breeds to Explore
References
Morris, Desmond. Dogs: The Ultimate Dictionary of Over 1,000 Dog Breeds. Trafalgar Square, 2002.
American Kennel Club. The Complete Dog Book. Random House Digital, Inc., 2006.
Wilcox, Bonnie and Chris Walkowicz. The Atlas of Dog Breeds of the World. T.F.H Publications, Inc., 1995.
Alaskan Malamute Dog Breed Information. American Kennel Club, 2020.
AIS/PennHIP FAQ. ANTECH Imaging Services, 2016.
What is Canine Hip Dysplasia?. Orthopedic Foundation for Animals. 2020.
Gastric Dilatation-Volvulus. American College of Veterinary Surgeons. 2020.
Downing, Robin. Zinc-Responsive Dermatosis in Dogs. VCA Hospitals. 2020.