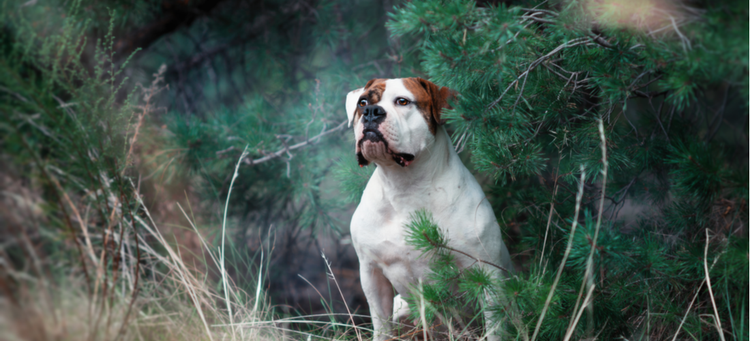 American Bulldog
Life Expectancy
10 - 12 years
Area of Origin
United States
American Bulldogs are renowned for their size and athleticism, as well as an unexpected loyalty and amiability. Descendants of the Old English Bulldog, these gentle giants do well with families, especially children. However, due to their initial vocation as guard dogs, it's best to take caution when introducing them to strangers and other animals. Socialization is critical at a young age for these dogs and they do best with an experienced owner. This is not a breed suited for small living spaces, like apartments, since they require room to exercise and play. With the right environment and proper training, they can become wonderful family companions.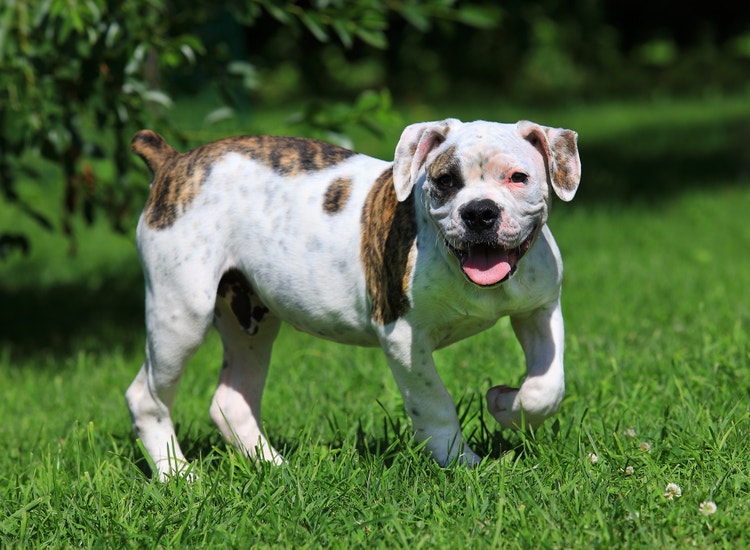 Friendliness to strangers
2
friendliness to other pets
2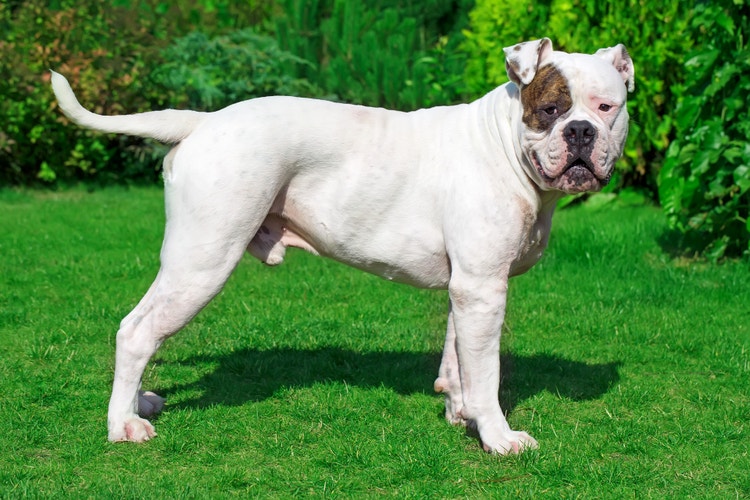 When Was the American Bulldog Breed Developed?
The American Bulldog breed was developed in the southern United States sometime in the 1700s. They were created by crossbreeding the English Bulldog, the American Pit Bull Terrier, and the Bullmastiff, and intended to be a massive, powerful, and ferocious breed. They were initially used as farming dogs to help herd larger animals and hunt potential predators.
There are two different versions of the breed: the Classic, which is larger than the Standard version, and the Standard version, which is slightly smaller and has a shorter muzzle.
The American Bulldog has yet to be recognized by the American Kennel Club.
Caring for an American Bulldog

What Kind of Diet Does an American Bulldog Need?
What Kind of Diet Does an American Bulldog Need?
Bulldogs should be fed a high-quality, well-balanced large-breed dog food for their first 14 months to ensure proper bone and muscle development. Because of their sheer size, feeding will become expensive over time. Consult your veterinarian to help determine a healthy meal plan.

How Much Grooming Does an American Bulldog Need?
How Much Grooming Does an American Bulldog Need?
A monthly bath and brushing are enough to keep an American Bulldog healthy and happy. They do, however, tend to drool and slobber quite a bit, so keep their lips and the skin around the mouth clean and dry to prevent bacterial infections.

Are American Bulldogs Healthy?
Are American Bulldogs Healthy?
Like most large-breed dogs, American Bulldogs are prone to a variety of diseases.
They should be screened for hip and elbow dysplasia at a young age. Hip dysplasia is a common congenital disease caused by an improperly developed hip joint, which prevents smooth and natural movement of the hind legs. Dogs with this condition typically need surgery to walk comfortably. Elbow dysplasia is a similar condition that affects the front limbs.
The American Bulldog breed has an average life expectancy of 10 to 12 years.
American Bulldogs are predisposed to: hip dysplasia, elbow dysplasia, brachycephalic syndrome, laryngeal paralysis, epilepsy, hypothyroidism, patent ductus arteriosus, tetralogy of Fallot syndrome, ventricular septal defect, aortic stenosis, urolithiasis, deafness, demodectic mange, entropion, prolapse of the third eyelid (cherry eye), and osteosarcoma.

How Much Training Does an American Bulldog Need?
How Much Training Does an American Bulldog Need?
Positive reinforcement training and socialization must be started at an early age for this breed. Without proper training, they can become aggressive toward other animals and strangers, due to their natural instinct to guard and protect.
This is not a dog for first-time pet owners. Those with training experience and an active lifestyle are best suited for this breed.

How Much Exercise Does an American Bulldog Need?
How Much Exercise Does an American Bulldog Need?
This is a massive dog breed with a high energy level that loves to play and interact with their owners. They need to be walked two to three times a day for at least 20 minutes to keep them healthy and out of trouble.
What Are the Physical Characteristics of an American Bulldog?
How Big Are American Bulldogs?
The American Bulldog is a stocky and muscular breed. Males weigh anywhere from 75 to 125 pounds and females weigh between 60 and 80 pounds. Males stand 22 to 25 inches in height, while females are 20 to 23 inches tall. People often get the American Pitbull and the American Bulldog confused. The American Bulldog is larger in both height and weight. Bulldogs also have facial wrinkles and a wider chest than the Pit Bull Terrier.
What Do American Bulldogs Look Like?
American Bulldogs have round heads, small, folded ears, black eyes, and wide nostrils. They're known for having large, drooping jowls that hang over their bottom lip and muscular jaws.
Are American Bulldogs Strong?
Strong and stocky, the American Bulldog is built to take down stray cattle and has the muscular frame to prove it.
Are American Bulldog Tails Docked?
Though some Bulldogs have a docked tail, the natural tail is far more common. It's long, strong, and narrow at the tip.
American Bulldog Front Legs
Bulldog legs are straight and parallel, featuring massive shoulders and dense bones.
What Colors Are Common for American Bulldogs?
The American Bulldog coat is short, slick, and seen in a variety of colors and patterns. Solid white and fawn are the most popular, but solid brindle, white with black or brindle patches, red, black, and blue are all possible for the breed.
American Bulldog Back Legs
The Bulldog hindquarters are powerful, well-muscled, and symmetrical.
American Bulldog Facts
The American Bulldog was original used as a farm hand in the early 20th Century. They guarded the herd and livestock, as well as pulled wagons and hunted wild pigs and bears.
American Bulldogs nearly faced extinction during the second World War. Enterprising breeders, including war veteran John D. Johnson, managed to preserve the breed without sacrificing health or skill set.
Bulldogs are a common shelter animal, since many pet parents surrender the dogs after struggling to meet exercise requirements or administer proper training.
Other Breeds to Explore
References
Morris, Desmond. Dogs: The Ultimate Dictionary of Over 1,000 Dog Breeds. Trafalgar Square, 2002.
American Kennel Club. The Complete Dog Book. Random House Digital, Inc., 2006.
Wilcox, Bonnie and Chris Walkowicz. The Atlas of Dog Breeds of the World. T.F.H Publications, Inc., 1995.
The Johnson and Scott Lines. National Purebred Dog Day. 2020.