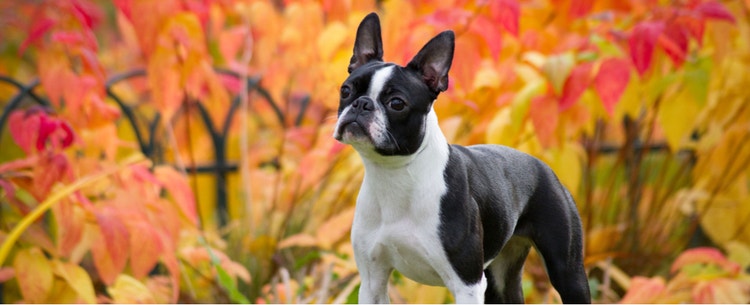 Boston Terrier
Life Expectancy
11 - 13 years
Area of Origin
United States
The Boston Terrier is a friendly, intelligent, non-sporting breed that is one of the few that originated in America. Their square jaw, screw tail, and tuxedo markings are just a few of their distinctive characteristics. They are a gentle, well-mannered breed that is easily trained, which makes them excellent companions for children and elderly alike. The Boston Terrier is not a fighter and has been nicknamed "the American Gentleman," but can certainly hold their own if challenged. They are perfectly content in an urban setting, but are just as happy in the suburbs.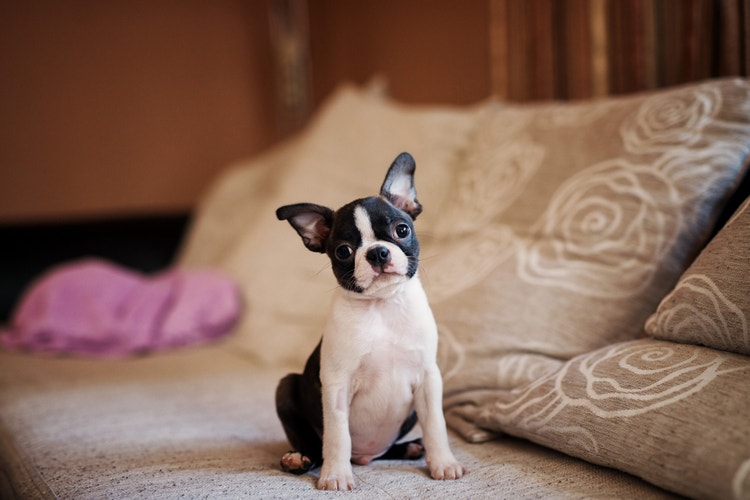 Friendliness to strangers
4
friendliness to other pets
4
Where Are Boston Terriers From?
The first Boston Terrier, a dog named Judge, was imported from Liverpool, England in 1870 and purchased by Robert Hooper. He became known as Hooper's Judge and was dark brindle in color with white markings, a combination of its two breeds, the English Bulldog and the white English Terrier. He weighed about 30 pounds and resembled the English Bulldog. He was bred with a 20-pound, white-colored female that was short and square, named Gyp. Their male offspring, named Wells' Elph, was a short and muscular dog that was dark brindle in color with white markings. Wells' Elph was later mated with a golden brindle female weighing about 20 pounds, named Tobin's Kate. The breed's appearance has standardized over time as a result of multiple breedings.
In 1889, the American Bull Terrier Club was established and the breed was shown as "Round Heads" or "Bull Terriers." Due to the similarity of the breed name, the Club experienced opposition from Bulldog and Bull Terrier fanciers. As a result, the breed was named the Boston Terrier after its city of origin and, in 1891, the Boston Terrier Club was formed. The Boston Terrier achieved American Kennel Club recognition in 1893. The breed's popularity spread across the country in the following years and reached Europe in the 1920s.
Caring for a Boston Terrier

What Kind of Diet Does a Boston Terrier Need?
What Kind of Diet Does a Boston Terrier Need?
The Boston Terrier should be fed a high-quality, age-appropriate diet. As with any dog breed, they have the potential to become overweight. Avoiding free-choice food and sticking to the recommended daily calorie amount can help prevent obesity. It is also helpful to keep track of their weight and to adjust feedings accordingly.

How Much Grooming Does a Boston Terrier Need?
How Much Grooming Does a Boston Terrier Need?
The Boston Terrier requires weekly brushing to maintain their shiny coat and occasional bathing. They shed, but not frequently.

Are Boston Terriers Healthy Dogs?
Are Boston Terriers Healthy Dogs?
The Boston Terrier is a healthy breed in general, however, they are prone to several health conditions, so get pet insurance early! They are a brachycephalic breed, due to their short nose, which can lead to an increased risk of respiratory distress as a result of their heat and exercise intolerance. Their large, square heads and small pelvis make them prone to dystocia (difficult labor/delivery), which may result in a Caesarean section. Because of this, proper precaution should be taken while breeding the Boston Terrier and the process should be left to professionals. In the event of an accidental breeding, be prepared for this potential complication and have a financial and emergency veterinary plan set in place.
Bostons can develop mast cell tumors and melanomas, so checking their body routinely for lumps and bumps is recommended. They can also develop brain tumors, cataracts, and Cushing's disease.
Boston Terriers have been associated with congenital diseases, such as congenital deafness, pyloric stenosis, craniomandibular osteopathy, cryptorchidism, congential elbow luxation, and hydrocephalus. Making sure your Boston Terrier is examined by a veterinarian throughout puppyhood can help catch congenital diseases early. Their life span is 11 – 13 years.

How Much Training Does a Boston Terrier Need?
How Much Training Does a Boston Terrier Need?
Boston Terriers are a highly intelligent breed and very trainable. Early socialization and training is recommended, so they can live up to their namesake as "the American Gentleman." They can be sensitive, so patience and positive reinforcement methods should be used.

Do Boston Terriers Need a Lot of Exercise?
Do Boston Terriers Need a Lot of Exercise?
Boston Terriers enjoy mild exercise, so a short walk in cooler temperatures is suitable for them. They also enjoy playtime with their families. As a brachycephalic breed, excessive exercise or heat should be avoided to prevent emergencies, such as respiratory distress and heat stroke.
What Are the Physical Characteristics of a Boston Terrier?
What Do Boston Terriers Look Like?
The Boston Terrier is a short, muscular, distinguished looking dog. They have a square head and short tail. They also have tuxedo markings. The average height is 15 – 17 inches. Their weight classes are under 15 pounds, 15 – 20 pounds, and 20 – 25 pounds.
What Color Eyes Do Boston Terriers Have?
Bostons have dark, wide-set eyes with short, triangular ears set high on top of the head. Their noses are dark and wide. Their heads are square with a short muzzle and white blaze markings.
Boston Terrier Chest and Back
Boston Terriers are broad chested, with white blaze markings on their chests and necks. They have a short, straight back with a small pelvis.
What Kind of Tails Do Boston Terriers Have?
Bostons have a short tail that is set low on the rump. It can either be straight or screwed.
Boston Terrier Front Legs
Boston Terriers have a wide stance with laid-back shoulders. The forelegs are straight with small, round feet and arched toes.
What Kind of Coat Does a Boston Terrier Have?
The Boston Terrier has a smooth, short coat that sheds occasionally. They come in seal (black with reddish hues), black with white markings, and brindle, which features dark flecks of color on a brown coat.
Boston Terrier Back Legs
The thighs are muscular and the stifles are bent. The hock joint should be well-defined and their stance straight. Feet are small and round.
Boston Terrier Facts
The Boston Terrier is the official mascot for Boston University and has been for the last 100 years.
Today's Boston Terrier is thought to be the result of breeding a mixture of the Pit Bull, Boxer, English Bull Terrier, French Bulldog, and English Bulldog. The French Bulldog was thought to be introduced into the breeding to reduce the Boston's size to under 25 pounds.
Although today's Boston Terrier is a dapper, gentle dog, it was originally bred for pit fighting.
Other Breeds to Explore
References
American Kennel Club. The Complete Dog Book. Random House Digital, Inc., 2006.
Morris, Desmond. Dogs: The Ultimate Dictionary of Over 1,000 Dog Breeds. Trafalgar Square, 2002.
Wilcox, Bonnie and Chris Walkowicz. The Atlas of Dog Breeds of the World. T.F.H Publications, Inc., 1995.