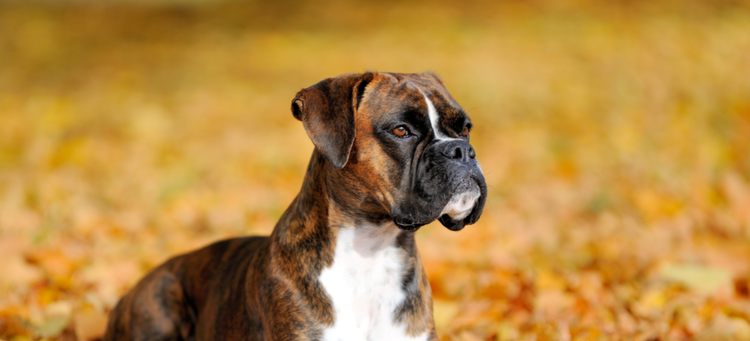 Boxer
Life Expectancy
9 - 11 years
The Boxer is a striking, courageous, and playful dog breed that is both a capable guardian of the home and a gentle playmate for children. Well known for their athleticism, the breed's beginnings can be traced back to the Bullenbeisser, a big-game hunting dog prominent in 19th-century Germany. Today, the medium-sized breed is a common family pet, known for their lighthearted and jubilant personality, as well as their affection and sense of protectiveness toward family.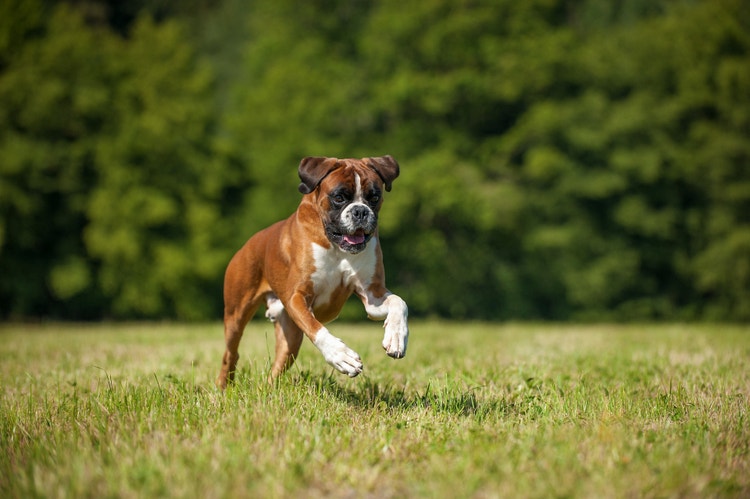 Friendliness to strangers
3
friendliness to other pets
2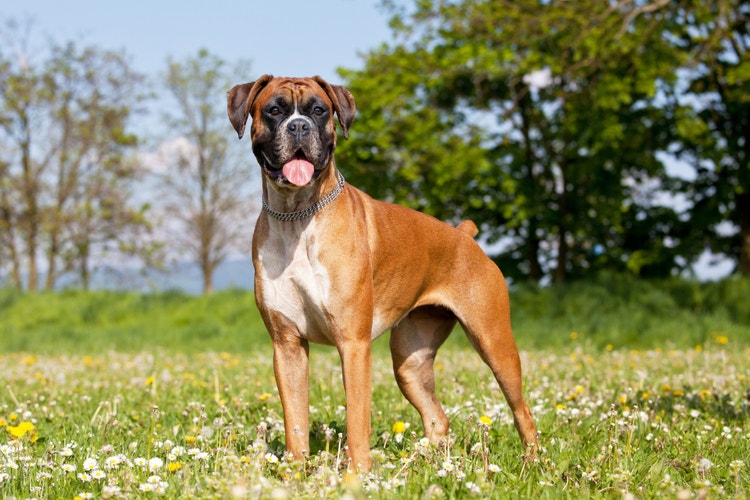 How Was the Boxer Breed Created?
The Bullenbeisser was known for its stout muzzle, which was a unique feature for the 19th century and similar to the one possessed by the modern Boxer. The breed didn't develop into the dog we know today until the end of the century, when the Bullenbeisser was crossbred with the English Bulldog.
The Boxer was officially presented for the first time at a dog show in Munich, Germany in 1895, leading to the development of breed standards and the formation of the first Boxer club (the Deutsche Boxer Club). It is unclear why the name "Boxer" was chosen for the breed, although it has been suggested that its basis lies in the Boxer's tendency to gesture and play with their front paws.
Overtime, the breed developed into a valuable working dog, assisting in policing and military services during both World Wars. The American Kennel Club registered its first Boxer in 1904 and awarded the first championship to a Boxer 14 years later. The breed did not become popular in the United States until the 1930s, with the first American Boxer Club being established in 1935.
Caring for a Boxer

What Kind of Diet Does a Boxer Need?
What Kind of Diet Does a Boxer Need?
Boxers require a diet specifically formulated for large breeds. Take caution to ensure that they are not overeating, since the breed is prone to obesity.

How Much Grooming Does a Boxer Need?
How Much Grooming Does a Boxer Need?
Boxers have limited maintenance requirements, as their short and shiny coat requires very little grooming. They are a naturally clean breed and only need the occasional bath.

Are Boxers Healthy Dogs?
Are Boxers Healthy Dogs?
Boxers are predisposed to a particular heart condition known as Boxer cardiomyopathy, which can manifest as weakness, episodes of collapse, and congestive heart failure.
As a barrel-chested breed, they also have the possibility of suffering from gastric torsion, an emergency condition caused by abnormal dilation and twisting of the stomach.
They also commonly suffer from Intervertebral Disc Disease (IVDD) and degenerative myelopathy, which affect the spinal cord and lead to paralysis when severe.
The average life expectancy of the Boxer breed is 9 – 11 years.
Boxers are predisposed to: Boxer cardiomyopathy, dilated cardiomyopathy, sick-sinus syndrome, atrial-septal defect, aortic stenosis, gastric dilatation volvulus, prolapsed 3rd eyelid, ectropion, entropion, Intervertebral Disc Disease (IVDD), degenerative myelopathy, mast cell tumor, cutaneous histiocytoma, insulinoma, melanoma, food allergy, colitis, hyperadrenocorticism, cryptorchidism, and hypothyroidism.

When Should Training Start for a Boxer Dog?
When Should Training Start for a Boxer Dog?
Boxers are highly intelligent and can benefit greatly from early obedience classes. Early training and socialization will also help to prevent undesirable behaviors that may manifest if they don't have an outlet for their abundance of energy. If you're interested in sporting or showmanship, Boxers have the ability to excel in all realms of agility and performance if properly trained.

How Much Exercise Do Boxers Need?
How Much Exercise Do Boxers Need?
Boxers have a lot of energy and love to play. They should have daily exercise and be provided with ample room to run around. Early intervention and training should be provided to discourage use of forelimbs and tendency to jump during play.
What Are the Physical Characteristics of a Boxer?
What Does a Boxer Dog Look Like?
The Boxer is a visually impressive, lean, and medium-sized animal with a characteristic flat, broad face and droopy lips. The breed stands 21 – 25 inches in height and weighs between 65 and 80 pounds. The coat is very short and shiny, which emphasizes a well-muscled body.
What Color Eyes Do Boxers Have?
The most common eye color for Boxers is dark brown. Their skulls are well-defined with a short and square muzzle. There is often a distinct underbite, with the upper lips on either side of the jaw droopy and moderately wrinkled. Ears are set high on the skull, tapered, and commonly cropped.
Are Boxers Muscular Dogs?
Yes, the Boxer boasts a muscular body and straight back that slopes downward toward the hind-end. The chest is of medium width, with the foremost point being well-sculpted and easily visible from either side.
Do Boxers Have Tails?
Boxers do have tails, though they are commonly cropped. They do not curl, are set high on the rump, and are carried upward.
Boxer Front Legs
The forelimbs are straight, well-muscled, and long. The shoulders are sloped, and feet are rounded with well-arched toes.
What Colors Are Common for Boxers?
Boxer coat colors can come in any variety of fawn or brindle, with the occasional white marking.
Boxer Back Legs
The hindlimbs have impressive musculature and the thighs are curved and broad.
Boxer Facts
The Boxer breed has been used to guide the blind, assist police in K-9 units, serve as messengers during world wars, and function as guard dogs in various militias.
Part of the Boxer breed's lineage is believed to include the fighting dogs of Tibet.
Boxers are well-known for shaking their entire pelvis when excited, rather than just their tails.
Other Breeds to Explore
References
Morris, Desmond. Dogs: The Ultimate Dictionary of Over 1,000 Dog Breeds. Trafalgar Square, 2002.
American Kennel Club. The Complete Dog Book. Random House Digital, Inc., 2006.