Old English Mastiff
Life Expectancy
7-10 years
Area of Origin
Great Britain
The English Mastiff is a show-stopper of a dog! This is a special and ancient breed, known for its noble personality and companionship. The Mastiff owner must have experience with dogs and also needs to be prepared for having a giant breed. Also known as the Old English Mastiff or, simply, Mastiff, these gentle giants were originally bred as guard dogs.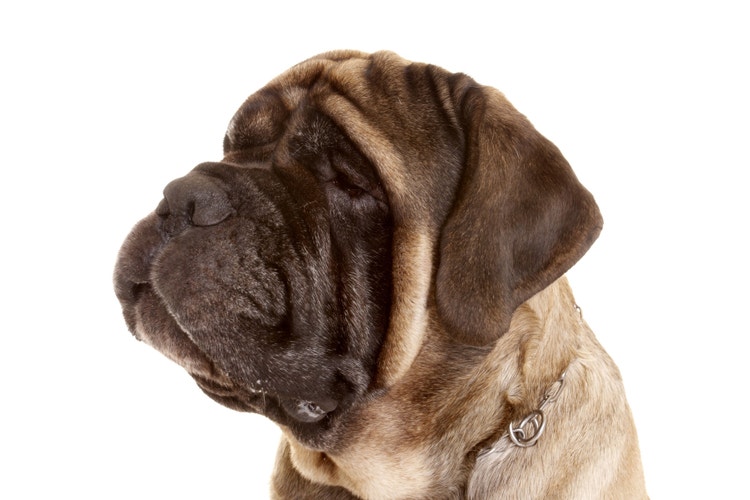 Friendliness to strangers
5
friendliness to other pets
2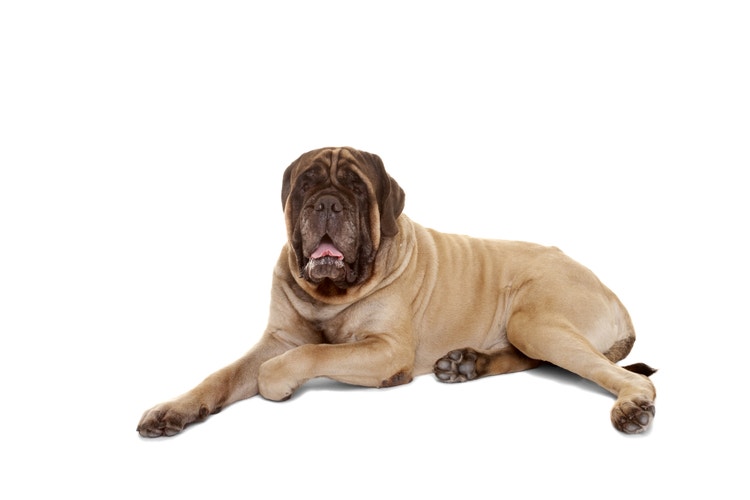 Where Are English Mastiffs From?
English Mastiffs date back to the first millennium BC, when Phoenician traders brought the Mastiff's ancestors on trading ships to the British Isles. When the Roman Empire landed in Britain in 55 BC, Mastiffs were already cherished by the locals. The Romans were in awe by the strength of this huge dog breed and they were exported for use in the Colosseum, making them the only tame animal to fight against lions and other wild animals.
Mastiffs were exploited for their abilities in dog-fighting, bear-baiting, and bull-baiting for centuries. However, their sweet personalities as companions popularized them in the Industrial Revolution. Mastiffs were among the first dogs to come the New World on the Mayflower. They became a popular American dog breed and were even used to pull munition carts on the front line during WWI and WWII. The modern Mastiff was re-established in 1929 by the American Kennel Club and has been beloved ever since.
Caring for an Old English Mastiff

How Much Should I Feed My English Mastiff?
How Much Should I Feed My English Mastiff?
English Mastiffs have a voracious appetite and require a high daily caloric intake to maintain their large size. Owners should budget accordingly for large quantities of dry food.

Do English Mastiffs Shed a Lot?
Do English Mastiffs Shed a Lot?
Mastiffs shed a lot and will need regular brushing and bathing to maintain their undercoat. A specialized brush to remove the undercoat is often used.

Are English Mastiffs Healthy Dogs?
Are English Mastiffs Healthy Dogs?
Like most large breeds, the Mastiff is predisposed to a host of associated giant breed dog diseases. Their sheer size makes veterinary care expensive and owners should be prepared for the accompanying medical costs. It is important to note that their lifespan is also shorter than may be expected, ranging from 6 – 9 years. They will need to have a gastropexy performed at the time of neuter or spay to prevent gastric dilatation volvulus or "bloat." Mastiffs also have many orthopedic conditions and may need to have surgery to address them. Heart disease, specifically a disease called Dilated Cardiomyopathy, can also occur at a young age and may require a full cardiac work-up and medications for life.
Mastiffs are predisposed to: gastric torsion, hip dysplasia, ruptured cranial cruciate ligament, dilated cardiomyopathy, cataracts, entropion, cherry eye, corneal dystrophy, urolithiasis, arthritis, elbow dysplasia, osteosarcoma, and oligodendroglioma.

Can You Train an English Mastiff?
Can You Train an English Mastiff?
Diligent breeding has taken the persona of the "Old English Mastiff fighting dog" and turned it into an affectionate and sensitive best friend. Mastiffs are extremely good with children and tolerate a lot of poking and prodding. They are loyal and faithful, but can be aggressive toward other household pets. They can be wary of strangers and may require a firm hand in public on a leash.

Do English Mastiffs Need Lots of Exercise?
Do English Mastiffs Need Lots of Exercise?
The sheer size of the Mastiff necessitates more space than a smaller dog. However, Mastiffs are notoriously lazy and often prefer to lounge around and go for slow walks. They require little more than a few 30-minute walks per day. Because of their large size, they're not athletic companions and can overheat easily. Therefore, they should be encouraged to take slow walks to maintain their joints and prevent arthritis.
What Are the Physical Characteristics of an English Mastiff?
What Do English Mastiffs Look Like?
The Mastiff is a massive dog with a thick frame. They are formidable and even intimidating. Their overall appearance is awe inspiring, giving this breed a look of dignity. They can be up to 3 ft tall at the shoulder!
How Big Are English Mastiffs' Heads?
The large head is their characteristic feature with large, pendulous lips. Be careful, they will drool excessively, especially in the summer!
Are Mastiffs Strong?
The powerful body of the Mastiff is strong and tall. They can be intimidating to stand next to.
Do Mastiffs Have Long Tails?
The tail is straight, long, and high.
Mastiff Front Legs
Mastiffs have muscular and powerful shoulders. Their elbows and forelimbs are straight to the body.
What Kind of Coat Does an English Mastiff Have?
A Mastiff's coat is coarse and straight. They come in an array of colors including fawn, apricot, and brindle. The face has a characteristic mask, with the muzzle, ears, and nose dark in color.
Mastiff Back Legs
They also have muscular hindlimbs. They can be predisposed to hip dysplasia and can have a swinging gait.
English Mastiff Facts
A Mastiff belonging to Sir Piers Legh, a knight in the 14th century, famously stood over his body and defended him for hours until he was picked up by his soldiers. He later died of his injuries, but his Mastiff was returned to England and started the famous Lyme Hall strain of Mastiffs.
Geoffrey Chaucer, using the breed's French name, Alan, in "The Knight's Tale," described the Mastiff as an animal comparable in size to a steer, hunting lion, or deer. Here is the passage in Middle English: "Aboute his char ther wenten white Alaunts Twenty and mo, as gret as any stere To hunten at the leon or the dere."
A Mastiff named Zorba was put into the Guinness Book of World Records for his incredible stature. He weighed nearly 343 pounds, was 37 inches at the shoulder, and was 8 feet, 3 inches long.
Other Breeds to Explore
References
Gough, Alex, Alison Thomas, and Dan O'Neill. Breed Predispositions to Disease in Dogs and Cats. John Wiley & Sons, 2018.
Mastromarino, Mark A. ""Teaching Old Dogs New Tricks: The English Mastiff and the Anglo‐American Experience."" The Historian 49.1 (1986): 10-25.
Morris, Desmond. Dogs: The Ultimate Dictionary of Over 1,000 Dog Breeds. Trafalgar Square, 2002.
American Kennel Club. The Complete Dog Book. Random House Digital, Inc., 2006.
Wynn, M. B. History of The Mastiff-Gathered From Sculpture, Pottery, Carvings, Paintings and Engravings; Also From Various Authors, With Remarks On Same (A Vintage Dog Books Breed Classic). Read Books Ltd, 2011.