English Bulldog
Life Expectancy
8-10 years
Area of Origin
Great Britain
The English Bulldog is known for being friendly, docile, and loving toward their owner. They have a kind and courageous temperament. This breed has become one of the most popular in the United States because of their loving personality and low-energy level. Heavy breathing and exuberant snorting are common traits for this breed. Their demeanor makes them suitable for families with children and multiple pets. However, they can become aggressive with unfamiliar dogs. They are currently classified as a non-sporting breed by the American Kennel Club.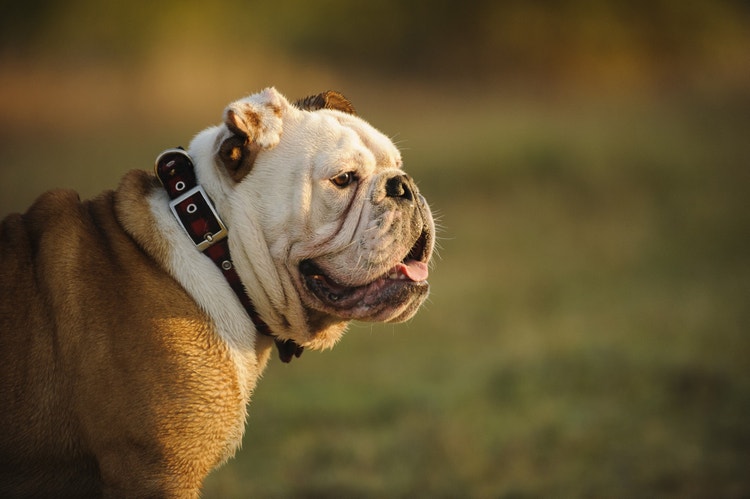 Friendliness to strangers
3
friendliness to other pets
4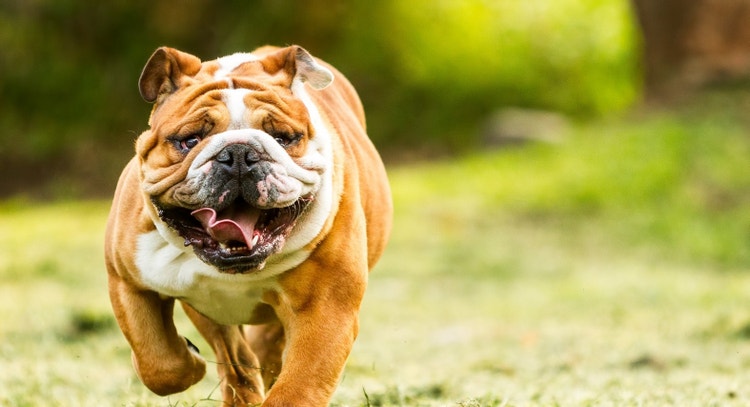 Where Do Bulldogs Get Their Name?
The English Bulldog can be traced back to the British Isles, sometime around the beginning of the 13th Century. They acquired their name because they were trained for the sport of bull baiting. This was a popular sport in medieval times and consisted of using dogs to provoke and attack bulls while spectators watched and bet on the outcome. The original Bulldogs were known for being ferocious and insensitive to pain, having been bred from a long line of fighters. They weighed about 80 pounds during that time period, which is much larger then the Bulldogs that are bred today. In 1835, this sport became illegal in Europe and Bulldogs became useless to their sporting owners and almost extinct. Fortunately, a few generations later, breeders started refining the qualities of the breed and eliminating the aggressive and undesirable traits.
They were accepted by the American Kennel club (AKC) in 1886 and were the 26th breed to be recognized. The English Bulldog has since developed into one of the most popular companion animals in the US.
Caring for an English Bulldog

Do English Bulldogs Have Weight Issues?
Do English Bulldogs Have Weight Issues?
The English Bulldog requires a high-quality, balanced diet. This breed tends to overeat, so they should be observed to ensure that they're not being overfed. Excessive weight can lead to health issues in Bulldogs in particular, since they are a brachycephalic breed. You can consult your veterinarian if you have any concerns regarding their weight. Your vet can also help develop a weight management program and address any itching or hair loss, which may be an indication of food allergies.

Do English Bulldogs Need Baths?
Do English Bulldogs Need Baths?
The Bulldog is a relatively low-maintenance breed in terms of grooming, however, they are relatively high maintenance when it comes to skin care. They require weekly bathing and brushing. Ensure that you are washing in-between all skin folds and wrinkles around the head, face, and neck to prevent skin bacteria and yeast infections. They are typically low to moderate shedders.

Why Do Bulldogs Have So Many Health Problems?
Why Do Bulldogs Have So Many Health Problems?
Bulldogs are predisposed to a number of diseases. If you are thinking about owning an animal from this breed you should consider getting pet insurance. Without pet insurance, treatment for any of these conditions can become very expensive.
Brachycephalic airway syndrome is a common problem for this breed and can be life-threatening without surgery. It is a condition that causes difficulty breathing due to an abnormal conformation of the face. Their flat, pushed-in muzzle also leads to the development of an elongated soft palate and stenotic nares. This condition can make temperature regulation difficult as well, which can lead to overheating or heat stroke.
Upper airway diseases may require surgery to correct the abnormal conformation. This type of surgery needs to be performed by a veterinarian surgeon and can be an expensive part of their medical care. Bulldogs are also prone to skin infections due to the folds and wrinkles around their face. You will need to make sure you are cleaning out these folds on a daily basis. Other issues for this breed include bone and joint disease, ocular disease, food and skin allergies, thyroid disease, and heart disease.
English Bulldogs are predisposed to: brachycephalic airway syndrome, elongated soft palate, stenotic nares, hip dysplasia, arthritis, cherry eye, keratoconjunctivitis sicca, entropion, skin infections, dermatitis, allergies, thyroid disease, cancer, ventricular septal defect, pulmonic stenosis, dystocia, urethral prolapse, and cryptorchidism.

Can You Train an English Bulldog?
Can You Train an English Bulldog?
The English Bulldog is a very intelligent breed, but they are capable of being stubborn, which can make training a challenge. They are food motivated and eager to please. Short training sessions may be appropriate as these dogs tend to lose focus. This breed has a tendency to be aggressive towards unfamiliar dogs, so they need to be socialized at a young age. Make sure that your puppy is up-to-date on their vaccinations before introducing them to dog parks or other public dog spaces. The Bulldog is a breed that needs to be encouraged to be active. If you let them, they will sleep all day.

How Much Exercise Does an English Bulldog Need?
How Much Exercise Does an English Bulldog Need?
This breed requires very little exercise. They are couch potatoes and will need encouragement for daily exercise. Short leash walks twice a day for 5 to 10 minutes should be enough, but make sure to exercise only in cooler weather. The Bulldog is a brachycephalic breed, making them prone to heat exhaustion, heat stroke, and respiratory distress. In warmer months with high humidity, indoor activities in an air-conditioned environment are best for this breed. Make sure they have access to water and shade at all times when outside.
What Are the Traits of an English Bulldog?
What Does an English Bulldog Look Like?
Bulldogs have a distinctive look. They are stocky, with massive, wide shoulders, broad chests, and slightly-bowed front legs. Their heads are large with a flat, smushed nose that is covered in folds and wrinkles. Ears are small and folded downward.
How Big Are English Bulldogs' Heads?
The English Bulldog head is very large and round, with a flat forehead. They have the typical "smooshed" facial appearance. The muzzle is very short and broad and turned upwards towards the corner of the eyes. This breed has massive jaws, with a protruding lower jaw. The lips are thick and broad, and should completely overhang the lower jaw on both sides. The nose is large and black in color with wide nostrils. Wrinkles commonly surround the face and neck, and skin in this area is extremely loose.
Are English Bulldogs Muscular?
This is a very muscular, heavy, and solid breed. They stand about 16 inches from their shoulders to the ground with an average body weight of 40 to 55 pounds.
What Does an English Bulldog's Tail Look Like?
The Bulldog has a screw-shaped tail that is very short and highly tucked. Ensure that you groom the fold between the base of the tail and the body, as yeast and bacterial infections flourish in this area.
English Bulldog Fore Legs
The front legs are shorter than the hind legs. Shoulders are very broad, extremely heavy, and muscular. The front legs are widespread and slant out. Paws are of a medium size.
What Colors Are Common for English Bulldogs?
The coat is short, flat, and straight. Typically, it will have a silky-smooth texture to the touch. Their coats can come in a variety of colors, like red and brindle, white and brindle, pure white, solid red, fawn, fallow, or piebald.
English Bulldog Hind Legs
The hind legs are muscular, and should be longer than the front legs. Hocks are bent, and the stifle is slightly bent outward.
English Bulldog Facts
Bulldogs are not suited for swimming due to their body weight and short legs. Owners need to be cautious around pools and bodies of water.
In 1835, this breed was known as the Bull-baiting dog, Old English Bulldog, and British Bulldog.
Bulldog mothers often have difficulty giving natural birth due to the size of their puppies' heads, so a caesarean delivery is commonly performed to ensure each animal's safety.
Other Breeds to Explore
References
Morris, Desmond. Dog: The Ultimate Dictionary of Over 1,000 Dog Breed s. Trafalgar Square, 2002.
American Kennel Club. The complete Dog Book. Random House Digital, Inc., 2006.
Wilcox, Bonnie and Chris Walkowicz. The Atlas of Dog Breeds of the World. T.F.H Publications, 1995.