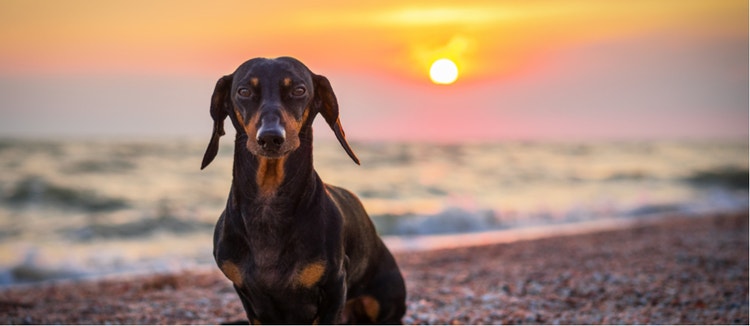 Dachshund
Life Expectancy
12 - 16 years
The Dachshund is the smallest of the hound breeds. Designed in Germany to tunnel into badger dens, Doxies are quite independent and courageous for such small animals. They are also excellent watchdogs, sounding a loud bark to alert humans of danger. Known to be stubborn on occasion, they have nonetheless won the hearts of many and are currently ranked the 12th most popular breed by the American Kennel Club.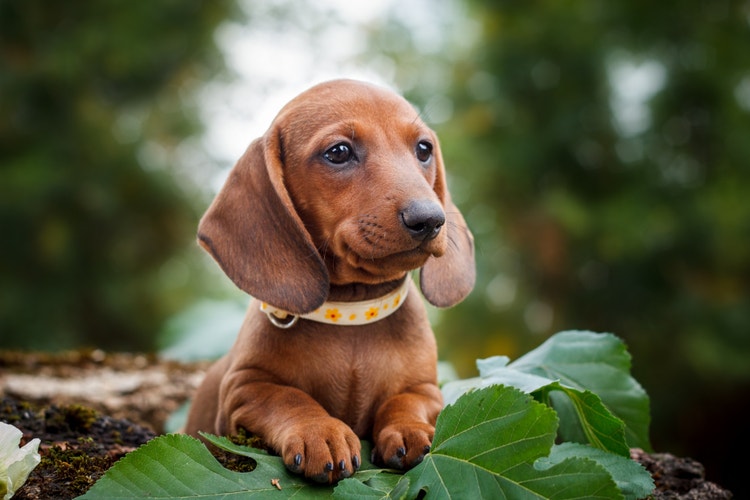 Friendliness to strangers
2
friendliness to other pets
3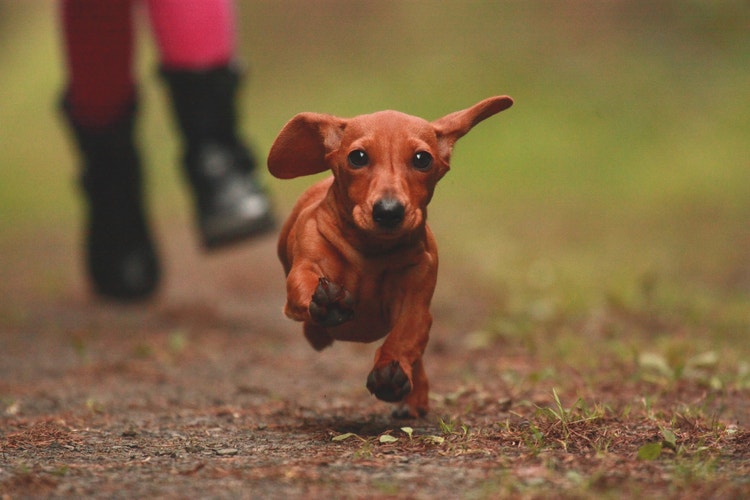 Where Are Dachshunds From?
The Dachshund is a German breed that dates back roughly 600 years. The English translation of the name is "badger dog," though it's often mistranslated as "badger hound." It is for this reason that the Dachshund was incorrectly placed in the hound category of the 1874 English stud book, rather than the terrier category.
Regardless of the translation, the Dachshund is a vivacious and hardy dog bred to hunt and follow badgers into their underground burrows. The long body and short legs of the Dachshund are perfect for digging into tunnels after prey, and their loud barks are able to alert handlers once prey has been located.
The original Doxies were heavier (30 – 35 lbs), which gave them an advantage against fearsome badgers and wild boar. Smaller varieties were bred to accommodate hunting of various game animals like foxes, weasels, and rabbits.
In the 20th Century, Dachshund popularity sunk after WWI, due to their German heritage. Thanks to the efforts of Americans in the postwar years, the Dachshund population made a rebound and has remained one of the most popular breeds ever since.
Caring for a Dachshund

What Kind of Diet Does a Dachshund Need?
What Kind of Diet Does a Dachshund Need?
Dachshunds do well on any high-quality commercial diet. However, overfeeding is a big concern, and overweight Doxies are prone to back problems. Do not leave food or treats lying around or that sensitive Doxie nose will seek them out!

How Much Grooming Does a Dachshund Need?
How Much Grooming Does a Dachshund Need?
Grooming depends on the coat type. Smooth-coated Dachshunds are very easy to maintain, since they rarely require baths. Long-haired Doxies, however, need frequent brushing if their fur is thick. The wire-haired variety need the most grooming, specifically coat stripping two or three times a year, brushing three to five times a week, and the occasional bath and beard trim.

Are Dachshunds Healthy Dogs?
Are Dachshunds Healthy Dogs?
Dachshunds are prone to a number of diseases. The most notable concern is intervertebral disc disease, to which they are predisposed due to their elongated bodies. Keeping Doxies at a healthy weight is paramount in minimizing this risk. Their lifespan averages 12 – 16 years.
Dachshunds are predisposed to: intervertebral disc disease, cataracts, congenital deafness, atlantoaxial subluxation, pyoderma, cryptorchidism, diabetes, epilepsy, ear infections, pododermatitis, entropion, distichiasis, glaucoma, progressive retinal degeneration (PRD), urolithiasis, and patent ductus arteriosus (PDA).

Can You Train a Dachshund?
Can You Train a Dachshund?
Doxies are very smart and strong willed, so training may be difficult. Rewards and patience are a must for training to be a success, as is maintaining your pet's attention.

Do Dachshunds Need a Lot of Exercise?
Do Dachshunds Need a Lot of Exercise?
Care must be taken when exercising Dachshunds. While they need frequent long walks to keep muscle tone and a healthy weight, they should be discouraged from running up and down inclined surfaces and jumping. Doxies can easily injure their backs during vigorous activity.
What Are the Physical Characteristics of a Dachshund?
What Does a Dachshund Look Like?
Doxies have a very unique appearance. They are long bodied and low to the ground, which is a suitable shape for tunneling after wily badgers. Their standard size averages 8 – 9″ height at the shoulder and 16 – 32 pounds. The Miniature Dachshund is 5 – 6″ height at the shoulders and under 11 pounds.
Are Dachshunds' Ears Long?
Dachshund ears are rounded and fairly long, brushing the cheeks when at attention. The head is broader at the top, narrowing towards the nose. Dark, moderately-sized eyes boast black rims and an alert expression.
Are Dachshunds Strong?
The Dachshund body is long, low to the ground and well muscled, despite their stature. The back is straight from the shoulders to the rump.
Do Dachshunds Have Tails?
Yes, Dachshunds have tails. They're typically long and carried out as an extension of the spine.
Dachshund Front Legs
The forelimbs are very strong and designed for digging. The front feet are closer together than the shoulders, giving a curved appearance. They are also pointed outward slightly.
What Type of Coat Does a Dachshund Have?
Doxies can have smooth, long, or wiry coats. Many coat colors are standard for the breed, as well as three marking patterns: brindle, sable, and dapple.
Dachshund Back Legs
The hindlimbs are strong and straight, and do not turn out or in. The hind feet are smaller than the front, and dewclaws are typically removed.
Dachshund Facts
During World War I, Dachshunds were referred to as "liberty hounds" in the U.S.
After World War II, the English translation of their name ("badger dog") was used to disassociate from their German origins.
Rumor has it that the nickname "wiener dog" became popular because of an early 20th Century drawing of a Dachshund wearing a hot dog bun.
Other Breeds to Explore
References
American Kennel Club. The Complete Dog Book. Random House Digital, Inc., 2006.
Morris, Desmond. Dogs: The Ultimate Dictionary of Over 1,000 Dog Breeds. Trafalgar Square, 2002.
Wilcox, Bonnie and Chris Walkowicz. The Atlas of Dog Breeds of the World. T.F.H Publications, Inc., 1995.