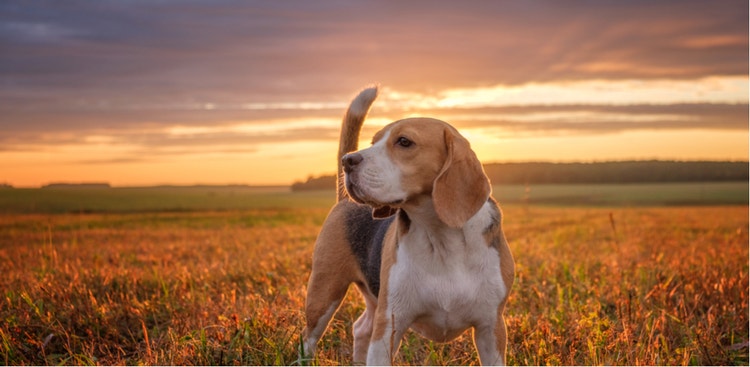 Beagle
Life Expectancy
10 - 15 years
Area of Origin
Great Britain
The Beagle is America's most popular hound breed. British in origin, these lovable pack hunters are always curious about their surroundings and have boundless energy. They also make wonderful family pets, since they get along very well with children and other dogs.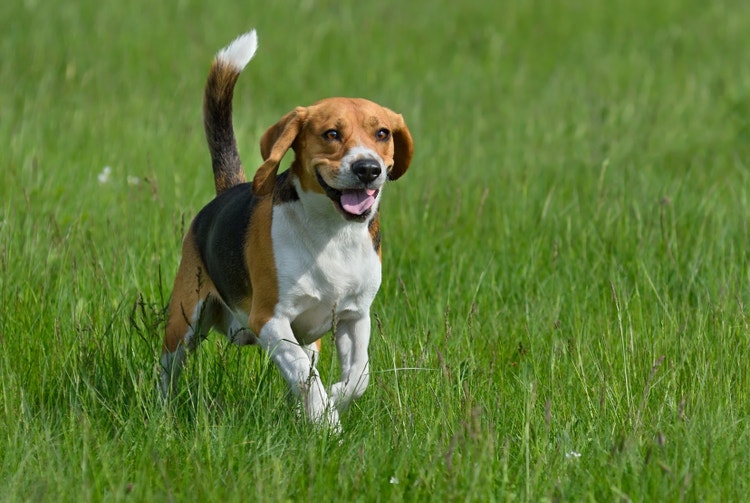 Friendliness to strangers
4
friendliness to other pets
4
Where Are Beagles From?
The true origin of the Beagle is unknown, though a rabbit hunting dog similar to the Beagle was around as early as the 14th Century. In the mid-19th century, a British hunter named Parson Honeywood developed a pack of dogs that is now thought to be the beginning of the modern Beagle. These dogs were bred to track with their noses and, when hunting in a pack, they alert with baying cries that can echo across a field.
Prior to the 1860s in the American South, small hounds called Beagles were popular, but they were quite different from the aforementioned British dogs. Their coats were mostly white, with a body closer to that of a Basset Hound or Dachshund. Their temperament was also not as friendly. Around 1880, the importation of British Beagles brought changes to the American bloodline, which produced the dogs we know and love today.
Caring for a Beagle

What Kind of Diet Does a Beagle Need?
What Kind of Diet Does a Beagle Need?
Beagles need a high-quality commercial diet, but beware of those pleading eyes; they are very prone to begging and overeating.

Do Beagles Shed?
Do Beagles Shed?
Beagles shed year-round, with spring being the heaviest period. Keep your Beagle's coat healthy with frequent brushing and bathing.

Are Beagles Healthy Dogs?
Are Beagles Healthy Dogs?
Beagles are generally healthy, with an average lifespan of 10 – 15 years. They should be evaluated for hip dysplasia, hypothyroidism, luxating patella, and eye disorders.
They are predisposed to: dermatitis, epilepsy, intervertebral disc disease, diabetes mellitus, ear infections, chronic hepatitis, and lymphosarcoma. Less common conditions for Beagles include cataracts, amyloidosis, glaucoma, deafness, cherry eye, hyperadrenocorticism, and kidney disease.

Can You Train a Beagle?
Can You Train a Beagle?
Beagles are amenable to positive reinforcement training, though they may be distracted by scents picked up by their keen noses. Be patient when training your Beagle, and you will be rewarded with a wonderful family member.

How Much Exercise Does a Beagle Need?
How Much Exercise Does a Beagle Need?
Beagles need daily exercise to burn off excess energy or they are likely to become destructive. They are incredibly social, so lots of time with their family or housemates is necessary. While they thoroughly enjoy walks, they must be on a leash at all times to keep them from following a scent.
What Are the Physical Characteristics of a Beagle?
How Big Do Beagles Get?
Beagles are often referred to as "big for their inches," thanks to their enthusiasm for life. American Beagles range in size from 13 – 15″ in height. British Beagles stand under 16″. Both British and American dogs generally weigh 18 – 30 pounds.
What Color Eyes Do Beagles Have?
Beagles have hazel or brown eyes, which give off a soft expression. Their heads are slightly rounded and wide at the top. Beagle ears are long (reaching almost to the tip of the nose), broad, and rounded.
Are Beagles Strong?
The body of the Beagle is compact and strong, though not bulky. The chest is broad and deep, and the back is short and muscular.
Why Are Beagle Tails Held High?
Beagle tails are carried high when they are tracking a scent. They are short in proportion to the body.
Beagle Front Legs
The forelimbs are straight and proportionate in length to the body. Feet are compact.
What Type of Coat Does a Beagle Have?
Beagles have dense fur with an undercoat that sheds in the spring. They come in several colors, including the traditional tri-color, red and white, and lemon.
Beagle Back Legs
The hindlimbs are strong and well muscled for running after their quarry.
Beagle Facts
Beagles began as members of the toy breed and were small enough to carry in a purse. This miniature version of the Beagle was very popular in 16th Century England and commonly referred to as the "Singing Beagle," likely due to the timbre of their bark.
President Lyndon B. Johnson owned Beagles named Him, Her, and Edgar.
Due to their trainability and charming nature, Beagles are frequently featured in movies. Examples include "John Wick" and "Shiloh."
Other Breeds to Explore
References
American Kennel Club. The Complete Dog Book. Random House Digital, Inc., 2006.
Morris, Desmond. Dogs: The Ultimate Dictionary of Over 1,000 Dog Breeds. Trafalgar Square, 2002.
Wilcox, Bonnie and Chris Walkowicz. The Atlas of Dog Breeds of the World. T.F.H Publications, Inc., 1995.