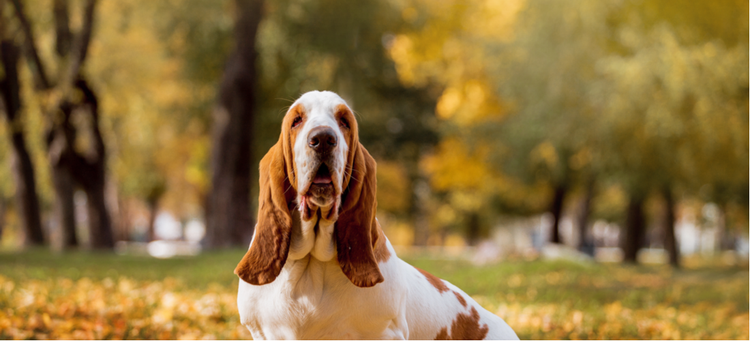 Basset Hound
Life Expectancy
10 - 12 years
The Basset Hound is a centuries-old, medium-sized hound dog that was originally bred to trail rabbits, deer, and other game. They have a distinctively deep and loud voice, which is helpful when hunt or scaring off intruders. Their slow pace and low-to-the-ground body allows them to sneak up on game without spooking them. Basset Hounds are well known for their endearing, droopy face with sad eyes and leisurely stride. They have been used in popular culture as the face of Hush Puppies shoes and the cartoon characters "Droopy Dog" and "Fred Basset." However, don't be fooled by their gloomy appearance, because this breed is highly intelligent with a nose that can out-sniff any dog aside from the Bloodhound. They are gentle and friendly, making them an excellent companion for children. They have a low-maintenance haircoat and are generally a laidback dog, unless they are on the hunt. The Basset Hound tends to be stubborn, and has a nose that will easily distract them, so training can be difficult unless you find a way to use their extraordinary scenting abilities to your advantage.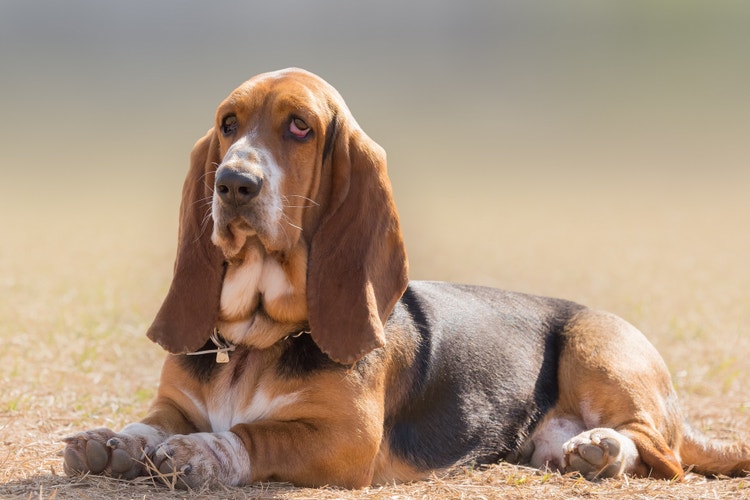 Friendliness to strangers
4
friendliness to other pets
4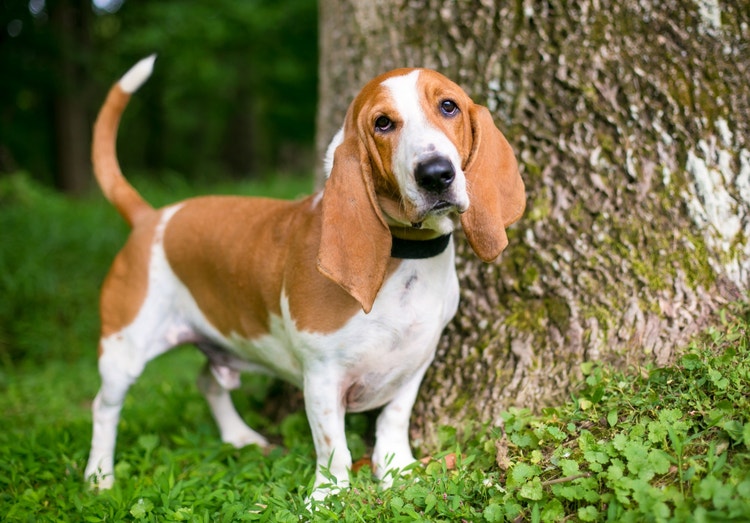 Where Are Basset Hounds From?
The word "basset" first appeared in a hunting text written by Jacques du Fouilloux in 1585, accompanied by an illustration of a Basset Hound. The French word bas, meaning "low thing" or "dwarf," is where the hound got its name. French friars bred various strains of French hounds to produce a dog that was shorter and slower, making them easier to follow on foot. French royals were known to be hunting enthusiasts, so it is no surprise that the Basset made its way into their kennels.
By the mid-19th century, there were two large breeders of Basset Hounds in France. One of them being Count Le Couteulx, who developed a tri-colored hound with a distinctive facial expression. Two of Count Le Couteulx's Bassets were imported to England by Lord Galway in 1866, but the breed did not gain popularity until much later. In 1874, Sir Everett Millais imported a French hound, Model, to England. Millais' continued breeding program of the Basset Hound, which added more Bloodhound to the breed, is what has given him the title of "father of the breed" in the UK. Millais exhibited his first Basset in an English dog show in 1875. Basset Hounds were also owned by Queen Alexandra in the early 1880s.
After the American Revolution, George Washington was given a Basset Hound by Marquis de Lafayette. In 1883-4, Americans began importing Basset Hounds from England, and the breed was recognized by the AKC in 1885. The Basset Hound has grown in popularity since the 1920s, with a puppy making its cover debut on Time magazine in 1928. The breed was also featured on The People's Choice (an American sitcom in the 1950s), the English comic "Fred Basset," and advertising for Hush Puppies shoes.
Caring for a Basset Hound

What Kind of Diet Does a Basset Hound Need?
What Kind of Diet Does a Basset Hound Need?
The Basset Hound requires a diet built for their age and breed. Because they are slow-moving creatures, they have a tendency to become overweight. Monitoring their caloric intake and limiting treats will help prevent obesity.

How Much Grooming Does a Basset Hound Need?
How Much Grooming Does a Basset Hound Need?
The Basset Hound requires minimal grooming due to their short haircoat. Since they shred regularly, they require weekly brushing. Their loose, wrinkly skin makes them prone to skin infections, so routine bathing is a must! This will also help keep the Basset smelling fresh and clean, as they tend to become very smelly from rooting around the ground. Nails should be trimmed regularly as well. Those long, velvety ears also make them prone to ear infections, so ear cleanings should be performed as recommended by your veterinarian.

Are Basset Hounds Healthy Dogs?
Are Basset Hounds Healthy Dogs?
The Basset Hound is prone to several illnesses. Because of their elongated body, they are more susceptible to intervertebral disk disease (IVDD). This occurs when there is either a "slipped" disk or a bulging disk on the spinal cord. This can result in pain, trouble walking, or paralysis. An examination by your veterinarian is recommended as soon as possible if any of these symptoms occur. Avoid letting your Hound jump on and off furniture or run up and down stairs to help minimize the risk of a disk injury.
Another health concern of this deep-chested breed is gastric dilatation volvulus (GDV), which can be life threatening. If your pet exhibits signs of a distended abdomen, non-productive retching, drooling, or restlessness, contact your veterinarian or an emergency hospital immediately.
Basset Hounds are also predisposed to hip dysplasia, which is a hereditary malformation of the hip joints. This can result in pain, lameness, and arthritis. Symptoms of hip dysplasia can be minimized by weight management and avoiding excess exercise.
As stated above, Basset Hounds are prone to obesity due to their couch-potato tendencies. This can be prevented through proper weight management and exercise.
Basset Hounds have a life span of 10 – 12 years, and are predisposed to: intervertebral disk disease, gastric dilatation volvulus, hip dysplasia, obesity, ear infections, bladder stones, glaucoma, cataracts, progressive retinal atrophy, lymphoma, wobbler syndrome, interdigital dermatitis, malassezia dermatitis, primary seborrhea, congenital hypotrichosis, temporomandibular luxation, ununited anconeal process, discospondylitis, entropion, and ectropion.

When Should I Start Training My Basset Hound?
When Should I Start Training My Basset Hound?
Begin training early in life with this independent breed, since they are quite stubborn. As with any hound dog, it is hard to get their nose off of the ground. It is essential to remain consistent with training methods. Positive reinforcement with aromatic training treats can help keep his sniffer focused on training instead of hunting.

How Much Exercise Does a Basset Hound Need?
How Much Exercise Does a Basset Hound Need?
The Basset Hound is not the most active breed, but they do enjoy playing with family members, which is a great form of exercise for a couch potato. Routine, leisurely walks are also recommended to prevent obesity.
What Are the Physical Characteristics of a Basset Hound?
How Big Are Basset Hounds?
Basset Hounds stand up to 15″ and weigh 40 – 65 pounds. They have a sturdy, low-slung body, with crooked legs and short haircoat. Their wrinkled brow, sad eyes, and long ears are distinctive characteristics of the breed.
Basset Hound Facial Features
The Basset Hound has a large, dome-shaped head with a long muzzle and dark nose. The skin on the face is loose, creating a signature wrinkle over the brow. Their eyes are slightly sunken and sad, and their velvety ears are long and set low on the skull.
Why Are Basset Hounds So Low to the Ground?
The Basset Hound body is set low to help them keep their nose to the ground when tracking a scent.
Do Basset Hounds Have Long Tails?
Yes, the Basset Hound tail is long and in line with the spine. As with other hound breeds, it is carried upward and has a coarse underside.
Basset Hound Front Legs
The Basset Hound is deep chested with the elbows positioned close to the chest. Their leg bones are dense and curved. The skin on their forelimbs is loose and wrinkly, and their paws are very large.
What Color Are Basset Hounds?
Basset Hounds are found in a variety of combinations and mixtures of black, white, brown, tan, lemon, mahogany, and red. They have a short, smooth haircoat with saggy skin.
Basset Hound Back Legs
Basset Hound hindquarters resemble the forequarters. Their bones are dense and parallel. Dewclaws are typically removed.
Basset Hound Facts
Marilyn Monroe was a Basset Hound enthusiast, and adored her pet hound Hugo.
The Basset Hound's long, floppy ears help lift scents off of the ground, improving their hunting abilities.
William Shakespeare referenced the Basset Hound in A Midsummer Night's Dream, describing their characteristic crooked legs, long ears, slow pace, and musical bark.
Other Breeds to Explore
References
Morris, Desmond. Dogs: The Ultimate Dictionary of Over 1,000 Dog Breeds. Trafalgar Square, 2002.
American Kennel Club. The Complete Dog Book. Random House Digital, Inc., 2006.
Wilcox, Bonnie and Chris Walkowicz. The Atlas of Dog Breeds of the World. T.F.H Publications, Inc., 1995.
Basset Hound Dog Breed Information. American Kennel Club, 2020.
AIS/PennHIP FAQ. ANTECH Imaging Services, 2016.
What is Canine Hip Dysplasia?. Orthopedic Foundation for Animals. 2020.
Gastric Dilatation-Volvulus. American College of Veterinary Surgeons. 2020.