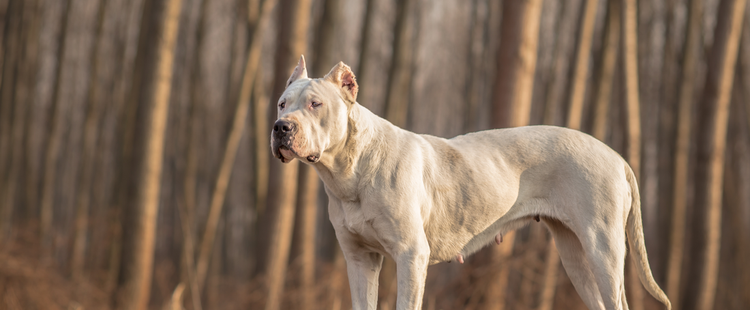 Dogo Argentino
Life Expectancy
10 - 11 years
The Dogo Argentino is a native breed of Argentina. They are a large and well-muscled dog, boasting exceptional intelligence, strength, and personality. Dogos are excellent family protectors, but caution should be taken around strangers and unfamiliar dogs. They are good with children in their household, but should always be supervised. This is a breed that requires an experienced owner with extensive training expertise.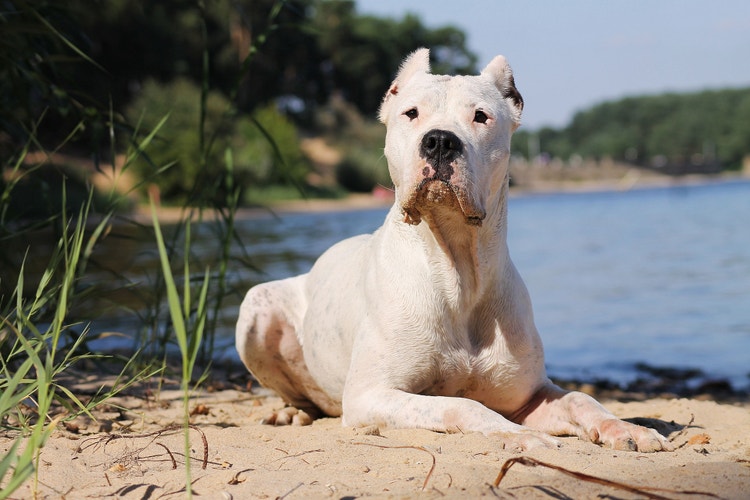 Friendliness to strangers
1
friendliness to other pets
1
Where Are Dogos Argentinos From?
Antonio and Augustin Martinez developed the Dogo Argentino to be a superb large game hunter and human protector. In 1925, they created the Dogo by integrating a variety of other breeds, including the Cordoba Fighting Dog, Pointer, Boxer, Great Dane, Bull Terrier, Old English Bulldog, Irish Wolfhound, Dogue de Bordeaux, Great Pyrenees, and Spanish Mastiff.
In 1947, Antonio, who was also a surgeon, published the breed standard in Argentina. The breed was used for many jobs, including drug & bomb detection and police work. In 1970, Dr. Raul Zeballos brought the Dogo to the United States and it was eventually recognized by the American Kennel Club in 2020.
Caring for a Dogo Argentino

How Much Food Should a Dogo Argentino Eat?
How Much Food Should a Dogo Argentino Eat?
The Dogo Argentino is a rather large breed of dog and requires a tremendous amount of healthy food to accommodate their size (up to 4 meals a day). They should be fed puppy food during their first 18 months to ensure proper bone and muscle development. This breed is predisposed to allergies, so consult your veterinarian if any issues arise.

How Much Grooming Does a Dogo Argentino Need?
How Much Grooming Does a Dogo Argentino Need?
Dogos have a short, slick hair coat that is surprisingly soft. They do not require much grooming at all (weekly brushing and infrequent bathing), but can be heavy shedders, so keep a vacuum handy.

Are Dogos Argentinos Healthy Dogs?
Are Dogos Argentinos Healthy Dogs?
Dogos Argentinos are relatively healthy. They are predisposed to gastric dilation volvulus, which is also known as "bloat." This is a life-threatening condition where the stomach twists inside the abdominal cavity and fills with air. To combat this, some veterinarians will recommend having a gastropexy when the dog is spayed or neutered. Young puppies should also be screened for hip dysplasia by a veterinarian.
The life expectancy for the breed is 10 to 11 years of age.
Dogos Argentinos are predisposed to: gastric dilation volvulus, hip dysplasia, autoimmune thyroiditis, deafness, allergies & skin problems.

How Much Training Does a Dogo Argentino Need?
How Much Training Does a Dogo Argentino Need?
The Dogo Argentino is a very intelligent dog with an instinct to protect its family and home. They need an experienced and knowledgeable owner to temper their stubbornness and strength. This breed makes a very strong distinction between family and strangers, so it is important to socialize them at a young age. They respond well to positive reinforcement training and will quickly learn basic commands.

How Much Exercise Does a Dogo Argentino Need?
How Much Exercise Does a Dogo Argentino Need?
This is a breed that requires a fair amount of exercise and multiple walks per day to maintain their muscle structure. Potential playtime activities include swimming, hiking, and playing fetch. If they get bored, they are prone to destructive behaviors.
What Are the Physical Characteristics of a Dogo Argentino?
Are Dogos Argentinos Strong?
Dogos Argentinos are an extremely muscular and powerful dog, built to endure the hunt and catch their prey. They resemble a white Pit Bull and possess a square head and black spotting on the nose and around the eyes.
What Color Eyes Do Dogos Argentinos Have?
Their almond-shaped eyes are a dark brown to deep black, which befits their intimidating look and figure. The head is large and broad, but slightly narrowed towards the muzzle. Ears are set high on the top of the skull and are typically cropped.
How Big Are Dogos Argentinos?
Females Dogos have an average weight of 77 to 88 pounds and are 26 inches tall. Males are a bit larger, boasting an average weight of 88 to 99 pounds and standing 27 inches in height.
Do Dogos Argentinos Have Tails?
Yes, Dogos have tails, which are typically long and carried between the legs.
Dogo Argentino Front Legs
The Dogo has a thick neck with broad, muscular shoulders. The front legs are straight and provide the breed with an elegant pose.
What Colors Are Common for Dogos Argentinos?
Dogos are always white, aside from dark patches on the head and face. Their coats should have a clean, glossy sheen. Because of their lightly-colored coats, they are very susceptible to sunburn.
Dogo Argentino Back Legs
Dogos have short hocks and muscular thighs with medium angulation.
Dogo Argentino Facts
Unfortunately, the Dogo Argentino is often negatively associated with dog fighting, which has resulted in them being banned in countries like Denmark, Fiji, and the Ukraine.
The Dogo Argentino was bred for big game hunting, specifically animals like wild boar, pumas, and mountain lions.
The breed was recently recognized by the AKC in 2020 and is their 195th breed.
Other Breeds to Explore
References
Morris, Desmond. Dogs: The Ultimate Dictionary of Over 1,000 Dog Breeds. Trafalgar Square, 2002.
American Kennel Club. The Complete Dog Book. Random House Digital, Inc., 2006.
Wilcox, Bonnie and Chris Walkowicz. The Atlas of Dog Breeds of the World. T.F.H Publications, Inc., 1995.
Tips For Taking Care Of Dogo Argentino Pups. AnimalCareTips, 2006.