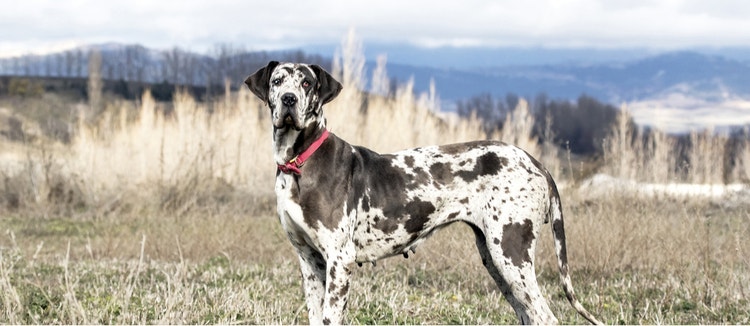 Great Dane
Life Expectancy
5 - 7 years
Great Danes are the tallest of the mastiff family. They were bred by the Germans as bull-baiters and boarhounds, later becoming known as guardians and companions. Though they are friendly and gentle with their families, they are fiercely loyal and protective, which may lead to aggression in poorly-trained dogs. A Dane's formidable stature gives them an air of elegance, but their awkward limbs and jovial personality make them an enjoyable family pet. Because of their unique presence, several Great Danes have been featured in movies and television, including characters like Scooby-Doo, Marmaduke, and Astro from "The Jetsons."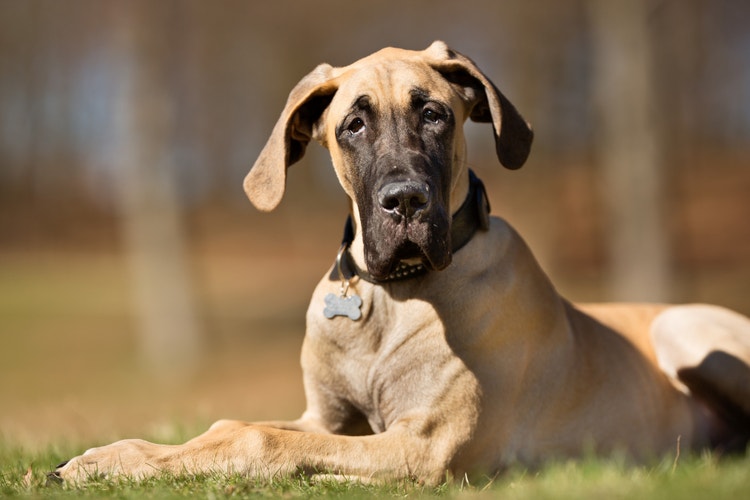 Friendliness to strangers
3
friendliness to other pets
3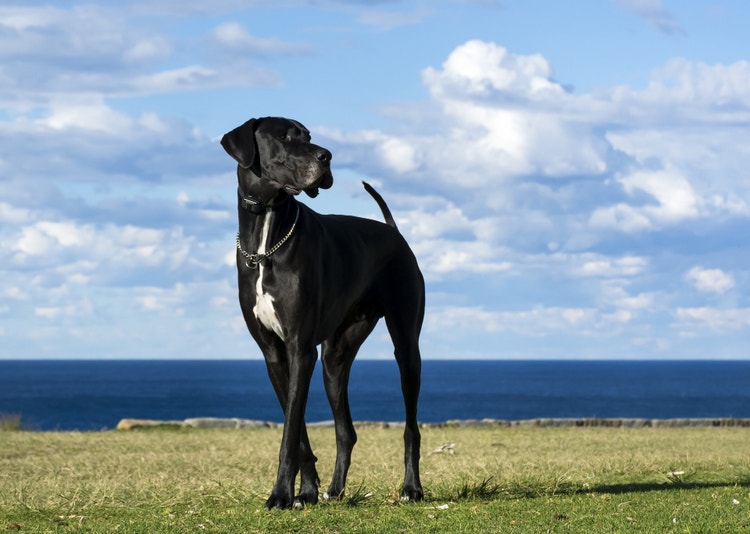 Where Are Great Danes From?
Despite the name, the Great Dane is a breed of German origin. They are the tallest of the mastiffs and known as "Gentle Giants." There are many theories surrounding the evolution of the Dane, some of which note them as descendants of the Tibetan Mastiff, Irish Wolfhound, or English Mastiff. Regardless of origin, the Germans developed a very powerful dog that was incredibly successful at hunting wild boar.
The Great Dane has a variety of names, most of which do not refer to the breed's German heritage. In the late 19th century, the Dane was officially given the name Deutsche Dogge (German Mastiff), but this moniker is not utilized in most countries.
Today's Danes are much gentler and more patient than their predecessors, though they will protect their families with a fierceness that reflects their heritage.
Caring for a Great Dane

How Much Food Does a Great Dane Need?
How Much Food Does a Great Dane Need?
Great Danes require tremendous amounts of food, which can be costly. This should be a consideration before adding a Dane to the family. They are prone to gastric dilatation volvulus, so it may be helpful to feed smaller portions and avoid strenuous activity after mealtime. They are known counter-surfers as well, so keep tasty foods out of their reach.

How Much Grooming Does a Great Dane Need?
How Much Grooming Does a Great Dane Need?
Danes require minimal grooming. Brushing every few days to distribute oils keeps the coat and skin healthy, and baths every few weeks should keep your Dane looking their best. They can be sensitive if touched on their feet, so early handling is highly recommended.

Are Great Danes Healthy Dogs?
Are Great Danes Healthy Dogs?
Great Danes are prone to health problems, due to their size and poor breeding practices. They have an average lifespan of 5 to 7 years. Danes should be screened for cardiac, hip, and ocular disorders. Gastric dilatation volvulus (also known as bloat) is a very common, life-threatening concern that afflicts many Danes. Families should educate themselves to understand and recognize the warning signs, and know what to do if their dog shows symptoms. They are also prone to many orthopedic diseases.
Danes are predisposed to: gastric dilatation volvulus, dilated cardiomyopathy (DCM), hip dysplasia, glaucoma, cataracts, entropion, pyoderma, osteosarcoma, osteochondrosis dissecans (OCD), hypothyroidism, aortic stenosis, and chronic valvular disease.

Do You Need to Train a Great Dane?
Do You Need to Train a Great Dane?
They may be "gentle giants," but Danes still require moderate training to ensure that they are well mannered. Socialization should begin early, both with other dogs and humans. Always use caution around small children and pets, since Danes may not know how big they are, and accidentally injure a smaller family member.

How Much Exercise Does a Great Dane Need?
How Much Exercise Does a Great Dane Need?
Danes may love to be couch potatoes, but they do need exercise. Daily walks are usually enough to keep them content. More vigorous activities like obedience training and agility are enjoyed by Danes with higher energy levels.
What Are the Physical Characteristics of a Great Dane?
How Big Do Great Danes Get?
Great Danes are tall, majestic, and graceful. The average height is 30 – 32″ for males and 28 – 30″ for females. They typically weigh between 110 and 175 pounds.
What Color Eyes Do Great Danes Have?
Great Danes have darker colored eyes that are expressive and exude intelligence. Their heads are long and rectangular in shape, with sharp lines and a straight muzzle. Ears are naturally floppy, but may be cropped, though this practice has fallen out of fashion in most countries.
Are Great Danes Strong?
The Great Dane body is strong and well muscled. The chest is very deep and wide, and the abdomen tucks up when viewed from the side.
Do Great Danes Have Curled Tails?
The Great Dane tail is long and curls slightly near the tip. It is typically carried down, but may lift when a dog is alert.
Great Dane Front Legs
Dane forelimbs are long, straight, and muscular. The feet are compact and dewclaws may or may not be removed.
What Colors Do Great Danes Come In?
The Dane has a short, smooth coat which comes in colors like brindle, fawn, blue, and black. Harlequin and Mantle, which exhibit unique black and white patterns, are less common.
Great Dane Back Legs
The hindlimbs are broad, strong, and straight when viewed from behind. The feet are compact and do not turn in or out.
Great Dane Facts
A Great Dane named Zeus holds the world record for tallest dog, standing at 3 feet 10 inches at the shoulder!
Dogs similar to the Dane appear in tomb drawings dating as far back as 2200 B.C.
Many historical figures were fans of the breed, including William "Buffalo Bill" Cody and Franklin D. Roosevelt.
Other Breeds to Explore
References
Millward, Adam. "Prodigious pets: five of the world's biggest domestic animals." Guinness World Records, 2019.
American Kennel Club. The Complete Dog Book. Random House Digital, Inc., 2006.
Morris, Desmond. Dogs: The Ultimate Dictionary of Over 1,000 Dog Breeds. Trafalgar Square, 2002.
Wilcox, Bonnie and Chris Walkowicz. The Atlas of Dog Breeds of the World. T.F.H Publications, Inc., 1995.