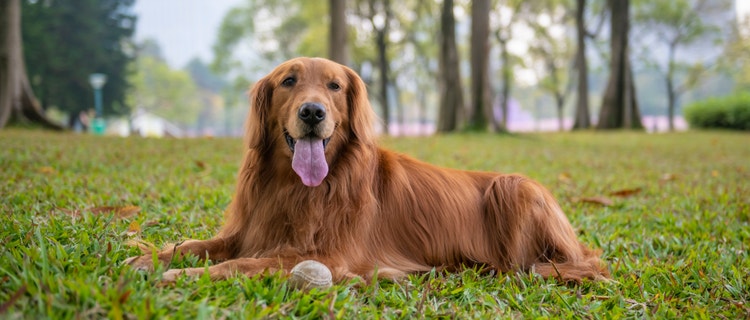 Golden Retriever
Life Expectancy
10 - 12 years
Area of Origin
Great Britain
The Golden Retriever is admired the world over, and currently ranked as the third most popular breed by the American Kennel Club. Originally bred as hunting dogs, they are commonly used today as guide dogs for the blind, service dogs, search and rescue dogs, and tracking and scenting specialists. The Golden Retriever personality is loving and loyal, and they are well known for their intelligence and trainability.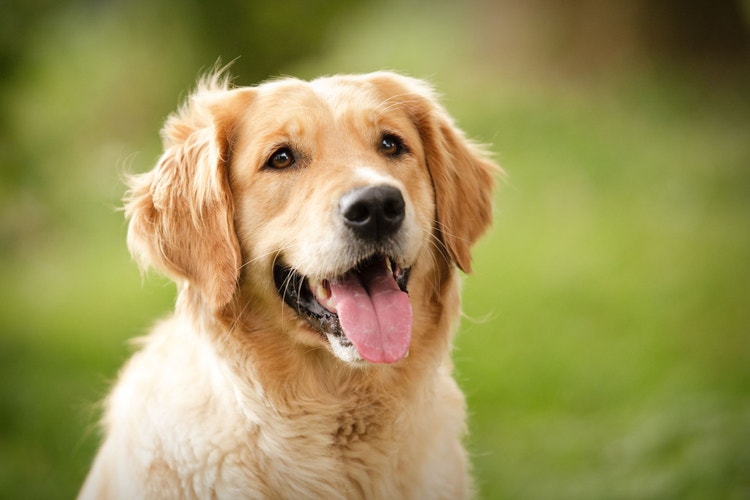 Friendliness to strangers
5
friendliness to other pets
5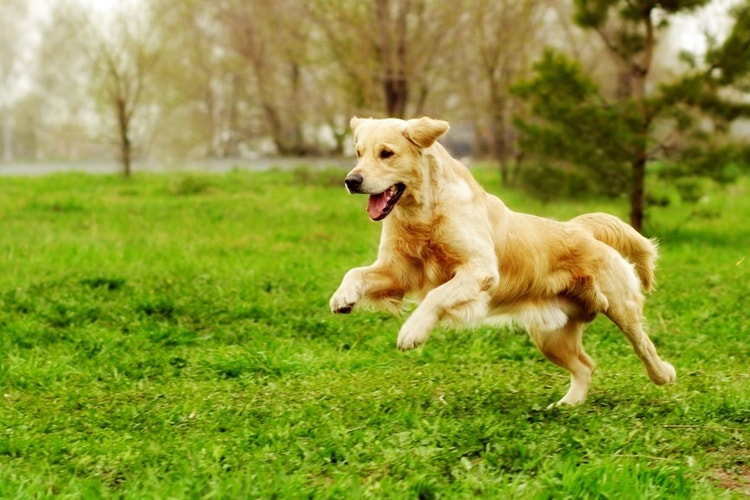 Where Are Golden Retrievers From?
The Golden Retriever dates back to the early 1800s, when they developed a reputation as a premier hunting dog in Scotland. It is said that in 1865, Lord Tweedmouth made a plan to breed the ideal gun dog on his Scottish estate. He initially bred a yellow Wavy-coated Retriever with a Tweed Water Spaniel, taking the best bitch from the litter and first crossing her with a Red Setter and then with a Tweed Water Spaniel.
Offspring from both litters were bred back to the Wavy-coated Retriever, followed by mating of the golden-colored pups to produce the foundation of the Golden Retriever. The breed was originally called the Flat-coated Retriever, then renamed Golden in 1903, before ultimately being dubbed the Golden Retriever in 1911. Golden Retrievers were introduced in America at the end of the 19th Century, but were not registered into the American Kennel Club until 1932.
Caring for a Golden Retriever

What Kind of Diet Does a Golden Retriever Need?
What Kind of Diet Does a Golden Retriever Need?
The Golden Retriever requires a high-quality diet, which is essential for their health and well-being. Proper nutrition may also help prevent food-related skin allergies. Obesity is a concern, so sufficient exercise is required to maintain a healthy weight. Only offering occasional treats helps, too.

How Often Do You Need to Brush a Golden Retriever?
How Often Do You Need to Brush a Golden Retriever?
Regular daily brushing is recommended to prevent matting. Brushing can prevent excess shedding and keep the coat healthy. You'll need to take your Golden to a professional groomer to remove large mats, should they develop.

Are Golden Retrievers Healthy?
Are Golden Retrievers Healthy?
Due to the popularity of the Golden Retriever, poor breeding practices have been implemented to keep up with demand, which has resulted in health issues. Diseases like certain cancers, hip dysplasia, allergies, and epilepsy are some of the most common among the breed. Their lifespan averages 10 – 12 years.
Golden Retrievers are predisposed to: gastric torsion, hip dysplasia, epilepsy, hot spots, hypothyroidism, atopy, interdigital dermatitis, food allergy, lick granuloma, cataracts, diabetes, osteocondrosis of the shoulder, corneal ulceration, glaucoma, laryngeal paralysis, entropion, ectropion, distichiasis, melanoma, mast cell tumors, hemangiosarcoma, progressive retinal atrophy, aortic stenosis, pericardial effusion, ectopic ureter, elbow dysplasia, dwarfism, osteochondrosis, and Von Willebrand's disease.

Are Golden Retrievers Easy to Train?
Are Golden Retrievers Easy to Train?
The Golden Retriever is an extremely intelligent and highly adaptable breed. They have been trained to do a multitude of tasks, including acting as a companion animal, drug and seizure detection, and search and rescue work.

How Much Exercise Does a Golden Retriever Need?
How Much Exercise Does a Golden Retriever Need?
Golden Retrievers require a fair amount of exercise, but are still capable of being docile napping partners. They do well in almost any lifestyle setting and, if well-exercised, can be playful, robust companions. The Golden is always happiest when with family, no matter what they are doing!
What Are the Physical Characteristics of a Golden Retriever?
How Big Are Golden Retrievers?
The Golden Retriever is of a medium size and quite muscular. They display a kind expression and have an eager personality. The desired height is 21 – 24 inches at the shoulders and the desired weight is 55 – 75 pounds.
What Color Eyes Do Golden Retrievers Have?
Golden Retriever eyes are friendly in expression and medium to dark brown in color. The head is broad and moderately round. Ears are short, triangular, and hanging to the level of the jaw.
Are Golden Retrievers Muscular?
The body of a Golden Retriever is stable and deep chested. They are muscular and hard working dogs.
Do Golden Retrievers' Tails Curl Up?
The tail is thick and muscular at the base with moderate feathering. It curls upward at the end and is constantly wagging.
Golden Retriever Front Legs
Legs are straight and strong. Dewclaws may be removed.
What Type of Coat Does a Golden Retriever Have?
The Golden Retriever has a dense and water-repellent coat. The outer coat is durable and may be straight or wavy. The coat on the back of the legs and underside of the body may be feathered. Color of the coat may be various shades of golden with lighter notes of feathering underneath.
Golden Retriever Back Legs
The hindquarters are muscular, with straight, solid legs.
Golden Retriever Facts
Duke, the star of Bush's Baked Beans' advertising campaign, has been played by multiple dogs, but the original Duke is real and owned by Jay Bush himself.
Retrievers have spent time in the White House. President Reagan famously named his Golden Retriever "Victory," and President Ford was also fond of the breed.
A folktale about the Golden Retriever links their origin to a troupe of Russian circus dogs performing in Brighton.
Other Breeds to Explore
References
Morris, Desmond. Dogs: The Ultimate Dictionary of Over 1,000 Dog Breeds. Trafalgar Square, 2002.
American Kennel Club. The Complete Dog Book. Random House Digital, Inc., 2006.
Wilcox, Bonnie and Chris Walkowicz. The Atlas of Dog Breeds of the World. T.F.H Publications, Inc., 1995.
Greenberg, Aurora. "Golden Retriever Dog Breed Information." American Kennel Club, 6 Nov. 2017, www.akc.org/dog-breeds/golden-retriever/.