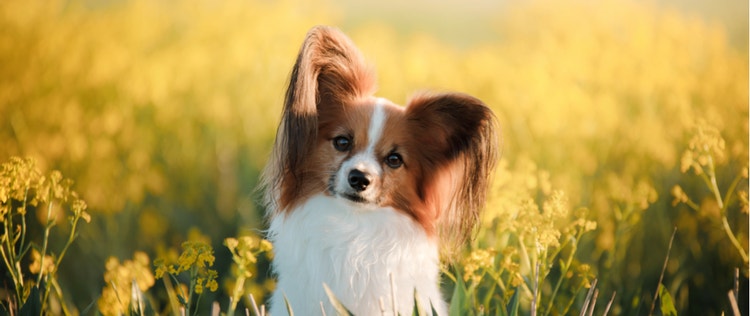 Papillon
Life Expectancy
12 - 15 years
The Papillon is an outgoing, friendly toy breed that is well known for its magnificent ears. Their name is inspired by these amazing appendages, since Papillon translates to "butterfly" in French, which is an adequate representation of their appearance. Ancestors of the Papillon have been a favorite lapdog in Europe since at least the 13th century. The breed has appeared in several portraits by famous painters, including Goya, Rembrandt, Fragonard, Watteau, Boucher, Rubens, and Titian. They are happy, tiny dogs that enjoy being around people. Papillons are as intelligent as they are beautiful, and are a pleasure to train for play and competition. The breed can withstand both hot and cold temperatures alike, and are capable of thriving in country or urban settings, due to their intellect and small size. Their luxurious haircoat requires frequent brushing, but is otherwise easily maintained. Because of their outgoing and non-aggressive temperament, they make great family companions.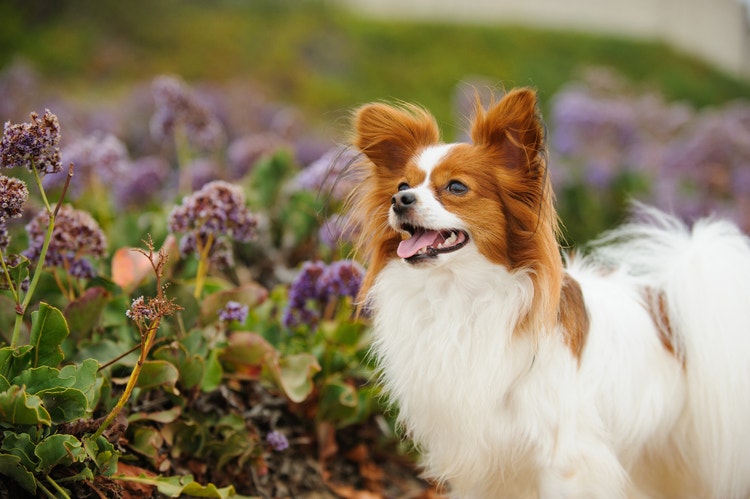 Friendliness to strangers
5
friendliness to other pets
4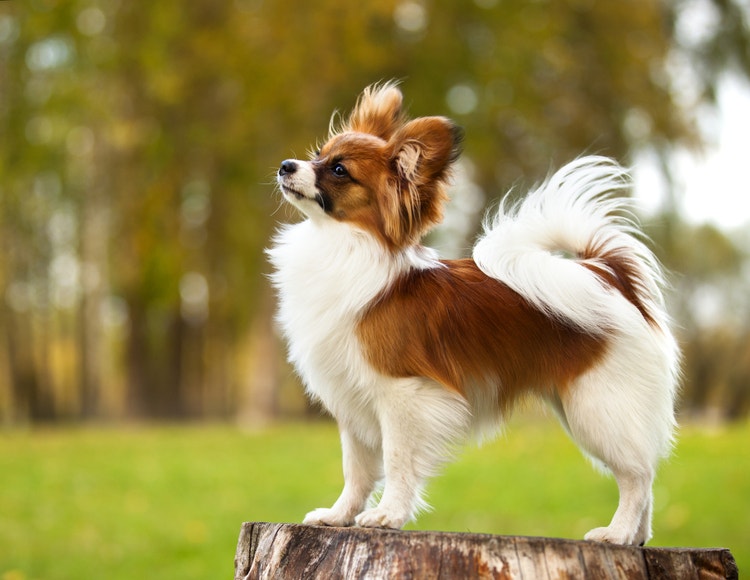 Where Are Papillons From?
The Papillon is thought to have derived from a Dwarf Spaniel, specifically the Phalene, which is similar in appearance aside from its drop ears. They have been widely popular lapdogs in Europe for centuries. The breed originated in Spain and has been traded among royalty since then. The largest trade market was credited to a man from Bologna named Giovanni Filipponi. They were an expensive breed that made their way to France via King Louis XIV's court. Louis the Great's Papillons possessed drooping ears, but over time, the breed developed erect, butterfly ears. It was around this time that acquired their title. Both Madame de Pompadour and Marie Antionette had them as pets, as well as many other noblewomen. The Papillon eventually made its way to England in 1901 and arrived years later in the United States. They were officially recognized by the American Kennel Club in 1915.
Caring for a Papillon

What Kind of Diet Does a Papillon Need?
What Kind of Diet Does a Papillon Need?
The Papillon should be fed a high-quality, age-appropriate diet. As with any breed, they can become overweight if overfed. Monitoring their food intake carefully will help prevent obesity. Maintaining a healthy weight will help keep their delicate legs healthy as well.

How Much Grooming Does a Papillon Need?
How Much Grooming Does a Papillon Need?
In order to maintain the Papillon's luxurious and silky haircoat, they must be brushed several times a week. Their long feathers are prone to mats that can be uncomfortable and even require clipping. They do not have an undercoat and only require bathing and grooming every couple of months, unless they become dirty from playing. They are seasonal shedders, and their nails should be trimmed regularly.

Are Papillons Healthy Dogs?
Are Papillons Healthy Dogs?
The Papillon is a relatively healthy breed with few medical concerns. Entropion is a common issue. This is an ocular problem in which the eyelids roll inward and the eyelashes cause irritation on the eyeball. The inward rolling eyelashes can also cause corneal ulcers. This condition requires surgical correction. Monitor your pet for any squinting, ocular discharge, or discomfort, and seek veterinary care if noted.
They are also prone to cataracts. This occurs when there is loss of transparency in the ocular lens, which can lead to blindness. Monitor your pet for blue, gray, or white color changes within the eye, loss of vision (or bumping into things), redness, irritation, squinting, or discomfort. There is no medical treatment for cataracts, however, some pets may be a candidate for surgical correction. This procedure is performed by a veterinary ophthalmologist and not all pets will qualify.
Papillons are also prone to corneal dystrophy, which results in the appearance of spots on the cornea. Monitor for change in eye color, squinting, tearing, or ulceration, and seek veterinary care if noted. There is no cure for corneal dystrophy. There is only treatment to attempt to slow the progression of the disease. Routine ocular examinations by a veterinarian are recommended.
Congenital deafness can also be present at birth.

How Much Training Does a Papillon Need?
How Much Training Does a Papillon Need?
The Papillon is a smart breed and is easily trained. They are outgoing and eager to please, so learning tricks should be a relatively quick process. Early socialization and training are recommended.

How Much Exercise Does a Papillon Need?
How Much Exercise Does a Papillon Need?
The Papillon enjoys short walks with the family, as well as agility training. They also enjoy playing with toys indoors or chasing small animals outside. They are an intelligent breed and can learn new activities and games quickly.
What Are the Physical Characteristics of a Papillon?
What Do Papillons Look Like?
Papillons are a tiny, yet sturdy, breed with a long, silky haircoat. Their spectacular butterfly ears are a signature characteristic. They are elegant, confident-looking dogs, whose gait is effortless and graceful. They stand between 8 and 11 inches tall.
Papillon Head and Eyes
The Papillon head is small with a narrow muzzle and tiny, black nose. Their eyes are alert and black rimmed. The ears are well-fringed and erect like a butterfly's wings or dropped.
Are Papillons Strong?
The Papillon body is dainty, but surprisingly strong. The chest and neck are medium in size, with a well-defined waist.
Do Papillons Have a Tail?
Yes, Papillons have a tail. It is long, feathered, and curved over the back.
Papillon Front Legs
The forequarters of the Papillon are comprised of relaxed shoulders and delicate forelimbs, allowing for graceful strides. The toes are long, thin, and may have dewclaws.
What Color Are Papillon Dogs?
Papillons are mostly white in color, featuring patches of red, black, or lemon. Their haircoat is long and silky on the body, but shorter on the head, forelimbs, and hindlimbs.
Papillon Back Legs
The hindquarters are equally aligned with the forequarters, featuring thin, parallel limbs and long toes.
Papillon Facts
Madame de Pompadour, an infamous member of Louis XV's court, owned two Papillons named Inez and Mimi.
Marie Antoinette's Papillon, Thisbie, reportedly waited outside of her prison cell while she awaited execution.
Many noble ladies owned Papillons and demanded the elegant breed be included in their portraits.
Other Breeds to Explore
References
American Kennel Club. The Complete Dog Book. Random House Digital, Inc., 2006.
Morris, Desmond. Dogs: The Ultimate Dictionary of Over 1,000 Dog Breeds. Trafalgar Square, 2002.
Wilcox, Bonnie and Chris Walkowicz. The Atlas of Dog Breeds of the World. T.F.H Publications, Inc., 1995.
Papillon Dog Breed Information. American Kennel Club, 2020