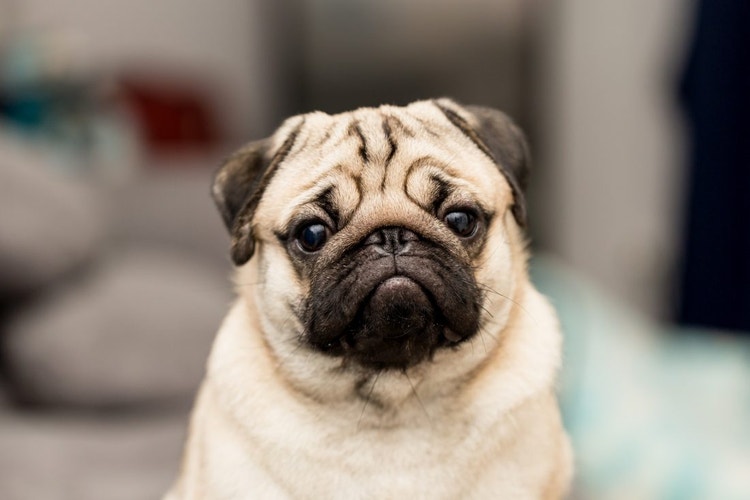 Pug
Life Expectancy
12-14 years
The Pug is a playful, even tempered, and devoted breed. The motto of the Pug is multum in parvo, which means "much in little" in Latin, and this breed certainly lives up to that description. Prominent eyes, wrinkled faces, and curly tails are just a few distinctive traits. The Pug enjoys both life in the city and the suburbs and their laid-back temperament makes them an excellent family pet. Their passion for food and some health problems may be this breed's only weaknesses.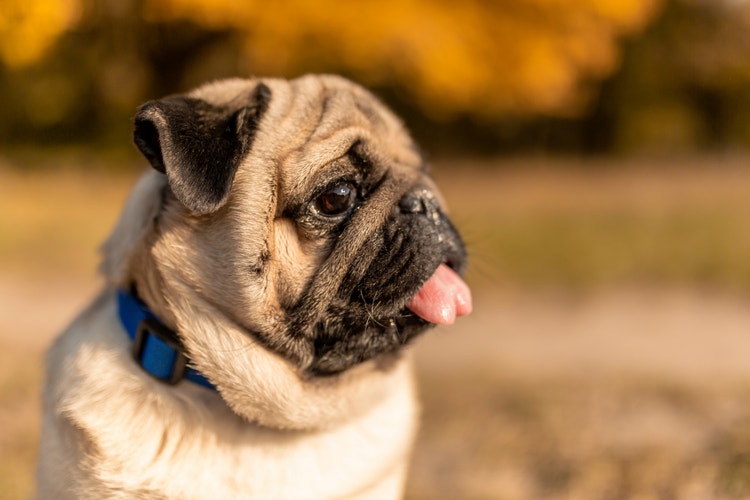 Friendliness to strangers
3
friendliness to other pets
4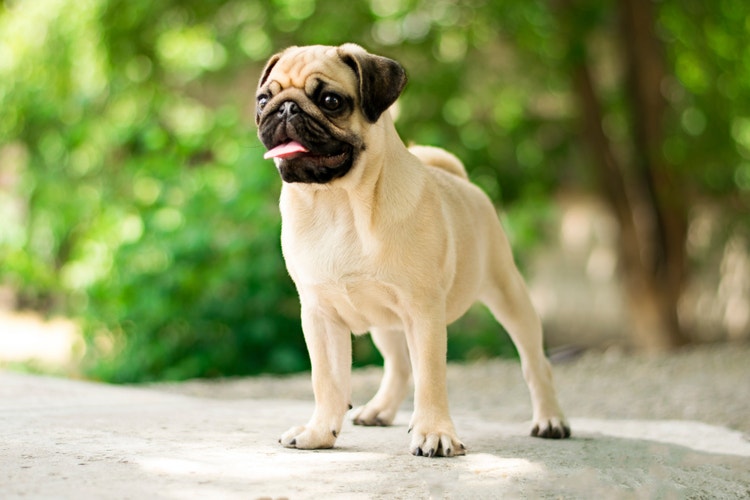 Where Are Pugs From?
The name "Pug" is suggested to have many different origins. In Latin, the word pugnus means fist, which the Pug's head is thought to resemble. They are also referred to as carlin in France, carlini in Italy, Mops Hund in Germany, Lo-sze in China, and mophand in the Netherlands. The Pug is the largest of the toy breeds and is also a companion animal. They originated in China and have been traced back to the first century B.C. They were royal dogs in their native land and were often gifted to overseas rulers. The oldest breeding records from China include descriptions of Pug-like dogs with both straight and bowed front legs, which may indicate interbreeding with the Pekingese, Japanese Chin, and Shih Tzu. The breeding records also describe fawn, black, and parti-colored coats.
It is believed that Holland was the first European country to acquire a Pug via the Dutch East India Company. In 1688, when William III and Mary II traveled from Holland to Great Britain to begin their reign as King and Queen, they brought their beloved Pugs along with them. The Pugs wore orange ribbons to represent the House of Orange and henceforth, Pugs became a symbol of supporters of the royal family. Black Pugs were not formally introduced until 1877 and almost entirely unknown until 1886, when Britain's Lady Brassey showed her black Pugs in Maidstone, Kent. The Pug was officially recognized by The American Kennel Club in 1885.
Caring for a Pug

Do Pugs Have Weight Problems?
Do Pugs Have Weight Problems?
The Pug thoroughly enjoys food and can easily become overweight. As a brachycephalic breed, they are prone to respiratory abnormalities and obesity can further exacerbate these breathing issues. Monitoring your Pug's caloric intake and weight can help prevent obesity. Limiting table scraps may seem difficult, due to their adorably wrinkly faces, but it will help maintain a healthy weight.
If your Pug becomes overweight, an appropriate weight management plan should be discussed with your veterinarian.

Do Pugs Need to Be Groomed?
Do Pugs Need to Be Groomed?
The Pug's short coat requires minimal grooming, only routine brushing, and periodic bathing. Frequent cleaning of the wrinkles of their face will help prevent moisture build up, which can lead to dermatitis.

Do Pugs Have Health Issues?
Do Pugs Have Health Issues?
Pugs are predisposed to a variety of health concerns. They are a brachycephalic breed, meaning they have a short nose and flat face. This makes them prone to heat intolerance, respiratory distress, elongated soft palate, stenotic nares, everted laryngeal saccules, a narrow trachea, and gastroesophageal reflux. Because of their prominent eyes and wrinkled forehead, the Pug is prone to several ocular diseases, such as proptosis, corneal ulcers, and entropion. Therefore, routine eye examinations are recommended. Proptosis can be caused by trauma to the head and/or neck, so using a harness instead of a neck lead is suggested for a Pug. This will help minimize the risk of a trip to the ER for an ocular emergency. They can also suffer from hip dysplasia and should have routine orthopedic exams as well. Hip dysplasia can be exacerbated by obesity, which is yet another reason to keep a Pug's weight in check. The Pug also suffers from skin diseases and neurologic diseases. Their life span is 12 – 14 years.
Pugs are predisposed to: hip dysplasia, patellar luxation, elongated soft palate, Stenotic nares, everted laryngeal saccules, entropion, demodectic mange, atopy, melanoma, mast cell tumors, heat stroke, pug encephalitis, dystocia, distichiasis, keratoconjunctivitis, and proptosis.

How to Train a Pug
How to Train a Pug
The Pug is an intelligent and amiable breed, making them fairly easy to train using standard obedience methods. Given their love of food and family, teaching with small training treats (as long as they are veterinarian approved) will surely keep them motivated. Their patient and non-aggressive temperament, along with their square and sturdy body frame, make them wonderful companions for children.

How Much Exercise Does a Pug Need?
How Much Exercise Does a Pug Need?
The Pug does require some mild exercise since they are prone to obesity, but this should be done with caution. As a brachycephalic breed, they are predisposed to heat intolerance and respiratory distress. Too much exercise or taking them outside in high temperatures can result in heat stroke. Brief, short distance walks in mild temperatures are best for this breed.
Engaging in play with your Pug in a cool environment is a safe way to maintain a healthy weight in warmer climes. However, it is imperative to closely monitor their breathing and provide access to water during any exercise or training session with a Pug.
What Are the Physical Traits of a Pug?
What Does a Pug Look Like?
Pugs are essentially a miniature Mastiff that has a square body, with thick, wrinkly skin and a curled tail. Their height ranges from 10 – 11 inches and they weigh 14 – 18 lbs. Pugs can either be lean and leggy or long bodied, muscular, and short legged.
How Big Are Pugs' Heads?
The head of a Pug is large and circular. The eyes are expressive and prominent, globular in shape, and dark colored. The ears are thin and small, with a velvety feel. The wrinkles on their forehead and mask are large and deep. The muzzle is short and blunt, and they have a slight underbite.
Are Pugs Short?
The body is short and stocky. Their chest is wide and the ribs should be well defined.
What Does a Pug's Tail Look Like?
The double-curled and tight tail is considered "perfection" by Pug enthusiasts.
Pug Fore Legs
Pug forelegs are of moderate length, strong and straight, and set well underneath the chest.
What Colors Do Pugs Come In?
Pugs come in apricot or silver-fawn (with black masks) and black varieties. Their coat is short, soft, and smooth.
Pug Hind Legs
The hind legs are muscular and strong with a moderate bend at the stifle. Their hocks are short and the hind legs should be parallel in appearance from behind. The hindquarters and forequarters should be in balance.
Pug Facts
In 1572, William the Silent's (Prince of Orange) life was saved by a pug whose bark warned him of an attack by Spanish troops.
A Pug named "Fortune" was the companion of Napoleon's wife, Josephine, and reportedly bit the French leader on their wedding night.
The Pug has been the most popular breed in England twice in recorded history (in the middle of the 18th century and mid-Victorian period of the 19th century).
Other Breeds to Explore
References
Morris, Desmond. Dogs: The Ultimate Dictionary of Over 1,000 Dog Breeds. Trafalgar Square, 2002.
American Kennel Club. The Complete Dog Book. Random House Digital, Inc., 2006.
Wilcox, Bonnie and Chris Walkowicz. The Atlas of Dog Breeds of the World. T.F.H. Publications, Inc., 1995.