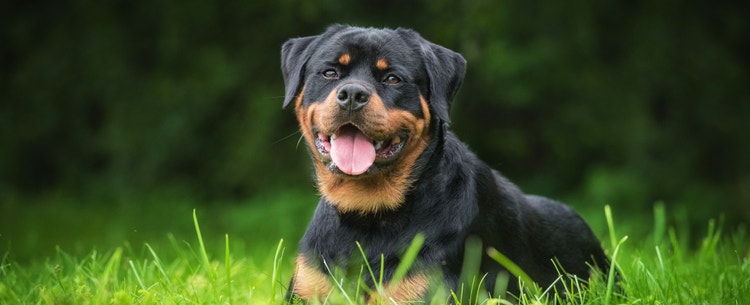 Rottweiler
Life Expectancy
10 - 12 years
This Rottweiler is a popular breed that was originally developed by the Romans as a herder, and has since become a police dog, guard dog, and family companion. They are known for their unwavering dedication to their families, though poor training may lead to unwanted aggression.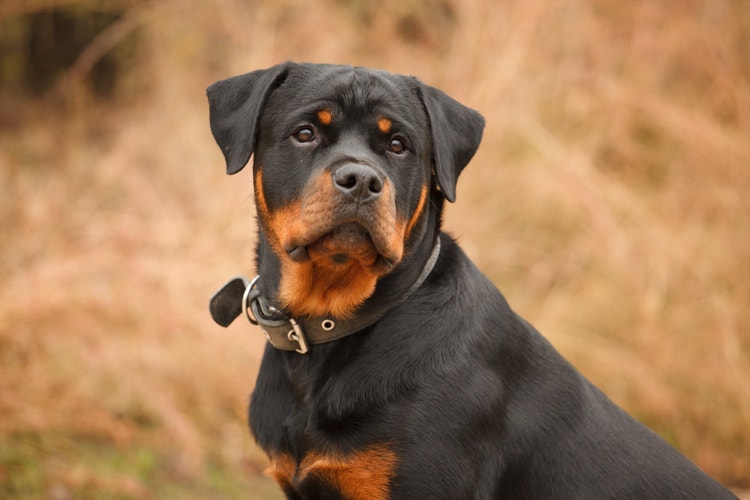 Friendliness to strangers
2
friendliness to other pets
3
Where Are Rottweilers From?
The Rottweiler's true origin is unknown, but they are likely descendants of ancient Roman herding dogs. They were used to herd cattle with the Roman troops during their travels through Europe. In approximately 74 AD, one of the tours ended in present day southern Germany. For the next two hundred years, their descendants stayed in this area, acting as guard dogs.
When a church was being constructed on the site of an ancient Roman bath house around the year 700, the builders found red roof tiles from Roman villas. These tiles, das Rote Wil, became the derivation of the current site name, Rottweil, and the origin of this breed's moniker.
This breed's numbers steadily declined in the mid to late 19th century, when cattle driving was outlawed and railroads became more prevalent. They did not regain their popularity until the early 20th century, when they garnered acclaim as police dogs.
The Allgemeiner Deutscher Rottweiler Klub (ADRK) was created in 1921, and remains active today. The breed was accepted by the AKC in 1935.
Caring for a Rottweiler

What Kind of Diet Do Rottweilers Need?
What Kind of Diet Do Rottweilers Need?
Rotties tend towards obesity, so careful calorie intake is a must. They are very food motivated, so training with treats works well, but keep snacking to a minimum. They are also prone to gastric dilatation volvulus (GDV or bloat), so it may be best to feed smaller, more frequent meals, and to avoid exercise after eating.

How Much Grooming Does a Rottweiler Need?
How Much Grooming Does a Rottweiler Need?
Rottweilers require only moderate grooming. Brushing your Rottie few times weekly and regular bathing is enough to keep their coat healthy. Seasonal shedding will necessitate additional brushing, and be prepared for tumbleweeds!

Are Rottweilers Healthy Dogs?
Are Rottweilers Healthy Dogs?
Rotties are predisposed to: gastric dilatation volvulus (GDV or bloat), osteochondrosis, hip dysplasia, osteosarcoma, diabetes, entropion, cataracts, progressive retinal atrophy (PRA), and retinal detachment.
They're also prone to kidney failure, elbow dysplasia, aortic stenosis, and atlantoaxial subluxation as well, but these are less common.

Can You Train a Rottweiler?
Can You Train a Rottweiler?
Rottweilers are bright dogs, but need training to develop good habits. Puppy training classes are a must if you want to raise a well-behaved adult. This breed is generally eager to please, but can also be stubborn if the mood strikes. Rough play is discouraged, as this may lead to aggression.

How Much Exercise Does a Rottweiler Need?
How Much Exercise Does a Rottweiler Need?
Rotties need to expend energy daily. They are very athletic, and enjoy any number of activities, especially if their families participate. They also excel at cart pulling and other working duties, such as herding and tracking.
What Are Physical Characteristics of a Rottweiler?
Are Rottweilers Muscular?
Rottweilers have a muscular, medium to large body. The average height is 24 to 27″ at the shoulder for males and 22 – 25″ inches for females. They generally weigh 90 – 110 pounds.
How Big Is a Rottweiler's Head?
The head is broad with strong jaws and arched forehead. Medium-sized dark eyes are fairly deep set with an alert, intelligent expression. Pendulant, triangular ears are carried level with the top of the head when at attention.
Are Rottweilers Strong?
The body of the Rottweiler is strong and imposing. The back is straight from the base of the neck to the rump. The waist is slightly tucked up.
Why Are Rottweilers' Tails Docked?
The Rottweiler tail is typically docked to one or two vertebrae in length for protection against injury while working. Many regions, especially in Europe, are banning this tradition, since it is not necessary for companion animals. However, it currently remains AKC breed standard.
Rottweiler Front Legs
The legs are straight, moderately wide based, and the elbows are set under the body. The feet are compact with one dewclaw, which may be removed.
What Color Are Rottweilers?
The Rottweiler's coat is mostly black, with rust to mahogany markings on the face, throat, chest, legs, and feet. Their fur is dense and straight, and the undercoat is only seen on the neck and thighs.
Rottweiler Back Legs
The thighs are well muscled and broad. The hind limbs are straight and wide set when viewed from behind. The feet do not turn in or out, and dewclaws are typically removed.
Rottweiler Facts
In the early 20th century, many Rotties were trained as police and military dogs.
Celebrities have taken a shine to the breed, including Will Smith, Bruno Mars, Leonardo DiCaprio, and Miley Cyrus. Rotties have also made countless cameo appearances in television shows and movies.
The Rottweiler is currently the 8th most popular AKC breed.
Other Breeds to Explore
References
American Kennel Club. The Complete Dog Book. Random House Digital, Inc., 2006.
Morris, Desmond. Dogs: The Ultimate Dictionary of Over 1,000 Dog Breeds. Trafalgar Square, 2002.
Wilcox, Bonnie and Chris Walkowicz. The Atlas of Dog Breeds of the World. T.F.H. Publications, Inc., 1995.