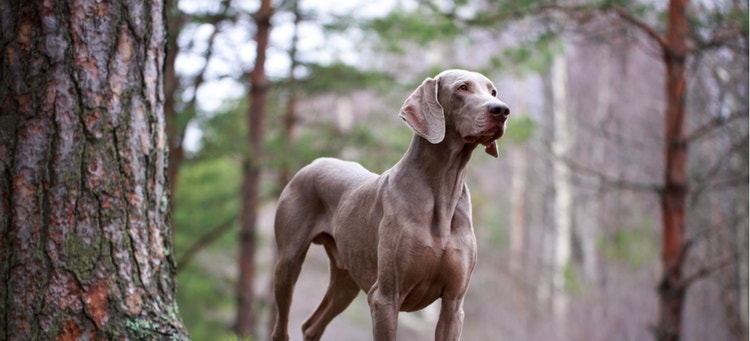 Weimaraner
Life Expectancy
10 - 12 years
The Weimaraner is an intelligent and passionate breed known for their distinctive look and hunting expertise. They make wonderful family companions, as they are friendly with children and other animals (if properly socialized). Due to their size, playful demeanor, and high energy level, they aren't suited for apartment dwelling or urban environments. Despite their demanding nature and need for space, they are extremely focused and vigilant, making excellent game hunters and watchdogs.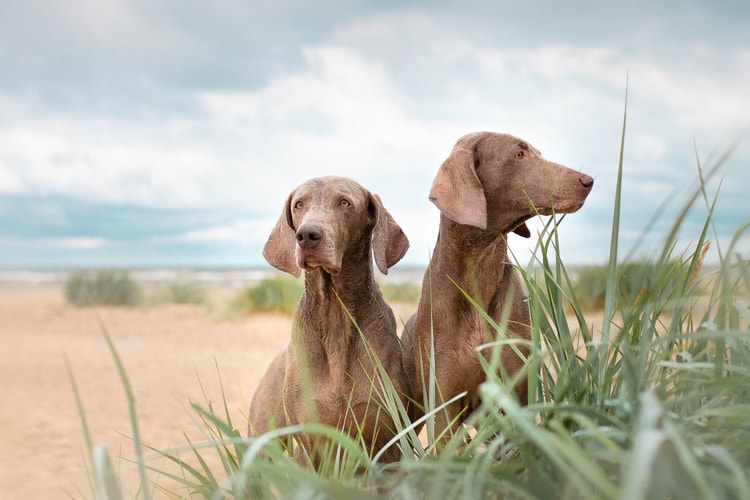 Friendliness to strangers
4
friendliness to other pets
2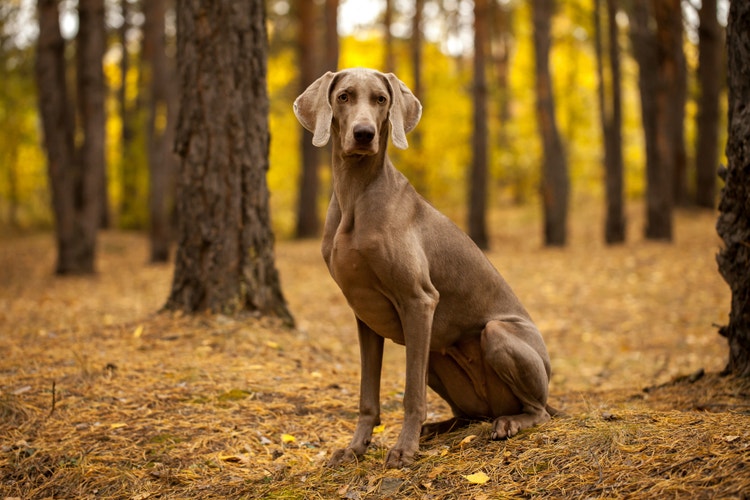 Where Are Weimaraners From?
The Weimaraner most likely originated in 19th-century Germany, but the early history of the breed is not well known. They were developed for hunting and used by the German royal families to track large game such as boar, bear, and deer. They were prized for their remarkable hunting and tracking abilities, and are still used to this day for chasing small game like fowl, rabbits, and birds.
The hallmark of this breed is their coat color and they were first recognized by the American Kennel Club in 1943.
Caring for a Weimaraner

What Kind of Diet Does a Weimaraner Need?
What Kind of Diet Does a Weimaraner Need?
Due to their energy level and muscular body type, the Weimaraner breed needs a well-balanced diet. They should be fed puppy food for the first year of their lives to ensure that they get the proper nutrition for bone and muscle development. As an adult, they need to be fed twice a day to keep them happy and healthy.

How Much Grooming Does a Weimaraner Need?
How Much Grooming Does a Weimaraner Need?
This breed requires very little grooming. A monthly bath and brushing with a rubber curry brush will minimize shedding, keep their coat shiny, and maintain health. Some long-haired variations of the breed have additional grooming needs, but they are rather uncommon in the United States.

Are Weimaraners Healthy Dogs?
Are Weimaraners Healthy Dogs?
The Weimaraner is a relatively healthy breed, but they should be screened for hip dysplasia and congenital eye defects. They also need yearly checkups for lumps and bumps that develop on the body, to ensure that they are not malignant tumors.
Since they're a deep-chested breed, they're also prone to gastric dilatation volvulus, which is a life-threatening condition. Symptoms to watch out for include restlessness, enlarged abdomen, retching, and discomfort. If you notice any of these symptoms, you should contact your local veterinary emergency hospital immediately.
The average life span for a Weimaraner is about 10 to 12 years.
Weimaraners are predisposed to: entropion, corneal dystrophy, distichiasis, interdigital dermatitis, demodectic mange, cryptorchidism, vaginal hyperplasia, degenerative myelopathy, hip dysplasia, arthritis, gastric dilation volvulus, myasthenia, malignant tumors, melanoma, fibrosarcoma, and von Willebrand's disease.

How Much Training Does a Weimaraner Need?
How Much Training Does a Weimaraner Need?
The Weimaraner is a pleasure to train, since they're eager to please, extremely intelligent, and naturally skilled in field sports and agility. They respond well to positive reinforcement training (which should start around 8 weeks of age), and early socialization is important as well, since the breed is prone to behavioral/social issues. Because they were bred for hunting, caution needs to be taken around pocket pets like rabbits, guinea pigs, birds, and even cats.

How Much Exercise Does a Weimaraner Need?
How Much Exercise Does a Weimaraner Need?
Weimaraners need frequent exercise to avoid bad behavior and health issues. They require at least three to four brisk walks or runs a day to maintain muscle mass and stay fit, as well as time to freely play or stretch their legs in a large, open space. They are often prone to separation anxiety and, if left alone, may become destructive. This is a breed for families who are very active and have ample outdoor space.
What Are the Physical Characteristics of a Weimaraner?
How Big Are Weimaraners?
The Weimaraner is a long, tall, and graceful dog with a short and smooth sliver coat. They have a muscular and athletic body that was built for endurance. Males stand around 25 to 27 inches tall, with females standing between 23 to 25 inches. Male weight can range from 70 to 85 lbs. and females weigh between 55 to 77 lbs.
What Color Eyes Do Weimaraners Have?
Weimaraners commonly have light amber, gray, or blue-gray colored eyes. They have moderate to long, folded ears, a black nose, and a lengthy muzzle.
Are Weimaraners Large-Breed Dogs?
Yes, Weimaraners are sizable dogs, built for large homes with access to open space and active families. Physically, they have broad chests with long, thin torsos.
Do Weimaraners Have Tails?
Yes, Weimaraners have tails, but they are docked to 6 inches after birth. Many countries have begun outlawing docking for the breed, and the undocked Weimaraner tail is lengthy, straight, and pointed.
Weimaraner Front Legs
The breed's front legs are strong and straight. Dewclaws are typically removed, per AKC requirements.
What Colors Are Common for Weimaraners?
The Weimaraner coat is smooth in texture and distinct in color, with hues ranging from silver-blue to charcoal-blue to blue-gray. This breed is very sensitive to cold weather, since they don't possess an undercoat.
Weimaraner Back Legs
The breed's hind legs are well-muscled and slightly shorter than the front legs. Hips are well aligned with the body, and legs have a slight bend at the knee.
Weimaraner Facts
Some refer to the Weimaraner as the "Gray Ghost" because of their sly hunting style and silver coat color.
A Weimaraner named Dingo was used to help recover missile parts during the Cold War. He had to wear a special jacket loaded with ice cubes during the summer to keep him cool.
The Weimaraner is one of the fastest dog breeds in the world, topping out at speeds of 35mph.
Other Breeds to Explore
References
Morris, Desmond. Dogs: The Ultimate Dictionary of Over 1,000 Dog Breeds. Trafalgar Square, 2002.
American Kennel Club. The Complete Dog Book. Random House Digital, Inc., 2006.
Wilcox, Bonnie and Chris Walkowicz. The Atlas of Dog Breeds of the World. T.F.H Publications, Inc., 1995.