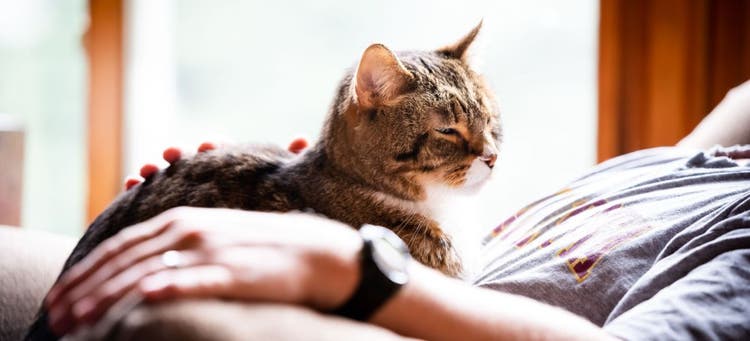 Spoil Your Senior Cat for National Adopt a Senior Pet Month
All products featured in this article were independently selected by our editorial team.
November is National Adopt a Senior Pet Month, and it's the perfect time to bring a senior cat into your home and spoil them during their golden years. Cats are classified as seniors when they are over 8 years old. Don't let the term fool you though, many senior cats have a lot of life left in them, though are ready to settle down and be pampered. Check out these ways to spoil your cat, regardless of age:
Give Them an Extra-Comfy Cat Bed
Senior cats may come with some joint issues and movement may be more difficult, so having a comfy spot to lie down is the perfect way for a kitty to relax, especially if their new bed is strategically placed in a warm ray of sunshine.
For orthopedic beds, we like these:
If your senior cat has anxiety, consider self-warming beds to help keep them calm:
Give Your Senior Cat a Massage
Senior cats may be suffering from chronic pain as a result of old age, and a massage may help relieve that pain. While some vets will offer this service, you can also give your cat a therapeutic massage at home. Start by simply petting your cat from one end of their body to the other. This is called stroking, and you should use gentle to medium pressure down the length of your cat's body and limbs. Slowly increase the pressure of your strokes and feel for any tight muscles, but be aware of your cat's reaction. If they are sore in spots, they may not appreciate the attention.
Other techniques include "petrissage," which involves kneading the muscles to relieve tension, and "chopping," which uses the side of your hand in a rapid chopping motion. Talk to your vet about your cat's needs and learn the proper massage techniques. We bet you'll love the massage sessions as much as your cat will.
Dedicate Daily Play Time
Keeping active is an important part of remaining healthy, and that is true for cats too. Dedicate time to play with your cat each day to get them moving, even for short periods of time. Find their favorite toy or game, and we bet you'll see more of your cat's younger self come out. Plus, consistent play helps keep energy levels up, which may help with your cat's overall health.
Keep Your Cat Mentally Stimulated
Play is important for your cat's physical health, but you'll also need to stimulate your cat's brain to keep their mind healthy. Strategy games and fun boards or other interactive toys are great ways to encourage your cat to use their mind. Here are some great examples available online:
Make Mobility Easier
Cats love to climb and explore, but as they age, reduced mobility may make that harder. Make sure all of their needs are easily accessible including food, water, and litter boxes. If they have a favorite spot that requires climbing or stairs, consider adding a ramp or small steps to allow your cat to get there. Don't forget to give them a cozy, warm place to lounge, and consider a spot in front of a window where they can watch birds and snooze in the sunshine.
Senior cats make great companions, and National Adopt a Senior Pet Month is the perfect time to give a senior cat a loving home.