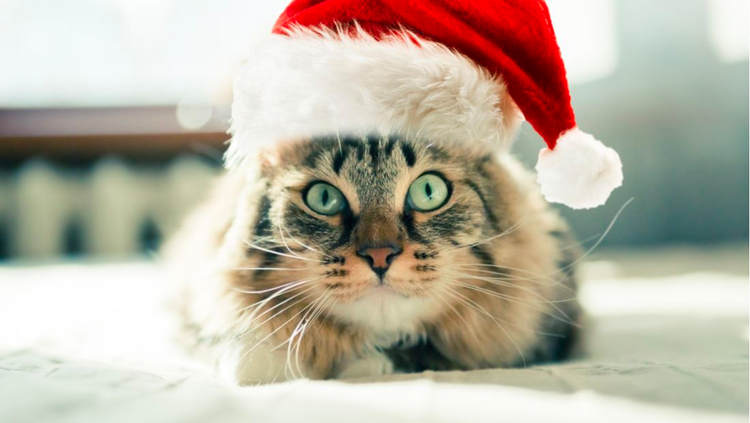 Best Christmas Themed Cat Names
Christmas is a time for coming together with good friends and family. And for most, that includes furry family members as well. Around the holidays, breeders and shelters alike see an increase in adoptions. Whether you're bringing home your first kitten or your third, it can be tempting to get swept up in the holiday cheer and bring home a new friend. The holidays can be an excellent time to bring home a new kitten for those who are planning to stay around the house and relax, but it may not be the best time to adopt if you're planning on going on vacation for either Christmas or New Years. While cats are a little more hands off than other pets (like dogs, for example), they'll still need love and attention to help them become accustomed to their new home.
And don't forget about kitty proofing. The holidays can be a dangerous time for pets, including young, curious kittens. Even older cats can become enamored with dangerous holiday staples like Christmas lights and tinsel on the tree. You'll need to make sure that your home is kitten-proofed before bringing home a new furry friend, and doing so during the holidays can be tricky.
We aren't trying to stop you from bringing home a new kitten or adult cat this holiday season; we just want to make sure that you're prepared for the reality of bringing home a living being. If you've prepared, and have planned ahead, then bringing home a new kitty for Christmas can be a wonderful and rewarding experience.
One of the most exciting aspects of bringing home a new pet is deciding on a name! Is there a better way to utilize the holiday season than by giving your Christmas kitty a holiday-themed name? From Angel to Zuzu, we've compiled some of our favorite Christmas-themed cat names to help you find the right name for your new furry family member this holiday season. Enjoy!
Traditional Christmas Figures
These traditional Christmas names have helped to shape the holiday with love and cheer.
Angel
Balthasar
Bethlehem
Caspar
Claus
Emmanuel
Frank (as in frankincense)
Gabriel
Gloria
Glory
Joseph
Joy
Magi
Malachi
Melchior
Myrrh
Naz
Nazareth
Noel
Shepherd
Spirit
Star
Starlight
Pop Culture Christmas Figures
From famous literary characters to flying reindeer, this list has it all! Read on to find the purrfect pop culture Christmas name for your cat!
Aaron (from the Little Drummer Boy)
Bert (from It's a Wonderful Life)
Blitzen
Clarence (from It's a Wonderful Life)
Comet
Cratchit
Cupid
Donner
Ebenezer
Ernie (from It's a Wonderful Life)
George (from It's a Wonderful Life)
Harry (from It's a Wonderful Life)
Jack
Jack Frost
Kris
Mary (from It's a Wonderful Life)
Rudolph
Rudy
Scrooge
Susan (from Miracle on 34th Street)
Tiny Tim
Zuzu (from It's a Wonderful Life)
Christmas-Inspired Names
From decorations to classic holiday figures, the names on this list can be both on the nose or a bit more vague. Find a name that can evoke the Christmas spirit all year long with this list.
Bell
Bella
Beth
Blessing
C.D. (Christmas Dog)
Candle
Candy
Carol
Christian
Christmas Cookie
Coal (for bad cats only)
Crystal
Douglas Fir
Elden (meaning Elf)
Elf
Fir
Forest
Frosty
Fraser Fir
Fudge
Garland
Gift
Holly
Ice
Isabella
Ivy
Merry
Midnight
Mistletoe
Nicholas
Nick
North
Peace
Pecan
Poinsettia
Pumpkin
Sleigh
Snow
Snowball
Tinsel
Twinkle
Home for the Holidays with PetPlace
The holidays are fast approaching! If you're planning on bringing home a new feline family member, we hope that this list has helped you to narrow down your name choices. Of course, you'll probably want to meet your new cat first. Good thing you have a list ready for when the day arrives! Do you want to know what the most common cat names mean? We have an entire blog dedicated to the "meaning" behind common male and female cat names.
Happy Holidays!