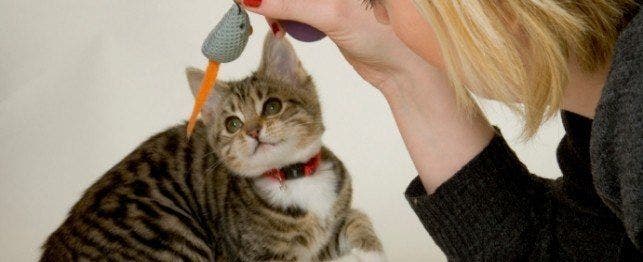 Bringing Home A New Kitten | Part 1
There's so much to do when bringing home a new kitten. Supplies, vaccinations, litterbox training, odor control, diet, and more! While bringing home a new pet is a big responsibility, you shouldn't stress. Once you've equipped yourself with the knowledge you need to keep your new furry family member happy and healthy, you'll be ready to take on this challenge. Read on for part one of our Bringing Home a New Kitten series.
Where to Find a New Kitten
When you decide to bring home a new kitten the first thing you'll need to consider is where you'll be getting that kitten from. There are a number of avenues to go down when searching for a new kitten.
Shelters
: A shelter is a great place to find a new cat! Whether you're looking for a kitten or an adult, there are many deserving kittens just waiting to find a home at your local shelter. Another advantage of adopting from a local shelter is the time you are afforded to see if you're compatible with your cat before bringing it home. Most shelters will also encourage you to bring in your existing household pets to see if it's a good match. This helps cut down on the number of cats return to the shelter after they've been taken to their new home.
Rescue groups
: Rescue groups are another great resource when looking for a cat to adopt. Most rescue organizations do not have a centralized building but instead, ask their members to foster cats until they find their forever homes. Utilizing a rescue group is a great way to find a specific breed of cat; if that's what you're looking for.
Breeders
: If you're looking for a purebred cat, then a breeder is the way to go. The process of buying a cat from a breeder is the same as buying a dog from a breeder. The fee for purchasing one of these felines will be higher than going to a shelter or a rescue group, but it will allow you to have more control as to the specific breed and nature of your cat.
The internet
: This one may be a bit obvious, but the internet is a great source for finding new feline family members. By using sites such as the ASPCA, petfinder.org, or adoptapet.com, you'll be able to search a wide variety of cats in your area to find the one that's right for you and your family.
Newspapers
: Yes, the good old newspaper is still in circulation and can still help you find a new pet. The classified section of your local newspaper will most likely have multiple kitties listed that are looking for a new home. You'll want to be cautious when adopting a cat through an ad though.
Pet Stores
: You've probably heard of puppy mills, but did you know that there are such things as kitten mills? The concept is the same, breeders turnout kittens quickly and inhumanely to be sold in pet stores to the masses. However, most pet stores no longer utilize this unethical tactic of sourcing their cats. Today, the majority of pet stores will take in cats from local shelters to be featured in their stores. This gives the shelter higher visibility and helps place more cats in homes. But you'll need to do your research to make sure that your kitten is coming from an ethical source. Ask for vet records, contact information for the shelter, and references if you feel the need.
Supplies
Unsurprisingly, cats need a lot of stuff. Whether they're young or old, they'll need toys to keep them happy, food to keep them healthy, and supplies to see to their every need. Read below to see the list of supplies that we recommend you purchase before bringing home your new kitten.
Collar
Food and water dishes
Scratching post
Brush
Nail trimmer
Bedding
Food
Toys
Litter
Litter boxes (We recommend that you have one more litter box then you have cats. For example, if you have two cats we recommend you have three litter boxes; one cat and you can use two litter boxes.)
A cat carrier
Disinfectant spray (For when your kitty is first learning how to use their litter box)
A pooper scooper
Kitten Proofing
Most people puppy proof, but what about kitten proofing? People always seem surprised to learn that a kitten can be just as destructive as a young puppy. Sure they may not be as strong as dogs, but their claws and more than makeup for that difference. Before bringing home a new kitten, you'll need to kitten proof your house just as you would for a new puppy. Here are a few simple tricks that you can use to make your house safer for your new cat.
You want to put up any loose cords or wires on the ground as your kitten may find these to be appealing chew toys. The first night you bring your new kitten home we recommend that you keep them in one enclosed room. This way you won't overwhelm your new cat with sights and smells, but he'll still get a good feel of his new home.
Move any valuable or breakable items away from the edges of furniture. Cats are notorious for knocking things off shelves, so your collection of glass figurines should probably be hidden away until your cat understands its boundaries a little more. If you're considering having an indoor and outdoor cat, you'll need to cat proof the outside of your house as well. There are a lot of items and substances that your kitty could get into in your yard. Gestation of foreign objects or substances is one of the top cause of illness for cats. You can learn more about the dangers of the outdoors from the experts at PetPlace!