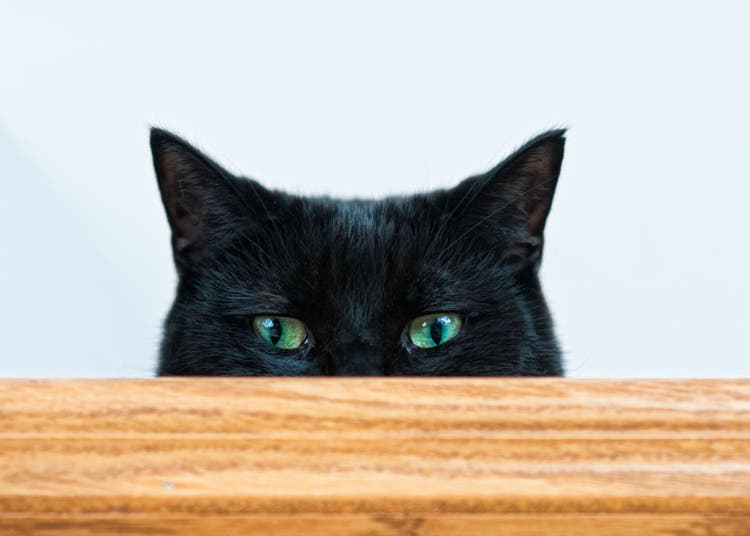 Naming Your Black Cat: Name Ideas for Cats with Black Haircoats
Are you looking for that perfect cat name that just fits your Kitty? Does your cat have black hair?
Naming a cat can be difficult. One way many pet owners do it is to look for a name that goes with your cat's physical characteristic such as his coat color.
Here are some cat names that can be associated with those black hair-coated cats! I hope this helps you find the perfect name for your cat! If you can't find your name here – go to our Ultimate Cat Name List!
Do you have any suggestions for cat names? Email us or add to the comment section below your cat name ideas and we will try to add them to our cat name list!
Great Name Ideas for Black Cats
Ace (for the ace of spades)
Amadeus
Angus
Ashes
Anisette (French – or Anise), with a nickname of Ani.
Atticus- This is for the band, the record label and To Kill A Mockingbird.
Bagheerah – for the black Panther in The Jungle Book
Bear (my little black bear!)
BeeBee after BB king
Blackie
Blake (means black)
Blackjack (a lucky card)
Blackbeard
Blackula
Black Purrl
Boo
Boo-Boo
Bogie – as in Humphrey Bogart
Calo (Meanas Black in the Roma Language)
Cinderella" and call her "Cinders" to reflect her black coat.
Carbon
Cinder Ella (pink nose) (Cinder – e.g. volcanic ash)
Charcoal
Cheyenne
Coal
Coffee
Chocolate Chip
Colbie (black as coal)
Crow
Darth Vader
Daegan Kai – Irish /asian meaning dark haired / fire
Dante Alexander- Italian – taken Dante's Inferno and Alexander the Great
Dragon
Damion
Darth Vader
Dugan – means black haired in celtic
Duncan (means black warrior)
Ebony
Elvira
ELVIRA MISTRESS OF THE DARK
Espresso
Flint
Forest
Hades – God of the under world
India (for India ink)
Indigo
Inky
Inkspot – goes by "Spotters"
Guiness
Jacket
JAGUAR or Jaggie
Jet
Johnny Cash (AKA Cash)
Kole – alternate spelling of Coal
Kieran Mael – Irish name meaning dark
Kemnebi (means black panther in ancient Egyptian)
"Kuro"(KOO-ROH) which is the Japanese word for Charcoal
Leto of the Dark Cloak was the mother of the Greek gods Apollo and Artemis.
Licorice
Likrish (a phonetic spelling of Licorice)
Negra
Ninjia
Nuit – Nuit was the Egyptian goddess of the night sky
Magic (as in black magic)
Matches
Maverick
Merlin
Midnight
Misty
Morticia
Monster
Musqua (Little Bear)
Mystery
Obsidian
Onyx
Oreo
Pearl (she was such a gem – my black pearl)
Panther
Pepsi
Prieta- Spanish for Blackie
Pepper
Phantom
Poppy (for Poppy Seeds)
Raven
Retread (a stray, all black)
Redunzel (actually spelt RDNZL)- name Frank Zappa gave to a small black kitten through his then 3-year son changed the cats name to "Fighty Bitey"- Zappa wrote an instrumental with this name inspired by the sight of the kitten playing.
Rosie (in honor of Rosa Parks)
Rasputin the mysterious dark Russian monk
Rubber
Sabbath
Salam (for Halloween)
Samantha
Shade
Shadow
Shady
Spade for Ace of Spades
Sharpie, like a black Sharpie pen
Sky
Skye
Skylar
Soot
Sootie
Spider
Spooky (some also answer to Pookums)
Spyda (spider)
Sooty
Stormie
Tar
Teddy
Talladega- named for one as black as the Talladega race track.
Tire
Treacle: We named our black cat Treacle–the Scottish word for Molasses–in the sunlight his fur looked like it was tinged with brown.
Vadar
Velvet (a coat like black velvet)
Yogi – as in Yogi Bear
Yum Yum
Do you have a name suggestion? Email Us!