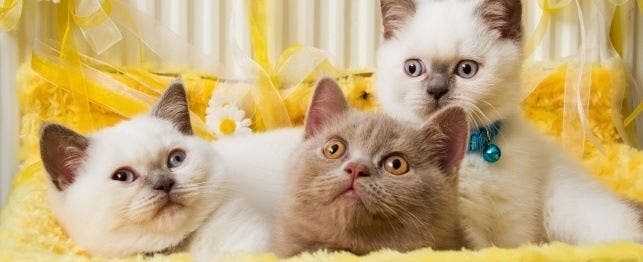 The Ultimate Guide to Naming your Cat or Kitten
If you're ready to bring a new cat to your house, then the pressure is on.
Sure, sure, you need to have the food ready and plan the first meeting with your family and any other cats in the house. But the real issue is, what will you name him or her?
Picking your cat's name is serious business. We know because our readers constantly ask us for help or give us suggestions.
Of course, you can always just pick from our list of popular names. Or, you're in the mood to be overwhelmed, our big list of the top 1200 pet names will do the trick.
But if you're looking to be a little more creative, there are ways to match your cat name with his hair color, interests, breed – or you can even pull from your interests. Here is our big list of suggestions to give your cat the right name.
Picking a Cat Name by Hair Color or Coat Type or Appearance
Does your cat's coat say a lot about him? Then pick a name that fits his haircolor (or, for a bald cat, his lack of hair!).
Bald cat names
Black cat names
Black and white cat names
Brown cat names
Calico cat names
Fluffy cat names
Gold cat names
Gray cat names
Orange, ginger or red cat names
Spotted cat names
Tabby cat names
White cat names
Yellow cat names
Polydactyl cat names
Three-legged cat names
Picking a Name by your Cat's Breed
Want your cat to have a tie to her roots? Pick a name that fits her breed.
Domestic Short-haired haircoats
Domestic Medium-haired haircoats
Domestic Long-haired haircoats
Mixed Breed Cats
Maine Coon
Siamese
Ragdoll
Naming your Cat for its Personality
Think your kitten is going to have a big personality? Think she is going to have a sense of humor? Pick a name that fits these traits.
Big (size or personality) cat names
Cute (or beautiful) cat names
Cool cat names
Funny cat names
Independent cat names
Loving cat names
Ornery cat names
Playful cat names
Small cat names
Smart cat names (and not so smart…)
Stray or rescued cat names
Sweet cat names
Three-legged cat names
Unique cat names
Talkative cat names
Naming your Cat Based on Your Personality
If you want your cat's name to reflect a little bit more about your personality, here are some themes you might want to follow:
Artistic cat names
City cat names
Country cat names
Football-themed cat names
French cat names
German cat names
Musical-themed cat names
Scottish cat names
Spanish cat names
Water-themed cat names
Cool cat names
Pampered cat names
Laid Back cat names
Picking a Cat Name by Gender
Some recent surveys showed that Chloe and Lily are top female cat names and Max and Oliver are top male cat names.
Here is the rest of the list of popular female and male cat names.
Littermates cat names