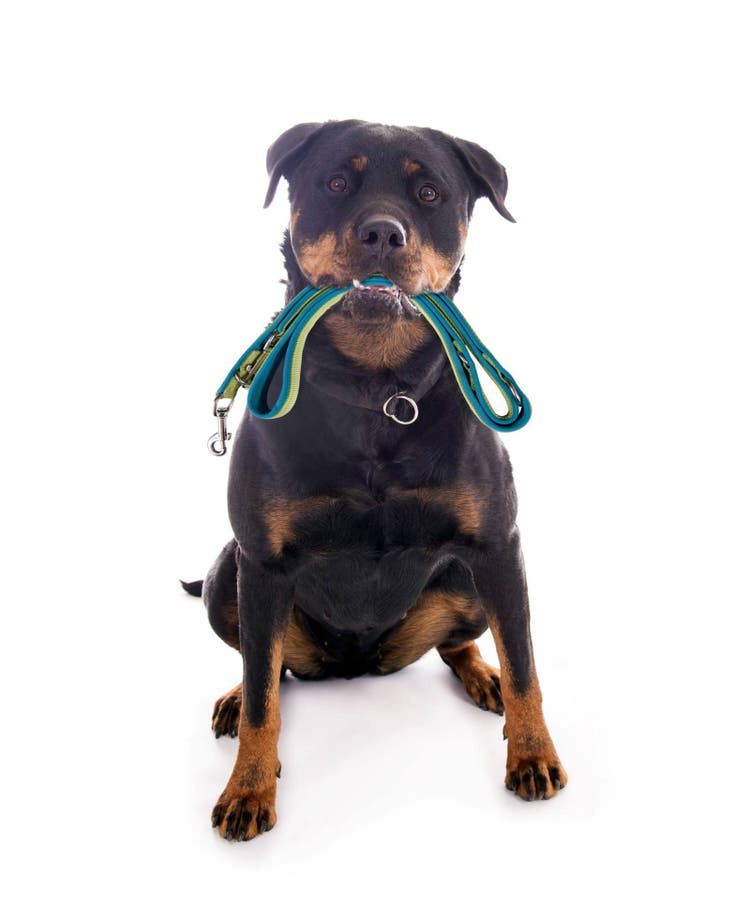 Interested in Owning a Rottweiler? Here's What You Should Know
If you're interested in owning a Rottweiler, you should first acquaint yourself with the characteristics of the breed to make sure that it is a good fit for you. While Rottweilers are popular family pets, it is important to understand both the positive and negative characteristics of this breed before deciding to own one.
When choosing a breed, it is best to consider such factors as size, temperament, compatibility and health problems, and to see how this breed would (or would not) fit into your family lifestyle.
About Rottweilers
A Rottweiler is a medium to large dog. Just remember, that cute little puppy will grow into an adult that is about 22 to 27 inches high with an average weight of between 90 to 135 pounds. That's a lot of dog, and most of it is muscle. The Rottweiler possesses great strength and has a broad, deep chest. It lives for about 10 to 12 years and is genetically predisposed to hip dysplasia.
Rottweilers have short, coarse hair and should be brushed about twice a week. Brushing encourages the growth of new, healthy hair and removes older hair that is ready to shed. Brushing also allows you to bond with your Rottweiler. Beginning this regimen while your pet is a puppy is an excellent way to begin a close, trusting relationship.
Rottweilers are prone to obesity. It is important that your Rottweiler gets enough exercise and eats a healthy diet.
The Rottweiler is an intelligent dog. They are strong, powerful and fearless, making them good watchdogs. The Rottweiler is an extremely loyal dog and will instinctively guard his family and territory.
With the right training, the Rottweiler is a wonderful companion. But without continued socialization, companionship, supervision and obedience training a Rottweiler can be too much dog for many households.
The breed is considered a working dog and guardian, and it is believed to be a descendant of the herding drover dogs of the ancient Romans. This is a breed that needs a job to be happy. They do well as police dogs and therapy dogs. You have to keep a Rottweiler entertained with physical activities, especially walks, exercise and outdoor activity. Without these needed distractions, a bored Rottweiler may become destructive.
With Rottweilers it is important to remember that they need extensive and continuous socialization to be good family companions. Training should start as a puppy, as early as six weeks of age.
Rottweilers have a reputation for being a dangerous dog, but this dog will only become vicious if it is trained to be that way. Still, certain regions have passed legislation banning this breed; so make sure to check for local regulations before you purchase a Rottweiler. In addition to legal regulations, you may also have trouble getting renting a home or getting a homeowners insurance policy if you own a Rottweiler.
Owning a Rottweiler
If you're interested in owning a Rottweiler, do your homework. Buy from a reputable breeder. Learn all that you can about the breed. When looking for the right Rottweiler, do a careful search to avoid over-aggressive or unstable lines. Observe the dog's behavior and ask the right questions.
Raising a Rottweiler from a puppy allows you to train and socialize him. If a Rottweiler puppy is raised with children, friends and other pets it is more likely that he will become a well-socialized dog.
It is important that you commit to training your Rottweiler and that you be very consistent. Most Rottweilers are inclined to be dominant but they will respect an assertive owner who knows how to lead a strong-minded dog. You'll need to teach your Rottweiler puppy social skills and to harness his natural territorial instincts in a positive way.
Young Rottweilers can be very rambunctious. They are rowdy and enthusiastic jumpers. Unsupervised, they can become nuisance barkers and diggers.
If a young Rottweiler is raised with other pets in the home, they are usually good with them, but Rottweilers can be very aggressive toward other dogs of the same sex – and they can see cats as prey.
A Rottweiler may not be a good choice for first-time dog owners. If you are fully committed to training and socializing your Rottweiler puppy, it can become a very loyal and loving companion and a great family pet.
If you are interested in owning a Rottweiler, take the time to familiarize yourself with characteristics of this breed and make sure they are a good fit for you and your family. Owning a Rottweiler requires a commitment to training and socialization, so make sure that you are prepared to put in the required effort.
Learn More About Rottweilers
To learn more about this amazing breed, go to: