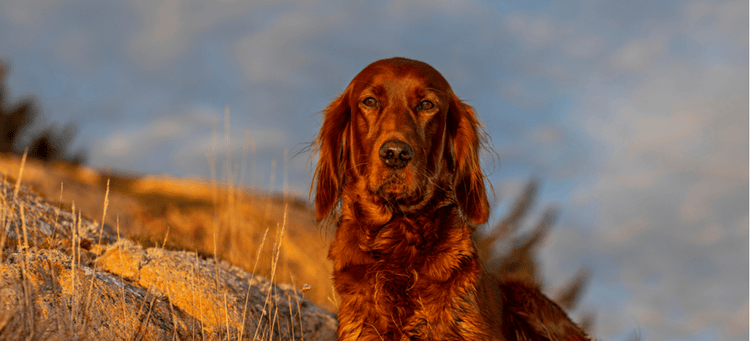 103 Irish Dog Names
Want to find the perfect name for your best friend? In honor of St. Patrick's Day, we've compiled a list of Irish and Irish-themed dog names to suit every breed from Irish Setters and Glen of Imaal Terriers to Afghan Hounds and Portuguese Water Dogs. All the names below can help bless your dog with the luck of the Irish. Keep in mind, however, that you may need to help your vet with the pronunciation if you pick a name like Aoife (from the Gaelic for "beautiful").
Top Irish Dog Names
Aislinn
Bailey
Carrick
Clover
Conan
Cormac
Cullen
Delaney
Donovan
Dublin
Ennis
Finn
Finnegan
Fionn
Flynn
Gael
Guinness
Maeve
Oona
Orla
Patrick
Rainbow
Reagan
Rory
Shamrock
Why Choose an Irish Dog Name?
There are plenty of reasons you might pick an Irish-themed name for your new dog, for example:
To celebrate your pet's birthday: If your dog was born or adopted around St. Patrick's Day, commemorate the occasion with a special moniker. It's a great way for you both to remember how lucky you are to have each other.
To celebrate your dog's breed: There's no better name for an Irish Setter, Irish Wolfhound, or Irish Terrier than one inspired by their ancestral homeland. Other Irish dog breeds include the Irish Water Spaniel, Kerry Blue Terrier, and Glen of Imaal Terrier.
To celebrate your family's heritage: Whether or not your dog hails from the Emerald Isle, picking an Irish name is a great way to welcome them to the family. Try picking a name that suits their personality like Riona (which means "queenly") for a regal puppy or Bridget (meaning "power") for an especially strong dog.
More Irish Dog Names
Aedan
Brady
Carson
Cathal
Celt
Cliodhna
Colm
Deirdre
Dermot
Devin
Donal
Finbar
Galway
Ireland
Jameson
Keira
Kerry
Killian
Lachlan
Leprechaun
Liam
Lucky
Nora
Seamus
Sloane
Irish Names for Male Dogs
Aengus
Alby
Belfast
Bono
Brendan
Brody
Colin
Connor
Darragh
Desmond
Duff
Eoghan
Finnley
Gallagher
Grady
Kieran
Kirby
McDougal
Mulligan
Niall
Paddy
Rhys
Rian
Ronan
Sullivan
Irish Names for Female Dogs
Ardeen
Brigid
Cassidy
Clodagh
Colleen
Cordelia
Eabha
Enya
Fiona
Glenda
Kelly
Kennedy
Madigan
Mab
Moira
Molly
Rose
Saoirse
Shandy
Shannon
Sheena
Sinead
Sybil
Tamsin
Teagan
Tips for Naming Your Dog
Picking a name for your dog is serious business. Check out these tips for making the best selection possible:
Don't rush it: There's no need to pick a permanent name on Day 1. Take time to meet your dog and really get to know them before naming them for good. That way, you'll have a better sense of what makes them unique and have an easier time picking out a truly one-of-a-kind name.
Keep it simple: Science suggests that dogs are more responsive to short, choppy commands. So, pet parents may have an easier time training Finn than Finnegan O'Connor.
Avoid names that sound like commands: Your dog's name is as important a verbal cue as any during the training process. Make sure they don't confuse it with those commands by picking a name that doesn't sound too much like "stay," "sit," or any other cue.