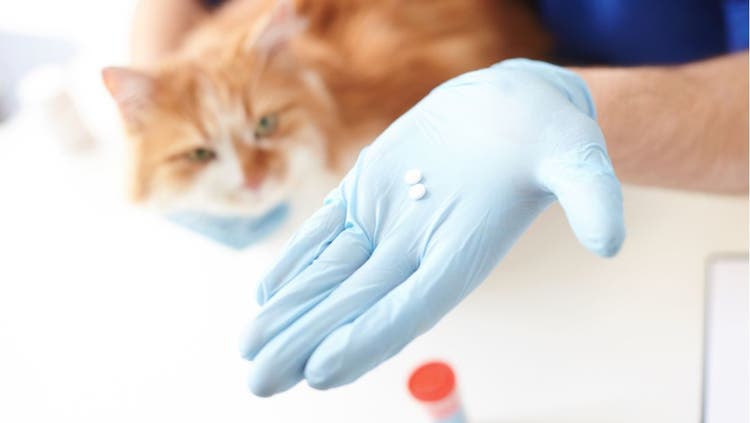 The Irreverent Vet Speaks Out on Medication Errors
Medication errors are common in human medicine and veterinary medicine alike. Despite our best efforts, I've seen even experts make mistakes. Today I'd like to discuss a few aspects of medication errors in dogs and cats so you can understand why they happen.
Before I go any further, let me introduce myself for those of you that don't know me. I'm the Irreverent Veterinarian and I give you my honest opinion of issues in the animal care world. Some might say that I'm honest to a fault. I speak my mind and I won't sweet-talk you or sugarcoat the truth. I tell it like it is…to you, the drug companies, the pet product manufacturers, professional breeders, and pet owners. Some of what I say can be controversial, but that doesn't stop me – it can be hard to hear the truth, but sometimes it needs to be said.
Now back to the issue at hand: medication errors. First, let's define what a medication error in a dog or cat is. According to the FDA Center for Veterinary Medicine (CVM), a medication error is defined as "any preventable event that may cause or lead to inappropriate medication use or patient harm while the medication is in the control of the health care professional, patient, or consumer. Such events may be related to professional practice, health care products, procedures, and systems, including: prescribing; order communication; product labeling, packaging and nomenclature; compounding; dispensing; distribution; administration; education; monitoring; and use."
In short, a medication error occurs when a substance is given incorrectly in some way, be it the wrong dose, method, or the wrong drug entirely. It's a simple fact of the veterinary field that medication errors do happen, and they occur for a variety of reasons.
In this article, we will discuss:
why medication errors occur,
what you can do to prevent medication errors, and
what you can do if you suspect a medication error has been made.
According to the FDA CVM, an agency that works to prevent veterinary drug medication errors, they have identified the following major causes of these mistakes. The reasons for medication errors in dogs and cats include but are not limited to:
medication names that look alike or sound similar,
labels that look similar, or are unreadable due to font size or style, lack of background contrast, designs that hide information, illegible writing, or overcrowded information,
labels that are missing information,
packaging with inadequate or inconsistent presentation of drug strength, dosage form (such as tablets or capsules), or active ingredients,
drug dosage devices (such as oral syringes) that are difficult to use because of poor design or inadequate directions for use,
use of error-prone abbreviations or symbols on written prescriptions,
illegible handwriting on written prescriptions,
miscommunication while verbally prescribing orders,
human error which results in filling the prescription with the wrong medication or strength of medication, or
owners giving medication to the wrong pet or in the wrong amount.
As you can see, a multitude of situations can lead to medication errors. Most of these mistakes occur at the veterinary office or pharmacy but some still occur at home.
What Can You Do to Prevent Medication Errors?
From an owner's perspective, you are limited in how much you will be able to prevent. As you can see above, many medication errors occur before you even pick up the prescription. However, there are a few things you can do to minimize risk. These are my recommendations.
Ask your vet or veterinary staff questions about the drug, the dosage of the formula, how many pills to give, and how frequently you should give the medications. Make sure that what they verbally tell you matches the label.
Before you leave the vet's office, make sure you understand what the medication does and what it was prescribed to treat.
Ask your vet whether the medication should be given with food.
Verify with the vet whether the medication can be given with any other substances such as other medications or supplements.
What Can Veterinary Staff Do to Prevent Medication Errors?
Of course, some responsibility lies in the hands of the veterinary staff as well. Here are some things that they can do to reduce the risk of error:
Write prescriptions legibly and clearly.
Double check everything.
Follow the six principles or "rights" of medication administration. These are common principles which were originally taught to nurses working in human medicine, and they should be followed in veterinary medicine as well. When giving medication, regardless of the type of medication, you must always follow the six rights. This means that each time you administer a medication, you need to be sure to have the:
right pet,
right medication,
right dose,
right time,
right route, and
right documentation.
What Should You Do If You Believe YOU Made a Medication Error With Your Dog or Cat
If you believe you made an error with your pet's medication, contact your vet as soon as possible. Some medications can be dangerous if given in the wrong dose or frequency, to the wrong pet, or in place of another drug.
If you're embarrassed about admitting you've made a mistake, I assure you that you're not alone. Over the years I've heard it all: owners who accidentally take their dog's medication, dogs who are accidentally given their human's medication, drugs given in the wrong dose, dogs who were double-dosed, and more.
Whatever you do, please tell your vet as soon as you realize what has happened. Some drugs have a wide margin of safety and others do not, and you need to know if additional care is needed as quickly as possible. If you make any error with your dog, please call your veterinarian to get their advice and input on how severe the medication error is and what impact it may have on your pet.
Reversing the effects of the error vary on a number of factors. In some cases it's enough to observe your pet for any unusual symptoms. Some errors require that vomiting be induced to get the medication of their system. In others, fluid therapy or medical intervention may be necessary. Always remember that errors are best treated early, when they first happen. It is always easiest to correct and fix problems at this time.
What You Should Do if You Believe Your Vet Made a Medication Error
If you have a serious complaint with a veterinarian regarding their care of your pet, talk to him or her first.
Think carefully about what you want to say before you do and consider both sides of the situation before meeting with them. Are you being reasonable? Did you follow instructions your veterinarian or veterinary clinic staff gave you at time of discharge? Remember, vets are people too, and your pet's health is what matters most. Make a list of concerns and questions and consider what outcome you want from the interaction. Do you want them to pay the bill? Perhaps you just want an apology and the reassurance that they are taking the situation seriously. Think about what you want and will find acceptable, then communicate this to them.
If you are not satisfied after speaking to your vet, the next step could be to contact the Board of Veterinary Medicine in your state to file a formal complaint. You can find their numbers on the internet. You will most likely need to document the complaint in writing along with any proof or written information (bills, notes, etc.). The Board will investigate and determine whether the complaint is legitimate and, if so, communicate a course of action.
The Better Business Bureau is a good organization that determine whether there is legitimacy to customers' claims. Their purpose is not to investigate medical complaints, but they may be able to help with customer service complaints. For more information, go to www.BBB.org.
Another option is to contact a lawyer. Find out your options for filing suit if you believe you have a legitimate claim. Be aware that you may be responsible for some or all of the legal costs if you hire a lawyer, especially if the suit is not found in your favor.
Before you do this any of this, make sure you talk to the veterinarian first. They may help you resolve the issue before you go through the frustration and expense of a lawsuit or other additional actions.
My Final Thoughts: What Should You Do if Your Veterinarian Screwed Up?
Look, we all make mistakes. None of us are perfect, not even doctors. (ESPECIALLY not doctors.) But we do all want to do the best that we can for our patients, and any vet worth their license will want to make things right. Please don't be "that client" who complains without giving us a chance to fix the problem. Before getting angry or accusing your vet of malpractice, talk to them. Take a minute to prepare by thinking about your goals and what kind of resolution would make you happy. It will make things easier on you, your pet, and their doctor.
What are your thoughts on this topic? Comment below (in the comment section).
Disclaimer
The Irreverent Vet is a columnist that regularly contributes to PetPlace.com. Their goal is to add a balanced and alternative opinion of some controversial pet-related issues. As happens with all of us, veterinarians can't say what they really think without offending some clients. This commentary allows vets to say what they think and give you, the pet owner, the opportunity to consider another view. All opinions are those of the Politically Incorrect Vet and are not the views of or endorsed by PetPlace.com.
For more information on medication errors, go to the FDA's Product Safety homepage.