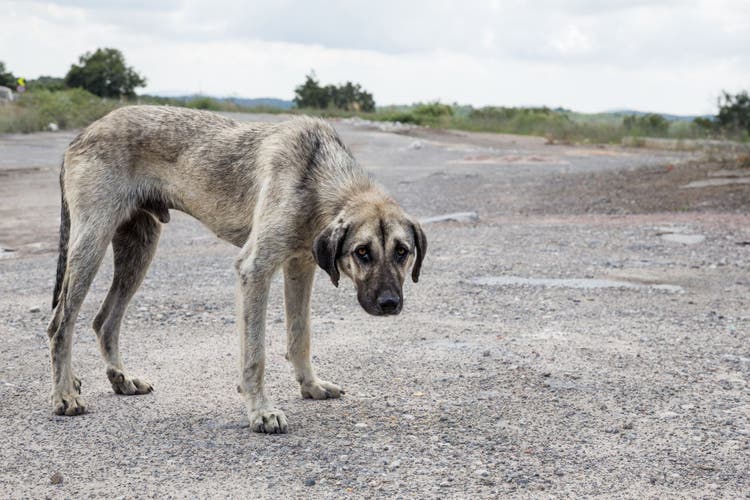 Taking In a Stray Dog: What You Should Know
You may be driving down the street and see a pooch wandering around and consider taking in a stray dog. What should you know about taking in a stray? Can you just keep a dog you find? What does it need? What should you do?
If you find a stray dog, there are certain things you should know about approaching a stray dog. The most important thing is to be safe. Here are some tips on how to approach a stray dog – go to How to Approach a Stray Dog. If you are trying to catch a stray please read How to Catch Stray Dogs.
If you find and catch a stray dog, what do you do next if you want to keep your dog? There are a few issues.
Does the Dog Have an Owner? The right thing to do is to figure out if the dog has an owner and if so reunite the dog with the owner. You don't know if the dog is lost, abandoned, owned, a run-away, or a stray. You should look at the dog to determine if there is a tag, collar, tattoo (look on the ear or inner leg), and have the dog scanned for a microchip. A microchip can help identify the owner.
Advertise for a Found Dog. You can place a post on Facebook, Craigslist, Petfinder or other social media outlets. You can also take a photo of the dog and place his picture in the local coffee shops, pet stores, grooming shops, shelters, and your local library. There are also lost and found forums online and at many shelters or rescue groups. Vet clinics commonly keep logs or bulletin boards for lost and found dogs. When you advertise, supply some information but not all. You want to make sure whoever claims the stray is truly the owner. If you are going door to door – you can show a photo to see if veterinary staff, groomers, or the local shelter recognize the dog.
When is the Dog Yours? Once you find a dog and you want to keep it, when can you feel the dog is really truly and legally yours? The answer to this varies based on the rules in your state or county. Contact your local humane society to help them answer this question. To call a dog yours, some counties require that you report that you found a dog within 24 to 48 hours of finding the dog to the local law or animal control agency. After you report, there are given times that after which if there is no claim, then you can keep the stray dog if you wish. This time frame can vary from 5 days to 4 weeks.
Ensure the Stray Dog's Health. It is important to have the dog examined by your veterinarian if you plan to take in this stray. This is especially true if you have other dogs. Many strays have fleas, gastrointestinal worms, mange or infectious diseases that can be contagious to other dogs. They may want to test this stray dog for heartworm disease, tick-borne diseases such as Lyme disease and evaluate him for mites and other infestations. It is important to get your dog vaccinated, dewormed and placed on medication to treat or prevent fleas, ticks, and heartworms. Recommendations will vary depending on your location in the country.
Deal with Behavior Problems. Some strays are very timid with a history of non-socialization or abuse. You may need to do some reading or consider the support of the behaviorist to help you work through your dog's problems.
If you are rescuing a stray – learn more about Stray Dog Rescue: How to Help Your Community.
Additional Articles that May be of Interest About Stray Dog Rescue