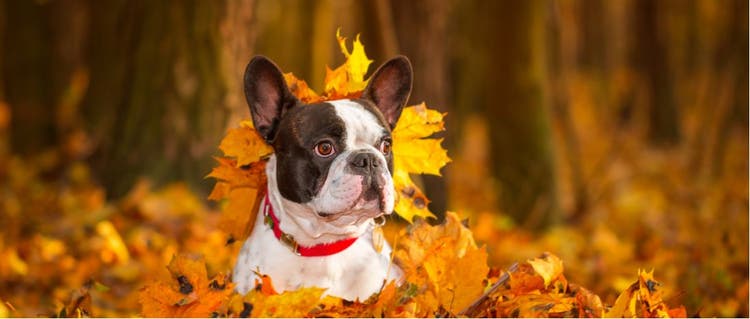 Furtastic Fall Checklist for Dogs
Amazon disclosure: All products featured in this article were independently selected by our editorial team. As an Amazon Associate, PetPlace will earn if you click on the provided links and/or purchase a qualifying product from Amazon.
With Labor Day weekend now a thing of the past, the dog days of summer have officially come to a close. The temperature outside may still be too high for sweaters, but your inbox and calendar are fuller than ever, and most children are back at school, whether learning remotely or in person.
Since 'hoomans' are getting back to their fall routine, it's not a bad idea for pets to get back on schedule as well. Here's a handy checklist for getting Fluffy up-to-date on their health and wellness necessities.
[ ]Annual Physical/Check-Up
You may be thinking, "My doggo looks healthy and acts happy, so why should I invest time and money on an annual check-up?"
Unfortunately, our fur babies can't tell us when something is wrong, and they're very good at hiding ailments from overly-concerned pet parents. An annual wellness visit is beneficial for keeping your dog in tip-top shape and supporting their longevity. Don't take my word for it, read what our own Dr. Dawn Ruben says about the importance of annual exams.
[ ]Update Immunization
Sorry, Fluffy, but you are going to need some vaccinations or boosters! Timely immunization is another important step in keeping diseases and illness away from your beloved fur baby. If you have a new puppy in the house, you already know the number of immunizations needed before you can take a walk around the neighborhood. Older dogs need updated shots too. Rabies vaccination is required annually in many states, and you may also need kennel cough or canine flu vaccinations, for example, if your pupper will be participating in any group activities or attending daycare.
Your veterinarian will have a list of recommended shots, and your pet's dosage may change from year-to-year, so be sure to ask at the annual check-up.
[ ]Update Medication
Have you noticed your doggo sneezing a lot lately or scratching certain spots all day long? It may be from sniffing around dusty corners or caused by dry patches of skin. Or could they be having an allergic reaction? It might be food-based or environmental, so instead of guessing and monitoring, take them to the vet for proper diagnosis. There are simple allergy tests for pets and medication for relief.
Additionally, check your pup's weight each year, either at the vet's office or at home. Why? I recently learned that my fur baby gained weight, and the dosage on his heartworm and flea and tick medications had to be changed as well. This is true for all other medication your dog may be on, so be sure to note any weight changes, gain or loss.
[ ]A New Diet
Speaking of weight gain, perhaps your pup has put on some #pandemicpounds? We're not shaming them because, well, they're not alone!
Maybe it's not just the pounds, but a switch to a different brand of food, home-delivery service, or allergy or illness-specific diet. There's an appropriate way to transition from the old food to a new one without causing an upset stomach and messy accidents. I used this approach to wean my puppy off of the breeder's chow to a more wholesome kibble and it worked like a charm.
[ ]A New ID Tag and Collar
As a new pup mom, I live in fear of losing my Westie, BariWhite. Every few days, I see social posts about missing dogs and it just breaks my heart. Luckily, many of them are reunited with happy endings, but I can't imagine the anxiety of the lost pup and their distressed pawrent!
For a dose of peace-of-mind, check your dog's name tag. Is it still legible? Is the contact information still valid? Bari's tag is over a year old and starting to fade with daily wear, so I'm planning to order some new ones. While you're at it, update a fraying collar or leash for a sturdier model. You should also look into microchipping for a more effective recovery method.
[ ]Check Out Pet Insurance
Another fear I have as a new pup mom is of my rambunctious, energetic terrier getting into an accident and injuring himself, or eating something strange and getting sick. My employer offered pet health insurance as part of the benefits package, so of course, I enrolled as soon as I could. I found the process a bit different from human healthcare. For example, you can go to any vet, pay at the time of visit, and the insurance provider reimburses you up to 90%, depending on your plan selection. I have to admit, picking the right plan was not easy, despite the amount of research I did on pet health insurance.
So far, we have avoided emergency animal hospitals, however, we've had plenty of vet visits, and having pet insurance is working out for us. If you're worried about unexpected vet bills, you should definitely consider it.
[ ]A Yummy Seasonal Treat
September = PSL (Pumpkin Spice Latte). If you are a PSL fan, you can share the love of pumpkin-in-the-fall with your doggo. Pumpkin is a nutritious, low-fat snack for pets, as long as it is served in moderation. Too much of this squashy-goodness can result in diarrhea. And please, do not share spice or pie mix with your pooch. Those are definitely not for the furry-kind.
Here are some tips on safely making tasty dog treats at home.
Thanks for reading and have a safe and happy fall season!
Amazon disclosure: All products featured in this article were independently selected by our editorial team. As an Amazon Associate, PetPlace will earn if you click on the provided links and/or purchase a qualifying product from Amazon.