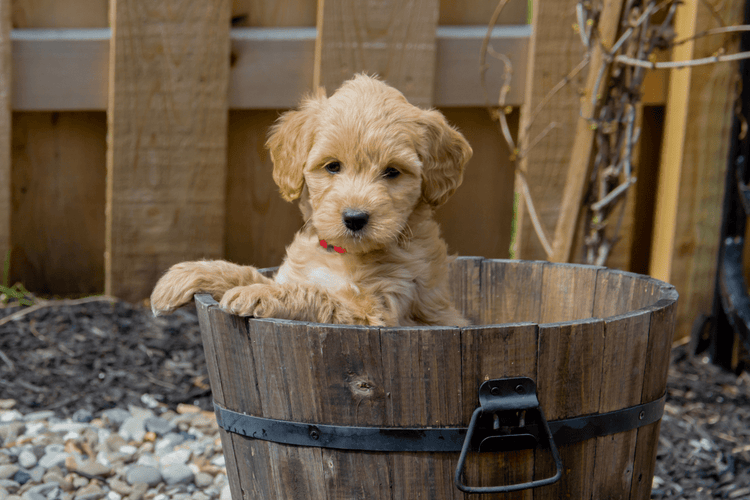 Great Names for Goldendoodle Dogs!
Thinking about naming your Goldendoodle? Goldendoodles are fun loving dogs and becoming very popular. As you know – a Goldendoodle is a cross between a Golden retriever and a standard poodle.
We asked our readers to share their most common names of Goldendoodles.
Abbey
Abby
Alice
Amber
Angus
Apollo
Astro
Bailey
Bailey Meyer
Balian
Barkley
Basil
Bauer
Beau
Beckett
Bella
Belle
Bentley
Berry
Bob
Bogey
Bootes
Brady
Brodie
Brody
Brooklyn
Bruce
Buckey
Champ
Charley Rae
Charlie
Chase
Chester
Chico
Chloe
Coach Paulson
Cody
Cookie
Cooper
Cosmo
Cotton
Darla
Delilah
Desmond Bader
Dublin
Duke
Elsa
Emma
Emmy
Euro
Fallon
Fenway
Finley
Finnegan
Fozzie
Frances
Frankie
Gazoo Broadway
Georgie
Gladiator Gladys
Goldie
Griffin
Gulliver
Haley
Hank
Harper
Henry
Henry
Houston
Jax
Jessie
Josie
Julia
Junju
Keebo
Kipton
Kirby
Kona
Kosby
Lacey
Lady
Lana
Leo
Leroy
Levi
Lexington
Lilly
Lily
Lincoln
Ling Ling Roetting
Logan
Lola
Lucas
Luci Glait
Lucy
Lucy Macrides
Lulu
Lyla
Maddie
Madison
Malani
Maple
Marley
Mathilda
Mia
Mika
Miles
Milly
Miss Sophie
Molly
Mowgli
Moxie
Mr. Higgins
Muppet
Murphy
Mustard Hagerman-Pierce
Nala
Noodles
Ollie
Ozzie
Ozzy
Peaches
Penny
Petunia
Peyton Axline
Phaedrus
Pushkin
Ranger
Ray Ray
Remington
Remy
Riley
Rocky
Rosie
Rusty
Sadie
Sasha
Scooby
Shadow
Shaka
Shanoah
Snickerdoodle
Sophie
Stella
Stella Grace
Sweetie
Taz
Teddy
Teddy Simo
Tess
Theo
Toby Schemm
Trooper
Tucker
Tucker Blue
Wailer
Winnie
Winston
Wonder
Zeke
Zeus
Zoe
Zoelle
Zoey
We hope this list of Goldendoodle names gives you an idea on naming your Goldendoodle.
Do you have a cool dog name? Or better yet, a cool Goldendoodle name? Tell us the cool dog name and how you came up with it in the comments below.