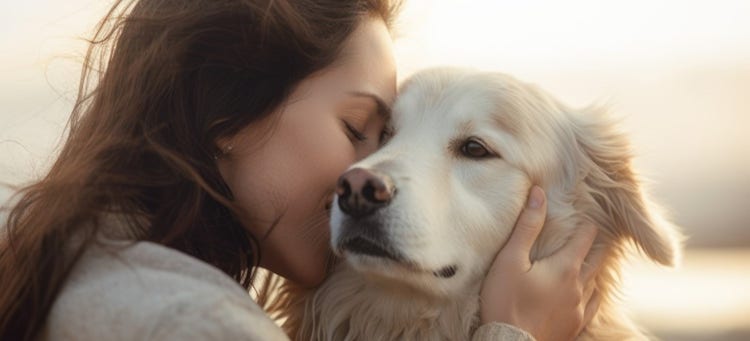 Should You Be a Foster Dog Parent?
In recent years, there's been a lot of focus on fostering dogs, especially with the impact of the COVID-19 pandemic. And with so many dogs in need of loving homes, it's no surprise that more and more people are considering becoming foster dog parents. But is fostering a good fit for you?
In this article, we'll dive into the pros and cons of becoming a foster dog parent, equipping you with the knowledge needed to make a well-informed decision. Plus, we'll share some tips for first-time foster parents to make the experience as smooth as possible.
What Is Dog Fostering?
Dog fostering is the act of temporarily taking care of a dog from a shelter or rescue organization. The primary purpose is to provide these canines with a loving environment until they find a permanent home. Fostering not only helps the individual dog but also frees up space in shelters, allowing them to rescue more animals in need.
For example, you might foster a dog that's just undergone surgery and needs a quiet place to recover. Or perhaps you're taking care of a puppy that needs socialization before they can be adopted.
The fostering period for a dog can range from a few days to several months, depending on their needs and the shelter's requirements. In many cases, foster parents will have the option to adopt the dog they're caring for if they feel a strong bond with them.
The Pros of Being a Foster Dog Parent
Becoming a foster dog parent comes with its own set of rewards and challenges. First, let's take a look at a few of the benefits you can expect to experience as a foster parent:
Emotional fulfillment. Knowing you've saved a dog from potential euthanasia or a life in a cage is incredibly fulfilling. You can witness the immediate impact of your actions, creating a heartwarming experience. Plus, the joy and companionship that a dog brings into your home are priceless.
Trial run. Fostering allows you to understand the responsibilities involved in pet care without making a long-term commitment. It's a great way to assess if you're ready for permanent pet parenthood before taking the leap.
Community benefit. By fostering, you're helping your local shelter continue its rescue efforts. This, in turn, benefits your community by reducing the number of stray animals and improving public safety. Additionally, your actions inspire others to consider fostering, leading to positive change.
The Cons of Being a Foster Dog Parent
While fostering can be rewarding, it's not without its challenges. Here are some points to consider before deciding to become a foster dog parent:
Time-intensive. Dogs need attention, exercise, and care, which can be time-consuming. So, make sure you have enough time to commit before taking on the responsibility. Some dogs may require frequent vet visits, medication, or specialized care, so be prepared for potential extra time commitments.
Emotional toll. While it's rewarding to bond with your foster dog, saying goodbye can be heart-wrenching. That's why it's essential to prepare yourself emotionally for this aspect of fostering.
Financial costs. While many organizations cover medical expenses, it's important to be financially prepared for day-to-day costs like food and toys. Some shelters offer stipends or supply packages to help offset these costs, but it's best to have some extra funds set aside just in case.
Are You Ready to Foster?
Before you start fostering, it's important to evaluate if you're ready. Consider your lifestyle, work schedule, and family dynamics. Do you have enough time to dedicate to a dog's care? Is your living space suitable for a pet?
If you find that you're well-suited for fostering and are considering making it a permanent arrangement, the transition to adoption is often seamless. Many shelters offer "Foster to Adopt" programs that allow you to adopt your foster pet if you find it's a good match. These programs often include training sessions, ongoing support, and sometimes even discounts on adoption fees.
Tips for First-Time Foster Parents
If you've made the decision to foster a dog, congratulations! It's a rewarding experience, but preparation is crucial. Here are some tips to help you get started:
Home preparation. Pet-proof your home and make it dog-friendly by removing hazards and creating a comfortable space. Baby gates can help confine your dog to certain areas, and chew toys can keep them entertained. Make sure you also have a designated area for your pup to eat and sleep.
Basic training. Teaching your foster dog basic commands like "sit," "stay," and "come" can make both of your lives much easier. Use treats, praise, and other forms of positive reinforcement to inspire your foster dog to adopt these new behaviors.
Seek support. Don't hesitate to seek advice from experienced foster parents or organizations. Many shelters offer support groups and training sessions for new foster parents. Utilize these resources to make your fostering experience as smooth as possible.
Is Fostering the Right Choice for You?
Fostering is a rewarding way to make a big difference in a dog's life and support animal welfare. It provides temporary homes for dogs in need, alleviates the burden on animal shelters, and offers a unique opportunity for individuals to experience pet parenthood without a long-term commitment.
However, it's important to remember that fostering a dog is not without its challenges. Potential foster parents should consider factors such as time, emotional capacity, and financial readiness before taking on the responsibility. But with the right preparation, resources, and support, fostering a dog can be a fulfilling and life-changing experience for both you and the dog in your care.
If you're interested in taking the next step, contact your local animal shelter or rescue organization to learn more about their fostering program. They will be happy to guide you through the process and match you with a dog that fits your lifestyle and needs.
If you're interested in making a permanent addition to your family, you can find adoptable animals in your area in need of a forever home at 24Petconnect, the internet's best resource for shelter adoptions and lost pet registrations.
24Petconnect is an indirect corporate affiliate of PetPlace.com. PetPlace may be compensated when you click on or make a purchase using the links in this article.