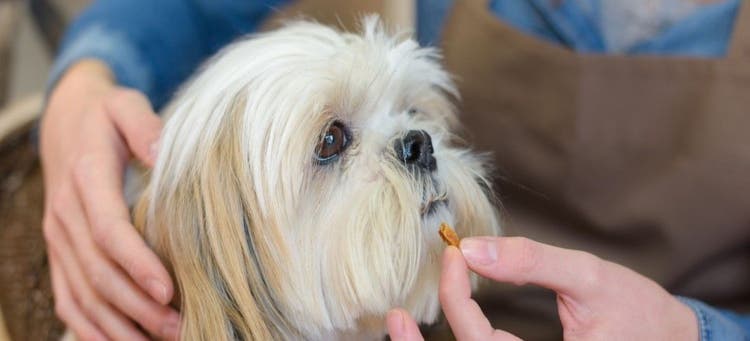 Is There a Daily Dog Vitamin?
Many of us take a multivitamin each day to ensure that we're getting all the nutrients we need. But have you ever wondered if there's a daily vitamin for dogs? The answer is yes! Just like humans, dogs can benefit from taking a daily vitamin supplement to fill nutritional gaps that may appear in their diet.
Many of the vitamins that help us stay healthy are also essential for dogs. According to the American Kennel Club (AKC), the following are all critical vitamins and minerals for your four-legged friend:
Vitamin A: Benefits cell function, immune function, vision, and growth
B Vitamins: Helps regulate energy, metabolism, and nervous system function
Vitamin C: Prevents or delays cell damage through antioxidants
Vitamin D: Balances minerals for healthy bone growth
Vitamin E: Promotes fat metabolism
Vitamin K: Activates the blood's ability to clot
Choline: Aids brain and liver function
While we recognize many of these names from our own daily vitamins, it's critical to understand that human vitamins aren't for dogs. The amount of each vitamin your dog requires differs from the formula created for humans.
Avoiding Risks
In the correct dosages, vitamins and minerals are essential for your dog's health. But, as with anything, too much of a good thing can be dangerous. Some issues that can arise from too much of a specific vitamin or mineral include:
Growing too quickly as a puppy
Skeletal problems
Dehydration
Joint pain
Harm to blood vessels
Be sure to consult with your vet before adding anything to your dog's diet, including supplements and vitamins. They'll work with you to determine if your pup is getting the right amounts of nutrients in their diet and make recommendations for supplements, if necessary.
Does My Dog Need a Daily Vitamin?
Vitamins and minerals may be essential, but that doesn't mean that every dog needs a supplement. The best way to ensure that your four-legged friend is getting all the nutrients they need is by feeding them a high-quality, well-balanced diet.
You can do that by finding a food that meets or exceeds the nutritional adequacy standards established by the Association of American Feed Control Officials (AAFCO), which ensures that foods contain all vital nutrients to keep dogs healthy.
There are some circumstances where your veterinarian may recommend a daily vitamin supplement for your dog. These can include:
Puppies that are growing quickly and need extra nutrients
Dogs that are pregnant or nursing and need additional vitamins and minerals
Senior dogs that may be starting to experience nutrient deficiencies
Dogs with certain medical conditions that affect their ability to absorb nutrients
If you're considering giving your dog a daily vitamin supplement, always speak with your veterinarian first. They can help you choose a high-quality product and determine the right dosage for your pup.
How to Choose a Daily Dog Vitamin
If you've spoken to your veterinarian and decided that a daily vitamin supplement is right for your dog, it's important to choose a high-quality product.
When looking for a daily dog vitamin, look for a product that's formulated to address your dog's specific needs. For example, if your dog is a senior, look for a vitamin that's specifically designed for older dogs. Ready to start shopping? Here are a few of our top picks:
If your dog suffers from allergies, these chewable vitamins may help to reduce their symptoms. Made with powerful natural ingredients like bee pollen, kelp, and vitamin C, they're formulated to help your dog's body combat environmental pollutants.
Created for dogs of all ages and sizes, Zesty Paws Multifunctional 8-in-1 Bites aim to aid hip, joint, heart, and immune health, while simultaneously promoting healthy skin and a luscious coat. The nutritious bites are free from grains, corn, soy, artificial flavors, and preservatives. They also include probiotics to further support digestive health.
Looking for a daily dog vitamin that does it all? PetHonesty Dog Multivitamin with Glucosamine may be a good option. This supplement not only promotes joint, heart, and brain health, but also aids in digestion, supports the immune system, and more! The chewable tablets are naturally flavored with chicken and are free from wheat, corn, soy, dairy, and artificial preservatives.
As your dog ages, their nutritional needs may change. This daily multivitamin is specifically designed for senior dogs and includes vitamins that support heart, liver, brain, and eye health. The unique formula also contains Omega-3 fatty acids, antioxidants, amino acids, and more to help your aging pup feel their best.
These tasty soft chews are formulated to support joint health in dogs of all ages. Made with glucosamine, chondroitin, and MSM, they help to ease aches and pains associated with conditions like arthritis and hip dysplasia.
These bite-sized vitamins are perfect for growing pups! Made with essential vitamins, minerals, and amino acids, they help to ensure that your puppy is getting the nutrients they need for healthy growth.
Always Check with Your Veterinarian First
Remember, it's always best to speak with your veterinarian before giving your dog any type of supplement – even a daily vitamin. They can help you choose a high-quality product and determine the right dosage for your pup. The products we've highlighted are all great options, but they may not be right for every dog.