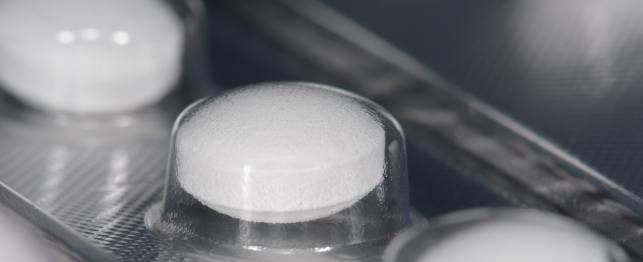 Trazodone (Oleptro®, Desyrel®) for Dogs and Cats
Use of Trazodone in Canines and Felines
Trazodone HCl, also known simply as Trazodone and by the brand names of Oleptro® and Desyrel®, is used in dog and cats with behavioral problems or various anxiety-related problems, including fears related to veterinary visits and hospitalization.
Trazodone is categorized as a Serotonin 2a antagonist/reuptake inhibitor (SARI). It is an antidepressant that is often used for behavioral disorders. It works by altering chemicals (serotonin) in the brain that may become unbalanced. Serotonin is a chemical that facilitates transmission of "messages" among brain cells and increases serotonin levels in the brain.
Behavioral disorders in dogs and cats are common causes for veterinary visits. They are also a frequent reason for euthanasia of pets, especially when unacceptable or dangerous animal behavior is involved. Over the past decade, veterinarians have begun placing increasing emphasis on training and behavior modification, and animal behavior specialists have adopted drugs used in modifying human behavior for animal use. Trazodone is one of these drugs.
It is a relatively inexpensive drug, making it appealing over some other behavioral modification medications.
Trazodone is used to treat depression, insomnia, alcohol withdrawal, cocaine withdrawal, and migraines, as well as other uses, which can make it available for accidental exposure in dogs. For more information about Trazodone Toxicity – go to: What to Do if Your Dog Eats Trazodone® Medication?
Trazodone is a prescription drug and can only be obtained from a veterinarian or by prescription from a veterinarian.
This drug is not approved for use in animals by the Food and Drug Administration (FDA), but it is prescribed legally by veterinarians as an extra-label drug. Do not administer this drug to your pets unless advised by your veterinarian.
Brand Names and Other Names of Trazodone
This drug is registered for use in humans only.
Human formulations: Oleptro, Desyrel®, Desyrel Dividose, and various generic equivalents.
Veterinary formulations: None.
Uses for Separation Anxiety in Dogs and Cats
Trazodone is used for behavior modification of dogs. Trazodone may be used for separation anxiety and other anxiety-related conditions (such as fear of fireworks). For more information about Anxiety – go to: Is Your Dog Suffering From Anxiety?
Other uses include the treatment of anxiety during hospitalization and short-term relief of anxiety associated with activity restriction, such as cage rest after orthopedic surgery.
Studies documenting use of Trazodone in cats is limited, however, Trazodone is being used in cats for vet visit and travel anxiety, and is believed to be safe and well tolerated.
Precautions and Side Effects of Trazodone
While generally safe and effective when prescribed by a veterinarian, Trazodone can cause side effects in some animals.
Trazodone should not be used in animals with known hypersensitivity or allergy to the drug.
Trazodone should be used with caution in dogs and cats with a history of liver, kidney, or heart disease. Trazodone can cause priapism (prolonged erection) in humans and, therefore, should be used with caution in male breeding dogs.
Trazodone may interact with other medications. Consult with your veterinarian to determine if other drugs your pet is receiving could interact with Trazodone. This includes drugs classified as diuretics, antibiotics (enrofloxacin, ciprofloxacin, erythromycin, clarithromycin), monoamine oxidase inhibitors (selegiline and amitraz), diazepam, phenylbutazone, digoxin, and buspirone. Certain anti-fungal medications (i.e. ketoconazole, fluconazole itraconazole) can change the metabolism of Trazodone and require that a lower dose be used. Additional drugs that have potential interactions include aspirin, cisapride, metoclopramide, nonsteroidal anti-inflammatory drugs (e.g. carprofen, Rimadyl®, Novox®, Deramaxx®, Meloxicam, and more), ondancetron, tramadol, and fluoxetine (Prozac®).
Side effects associated with Trazodone include lethargy, sedation, vomiting, diarrhea, panting, hyperactivity, ataxia, increased anxiety, increased appetite, shaking, restlessness, and agitation.
Side effects will generally improve with time, so may veterinarians recommend waiting a few days to determine response if the side effects are mild.
When large quantities of Trazodone are ingested, pets may have seizures or even go into a coma state. It is recommended that overdoses be promptly treated by a veterinarian.
How Trazodone Is Supplied
Trazodone is available as both brand name and generic formulations.
Common tablets sizes include 50mg, 100 mg, 150 mg, and 300 mg.
Trazodone extended-release oral tablets sizes include 150 mg & 300 mg.
Dosing Information for Trazodone in Dogs and Cats
Medication should never be administered without first consulting your veterinarian. If you're concerned about costs related to medication, pet insurance may be able to help. Click here to learn more.
In dogs, there are a range of doses. They include 2.5 mg per pound per day to 15 mg per pound every 24 hours. The average dose is approximately 3.5 mg per pound per day. Lower doses are used when combined with other behavioral modification medications. Most veterinarians prescribe Trazodone at the lower dosage range to minimize side effects and may gradually taper the dose up after 3 to 5 days.
Another method to dose dogs is by total mg size based on weight. For example, initial dosing for dogs less than 22 pounds is total dose of 25 mg every 8 to 24 hours. For dogs 22 to 44 pounds, the total dose is 50 mg every 12 to 24 hours. Dogs over 44 pounds may be prescribed 100 mg every 12 to 24 hours. After 3 to 5 days of the initial dosing, a higher target dose may be recommended. Target dosing for dogs less than 22 pounds is a total dose of 50 mg every 8 to 24 hours. For dogs 22 to 44 pounds, the total dose is 100 mg every 8 to 24 hours. Dogs 44 to 88 pounds may be prescribed 200 mg every 8 to 24 and dogs over 88 pounds may be prescribed a total dose of 200 – 300 mg every 8 to 24 hours.
Trazodone may be given on an empty stomach or with food. If your dog gets nauseated or vomits after dosing, give Trazodone with a small meal or treat.
For cats, Trazodone has been infrequently used. The documented doses used in cats are a 50-100 mg total dose for short term use.
Pets must receive Trazodone for 2 weeks before it can be determined that the medication is ineffective.
The duration of administration depends on the condition being treated, response to the medication, and the development of any adverse effects. Be certain to complete the prescription unless specifically directed by your veterinarian. Even if your pet feels better, the entire treatment plan should be completed.
Dose should be gradually withdrawn or withdrawal symptoms may occur.
Resources & References
Plumb's Veterinary Handbook by Donald C. Plumb, 9th Edition.
Use of oral Trazodone for sedation in cats: a pilot study. J Feline Med Surg. 2015;0(0): Jillian M Orlando1; Beth C Case2; Andrea E Thomson3; Emily Griffith4; Barbara L Sherman5
Textbook of Veterinary Internal Medicine, Ettinger & Felman
Current Veterinary Therapy XIV, Bonagura and Twedt
Current Veterinary Therapy XV, Bonagura and Twedt
ASPCA Pet Poison Hotline
Pet Poison Helpline
Related Articles