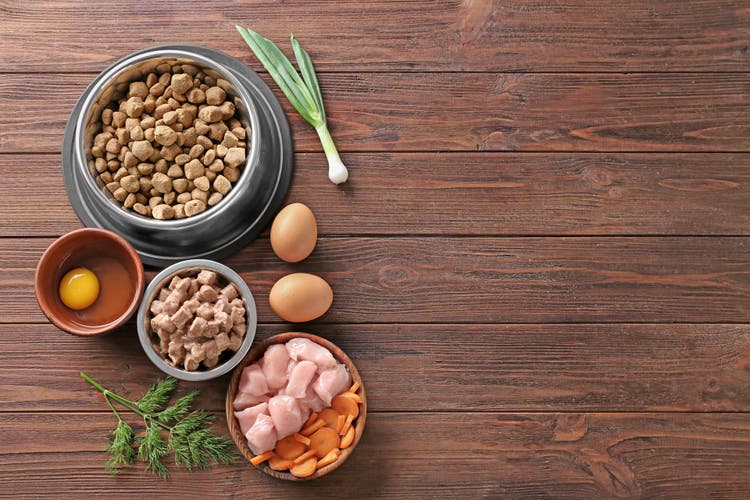 September 2019: Pet Food Recalls and More
With the number of ongoing recalls on pet food, products, and such that have been happening, there's a need for a place where all this information can be easily accessible to the public. This is why, beginning in September 2019, PetPlace.com will be keeping an ongoing list of pet food recalls and more. This list, separated by month will be continually updated to reflect the latest pet food and product recalls.
September 2019
9/19/19 – Other
Dog Goods USA Chef Toby Pig Ears Dog Treats (expanded)
9/03/19 – Dog Food
August 2019
Aunt Jeni's Home Made frozen raw pet food
8/30/19 – Dog Food
Brutus & Barnaby LLC bags of Pig Ears Natural Treats for Dogs
8/27/19 – Dog Food
Dog Goods USA Chef Toby pig ears dog treats
8/16/19 – Dog Food
8/14/19 – Dog Food
July 2019
Pig ear treats – all brands; FDA alert
7/31/19 – Dog Food
Lennox Intl Inc Natural Pig Ears
7/26/19 – Dog Food
Pet Supplies Plus bulk pig ear treats
7/03/19 – Dog Food
June 2019
Aqueon Betta Food – Central Aquatics
6/26/19 – Other
May 2019
Southern States® – Various Animal Feeds
5/06/19 – Other
April 2019
Thogersen Family Farm Raw Frozen Ground Pet Food
4/04/19 – Dog Food
March 2019
Nestlé Purina Muse Natural Chicken Recipe in Gravy
3/29/19 – Cat Food
Darwin's Natural Selections Chicken Recipe with Organic Veg.
3/26/19 – Dog Food
Darwin's Natural Selections Turkey Recipe with Organic Veg.
3/26/19 – Dog Food
Hill's Prescription Diet canned dog food – Expanded
3/20/19 – Dog Food
Hill's Science Diet canned dog food – Expanded
3/20/19 – Dog Food
February 2019
N/A
January 2019
Purina Honor Show Chow Showlamb Grower
1/30/19 – Other
Woody's Pet Food Deli Raw Free Range Turkey
1/30/19 – Dog Food
Hare Today Gone Tomorrow Ground Chicken
1/23/19 – Dog Food
A+ Answers Straight Beef Formula for Dogs
1/14/19 – Dog Food
Old Glory Hearty Turkey and Cheese Flavor Dog Food
1/02/19 – Dog Food
What to do When Your Pet's Food Is Recalled
Similar to every industry, every so often a recall occurs for different pet food and products, but what are you supposed to do if your pet food gets recalled? Well, the most important thing you should do is to stop feeding your pet the recalled food immediately. You should return the food to the store from which you've purchased it, and if you're fortunate enough, you may be able to get a refund by doing so if you tell them that the product's been recalled. If they're not willing to take it back, then dispose of the food properly, making sure that no other animals get in contact with it.
If your pet has been eating the recalled food for some time, it may be wise to consult with your veterinarian to determine the current health of your pet and if any additional actions should be taken.
How to Switch Your Pet's Food
Typically, when switching your pet's food, it's better to do so slowly over time, because a sudden change in your pet's diet may cause them to have an upset stomach and diarrhea. It takes their system time to adjust to new food, which is why, if possible, the preferred method of switching food consists of mixing in the new food with the old food and over time adding more of the new food and less of the old food until the entirety of their meal consists of the new food.
Obviously, in the case of a food recall, you won't be able to approach the situation this way and will have to immediately switch their food. The best way to do this is by trying to find similar food to replace their current food. Odds are that the transition might not be seamless, but it's the best you can do. You can always ask your vet for suggestions on what kind of food you should switch to and how to approach doing so.
Why Do Recalls Happen?
A common reason that recalls occur is because one or more contaminants have been discovered in the food. Contaminants can either be chemical contaminants that may have made their way into the manufacturing of the food by mistake or they can be bacterial contaminants such as Salmonella or E. Coli.
Bacterial contaminants are dangerous because these disease-causing bacteria can easily get into a dog's intestinal tract and lead to your dog getting sick from the food.
Other recalls may occur if a certain food isn't manufactured correctly and has too much of or not enough of a specific nutrient. This could potentially be dangerous to animals as they need a certain amount of each nutrient.
The last reason a recall may occur is because of incorrect labeling. Simply put, the food in the bag or can is not what the label states it is.
Related Articles