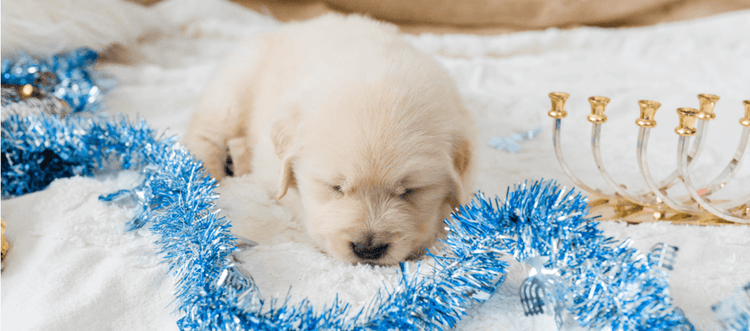 The 8 Pets of Hanukkah
Hanukkah starts tonight and these four-legged critters are ready for eight nights of holiday fun.
8 Hanukkah-Themed Instagram Pet Posts
Winnie is geared up to celebrate the Festival of Lights with her collection of holiday toys.
Another Hanukkah-loving hound, Gaston the French Bulldog is dressed for a roaring good time in his festive bandana.
Hanukkah is here and Maya's itching to light the menorah and celebrate.
Ranger is ready to roll with his favorite festive toy, a fuzzy dreidel.
How much does Freddie love Hanukkah? A whole latke!
Spooki's excited for gifts, treats, and a purrfect eight nights of Hanukkah festivities.
Leroy and Luna can't enjoy chocolate gelt, but they're eager to dig into some dog-safe Hanukkah treats.
Poppy has the perfect Hanukkah gift for her followers and all of Instagram's dog lovers — this adorable snapshot.
More Festive Pets on Instagram
Get in the holiday spirit with more furtastic photos from the dogs, cats, pigs, rabbits, and other pets of Instagram.