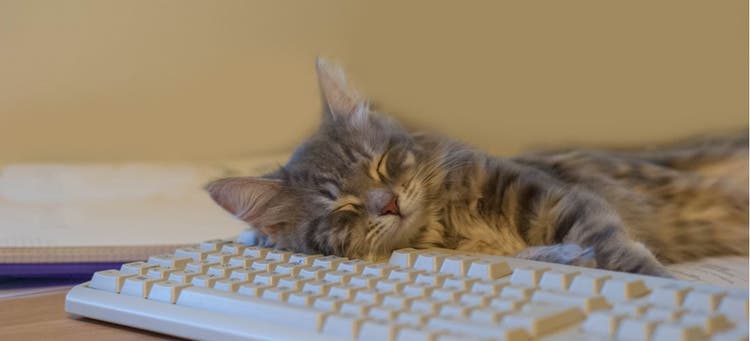 Working from Home with Pets
A recent Deloitte survey found that 90% of professionals consider flexibility a plus. While definitions of "flexibility" will vary from workplace to workplace, one of the most common "flexible" options is the opportunity to work remotely either full or part-time. Employees associate this with greater productivity, a better work-life balance, and lower stress. With COVID-19 spreading throughout the nation, remote work has become the only option for millions of Americans in 2020. Some are hopeful that it will become the new normal in a post-virus world.
Unfortunately, working remotely isn't low-stress for everybody. Pet parents know that having a four-legged coworker can make for a chaotic workday. Whether you work from home now and then or you're adjusting to full-time remote work, these tips should help you limit distractions and anxiety throughout the week.
Plan Pet Care Around the Workday
Unexpected calls and meetings will always pop up, but you've probably got a good sense of your daily schedule. In fact, Monday through Friday probably includes a number of commonplace routines. Your dog or cat's day is similar, with meals, walks, and other exercise typically occurring at similar times during the day. For both pets and people, this predictability can help to limit stress. Where possible, blend your schedule with your pet's. Instead of trying to get your attention during important calls and meetings, they'll come to expect it during specific windows of time.
Make sure to plan additional pet breaks too. Your dog and cat will appreciate the extra affection and you'll enjoy some time away from your desk.
Keep Your Dog or Cat Engaged
Our dogs and cats don't want us to lose our jobs. They're not barking during conference calls or falling asleep on our keyboards to get us in trouble — most of the time, they're just bored. Interactive bowls and food-dispensing toys are a great way to grab your pet's attention when you need a little workday peace and quiet. These force your pet to work for their food and typically feature colors and textures that will dependably hold their attention. Some hide pieces of kibble in folds and grooves to encourage slower eating, while others keep your pet active by dispensing food when they're batted around the room. These could also have the added benefit of helping an overweight pet get more exercise and avoid overeating.
If you're wary of using food to distract your pet, other types of interactive toys could do the job. Hide-and-seek and puzzle toys are a great way to stimulate your pet's brains while keeping them out of your hair. You might store these in your home office or even fill a separate room with engaging toys and favorite objects.
Remote Work Don'ts
Like any workplace, the home office can be the site of conflict. You wouldn't lose your cool at the office and you shouldn't at home either. Never reprimand, physically discipline, or isolate your pet to punish them for workday distractions. Also, don't forget that leaving a barking dog outdoors can make them a nuisance for your neighbors and even subject you to legal penalties.
Enjoy Working with Your Pets
Sharing your home office with a pet can be stressful, but studies show it can also help to reduce stress. Even a few minutes of quality time with a dog or cat can have therapeutic benefits, alleviating anxiety and even lowering your pressure. Establish boundaries and stay patient and these benefits can far outweigh the potential headaches of working alongside your pets.