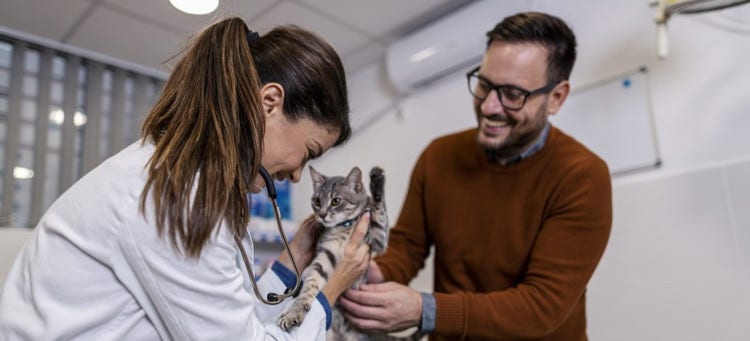 A Checklist for Your Puppy or Kitten's First Vet Visit
Content Sponsored by 24Petwatch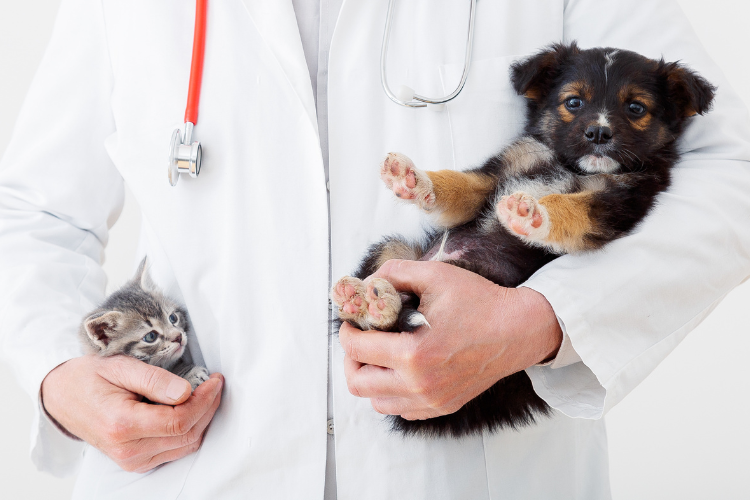 So, you've got a new pet. Congratulations on the addition to your family! It's an exciting time, and as a loving pet parent, you'll want to help your pet adjust quickly by getting their environment ready. There are many ways to prepare for your new puppy or kitten. For instance, you can sort out appropriate food, purchase toys, or begin pet-proofing your home.
However, healthcare is often overlooked. You should immediately schedule your puppy and kitten's first veterinary visit. To help you get started, we've created this checklist to provide you with everything you need for the first checkup: how to prepare, what to expect, questions to ask, and more.
Preparing for Your Puppy or Kitten's First Vet Visit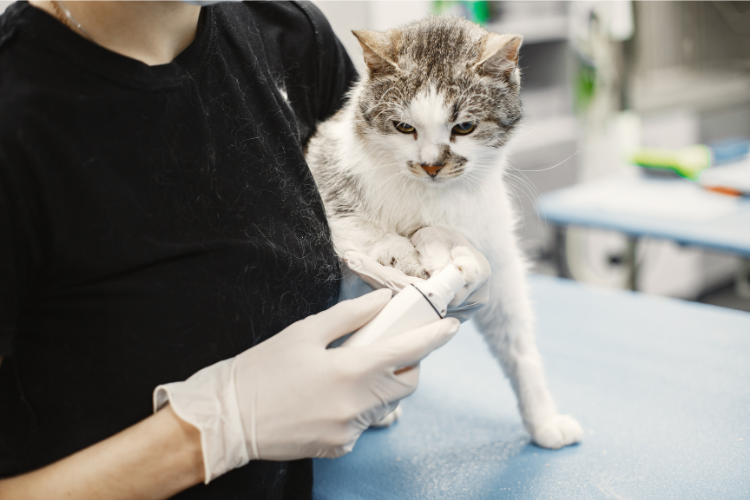 How Soon Should You Take Your Kitten or Puppy to the Vet?
Experts suggest taking your kitten or puppy to the vet for the first time at eight weeks old. If you're adopting from a breeder, your pet may have already had their first visit under the breeder's care. If this is the case, you should still arrange your pet's first visit to your preferred veterinarian within a week of welcoming your new puppy or kitten home. Similarly, if you're rescuing your pet, take them for their first checkup as soon as possible.
When Should You Take Your Pet Back to the Vet?
During the first appointment, your vet will discuss when to return for vaccinations, preventive medications, and a spay/neuter surgery. Afterwards, your kitten or puppy should get a checkup at least once a year. For pets with health conditions, you might need to go more. Regardless, you should always bring them to a clinic when you feel there may be a concern, including when they've eaten something toxic, appear in pain, or show unusual symptoms. Sudden weight loss, inability to pee, or overly aggressive behavior are just a few examples of concerning symptoms.
You'll naturally have worries and questions as you learn what is and isn't normal for your new kitten or puppy. But, having support from a professional can put your mind at ease as you navigate pet parenthood. With a 24Petwatch Lifetime Protection Membership, you can get answers to all your critical questions. They offer 24/7 access to veterinary professionals via email, phone, or live chat (complimentary 1 year, provided by whiskerDocs®).
Practice Runs
Creating a positive experience is crucial for success with pets, especially when introducing new environments and activities. To ensure your pet is comfortable on the day of their appointment, follow these steps:
Get your pet used to being handled: Hold their paws and hindlegs while encouraging them with treats so they become familiar with that style of touch and action.
Get your pet used to their carrier: Entice them to explore their carrier with treats, toys, and a towel with your scent. If they learn to like it, transporting them will be much easier. If you don't use a carrier for your puppy, ensure they're always secured by a leash and a pet-friendly safety belt to prevent them from getting lost.
Practice car rides: Start with short drives around the block so they learn to relax and feel safe in a moving vehicle. After each ride, give them a treat so they identify the car with a good time. As your pet gets more comfortable, gradually increase the length of the car ride. You can even practice the route to the clinic, so they get familiar with the sights and smells.
Meet and greet: Ask if you can introduce your pet to the staff before the first appointment.
How to Take Your Cat to the Vet Without a Carrier?
If you can't take your kitten to the vet in a carrier, consider leash training to ensure they can't escape, particularly if you're walking or taking public transit. If you can access a car, carry them to it and use a pet-safety belt to secure them.
What to Bring to the First Vet Visit?
For your puppy and kitten's first vet visit, you'll need to bring:
Health record and vaccination information: If the shelter or breeder gave you any information about your pet's health history, you'll need to share it.
Insurance information: Clinics supporting direct pay options can submit claims for you. Otherwise, you must submit the claim yourself and wait for reimbursement.
Toys, treats, and towels: Chew and puzzle toys can help distract your pet while you're waiting. Treats can help encourage them when they get nervous throughout their visit. If you get separated at any point, a towel or blanket with your scent can help them stay calm.
Fecal specimen: You may be asked to bring a sample of their stool to run procedural tests for parasites.
A list of questions: Your vet can give you advice on anything related to your pet's health and behavior.
Check with the office by calling in advance to ask if you should bring anything else.
What to Expect at the First Vet Visit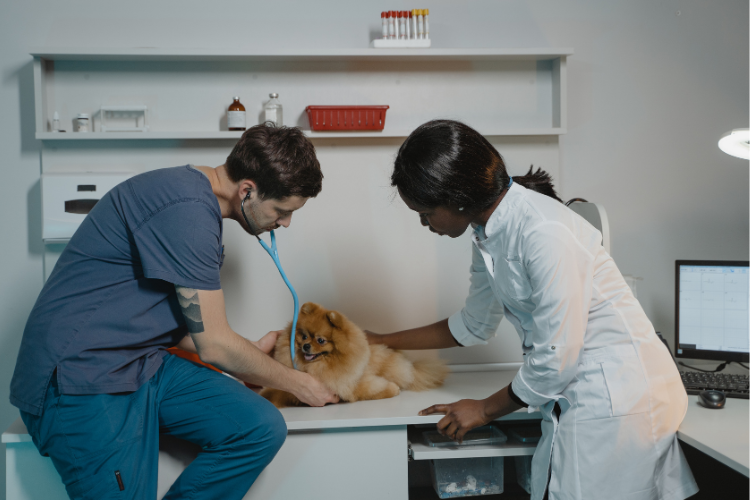 Physical Exam
For the first visit, your vet will conduct a physical exam. This will include inspecting their ears, mouth, skin, and coat, and listening to their heart and lungs through a stethoscope. Your pet may also have to do a blood and fecal test. The purpose of this appointment is to check for parasites and health conditions.
Vaccinations
Depending on their age, your pet may receive their first round of vaccinations, or your vet will set up a schedule.
Medications
If any health conditions were found during the exam and tests, you may walk away with a prescription. Healthy pets may be given preventative medications for fleas, ticks, or heartworm disease.
Advice
Lastly, your vet will discuss the benefits of spaying/neutering your pet and any other relevant advice like keeping your kitten indoors, socializing your puppy, diet, training tips, and more.
Questions to Ask at Your Kitten's First Vet Visit
What's the best diet for my kitten?
Does my kitten need any other preventive medications?
How do I take care of my kitten's teeth?
How often should I bring my kitten for checkups?
What's the best litter?
What's the best way to groom my kitten?
Why should I microchip my kitten?
What do I do in an emergency?
What else should I know?
Why should I get cat insurance?
Questions to Ask at Your Puppy's First Vet Visit
What's the best diet for my puppy?
Does my puppy need any other preventive medications?
How do I take care of my puppy's teeth?
How often should I bring my puppy for checkups?
Why should I microchip my puppy?
When is it safe to introduce my puppy to other animals?
What do I do in an emergency?
What else should I know?
Why should I get dog insurance?
When will the crying at night stop?
How do I get my puppy to stop chewing everything?
How often should I feed my puppy?
How long can my puppy stay home alone?
How much exercise does my puppy need?
How do I potty train?
Looks like you're ready for the vet! Don't forget to bookmark this page so you can use it as a guide and even refer to the questions during your pet's appointment.
For more information about enhanced Pet Protection Services, contact a 24Petwatch Lost Pet Recovery Specialist today at 1-866-597-2424.
PetPlace® is a brand of Independence American Holdings Corp. (IAHC). 24PetWatch® is a brand of an indirect corporate subsidiary of IAHC, PTZ Insurance Services, Ltd. PetPlace may be compensated when you click on or make a purchase using the links in this article.