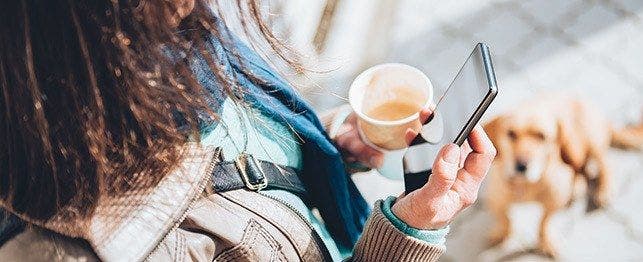 Using Social Media to Track Down Your Lost Pet and Bring them Home
Social media is turning into a part of our daily lives. While most people have at least one account that they check daily, more and more people have several. They also have a smart phone which allows them to always keep their social media close. For this reason, many people have started using social media to find lost pets, often with great results. From posting pictures on Twitter and Instagram to asking for help from neighbors on Facebook groups, it's easy to get the word out and have others help you spread it.
But don't count on one post on social media bringing your buddy home. It's an extra tool to find him, but there are some best practices to follow. Here are some things to think about when you are searching for your pets by using social media.
Using Social Media to Find Lost Pets
Make sure that you include the right information about your pet.
Not only do you want to include your pet's name, breed, and sex, you should also include things that differentiate your pet from others. If he is wearing a collar with information, don't forget to mention that.
If your pet is shy, scared, fearful, may bite, or even run if found, make sure that you include that information. You don't want people to get hurt trying to help you. The same is true if your dog will run because he is scared. You don't want your dog to run even farther away. Give people details on ways to catch him . If they will come for food, mention that!
Don't forget to include your phone number so that, if found, they can contact you. If you don't put your contact information down, it won't matter if your pet is found because no one will be able to get him back to you. A picture really is worth a thousand words. A picture will really help others find your pet, as well as catch the attention of people online. Most people scroll through text but they seem to stop at pictures.
Not only should you post it on your profile, you should also put it on specific lost and found groups. If there are any groups specific to your location (and surrounding ones), you should also post there. The more places that you post it, the more likely that someone online will find your pet.
Don't forget to post on popular animal profiles, such as local veterinarians and rescue shelters. The more places that you put it, the more people who will see it, especially animal ones which are filled with animal lovers. If you can get a whole group of people dedicated to looking for your dog, you will have greater success at finding him.
Make your post public so that others can share the post, so even more people can see it! Ask friends to share it, making it more likely that you will find your dog.
Just remember that even though you put it online, you will still need to look. You should create flyers using the same information and post them around your town. Call local veterinarians and rescue groups to see if anyone found your dog.
Remember to watch what contact information you put online. While putting information out on social media makes it more likely you can reach more people and recover your dog quickly, the world is a dangerous place. Control what information you put out during your search, using a core contact piece like your phone number or email instead of giving out your address.
Don't forget that dogs can travel several miles in a day, especially if they are scared, so make sure that you also focus on groups in surrounding areas too. Lost and scared dogs can be found miles and miles from home so you shouldn't just focus on your direct area. Bigger dogs can travel even farther so make your reach as big as possible.
Think about creating a local group of animal lovers who are there for each other. You can make the rules whatever you want, though you should fill it with people who are dedicated to caring for their pets, as well as helping others find lost pets.
It can be devastating when you lose a dog. However, by using social media, you can reach a large amount of people, making it more likely that you will find him (and fast). Just make sure that you include all of the pertinent information (as well as your contact information) and make it public so others can share it. However, just because you are using social media, doesn't mean that you don't have to look yourself. You should still call around to local veterinarians and rescue shelters to try to find your dog.
Are you pet crazy? Sign up for our email newsletter and get the latest health and wellness info, useful tips, product recalls, fun stuff, and so much more!