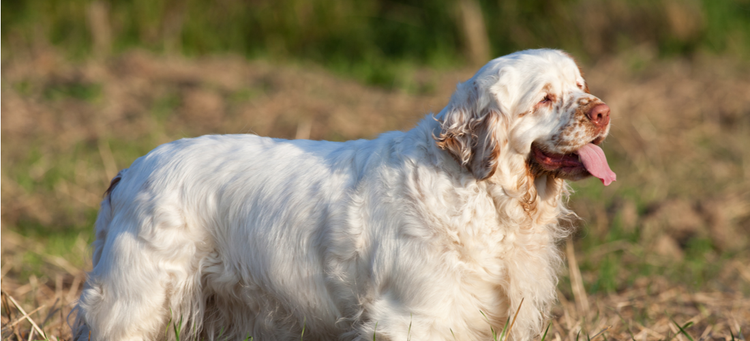 Clumber Spaniel
Life Expectancy
12 - 13 years
Area of Origin
Great Britain
The Clumber Spaniel is a dense-bodied flushing dog known for its gentle demeanor and affectionate nature. The breed's exact place of origin is a bit of a mystery, but they have been documented since the late 18th century. They were used at the time mostly to frighten and retrieve game for gunmen, though their silence rarely makes them suitable watchdogs. Clumbers are energetic, natural retrievers that love playing fetch, but they're not built for long walks or jogs. Their faces are adorned with endearing wrinkles and a prominent muzzle with long lips, which makes drooling inevitable. Due to their laidback personality and solid build, they're perfect for children and families, both in urban and suburban environments.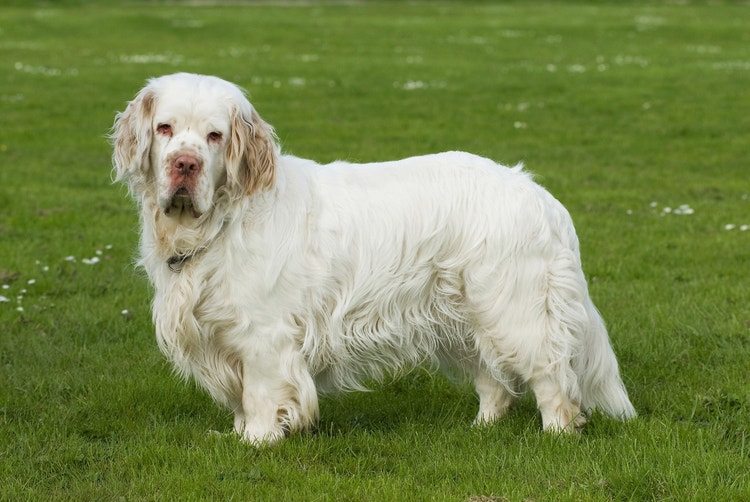 Friendliness to strangers
4
friendliness to other pets
4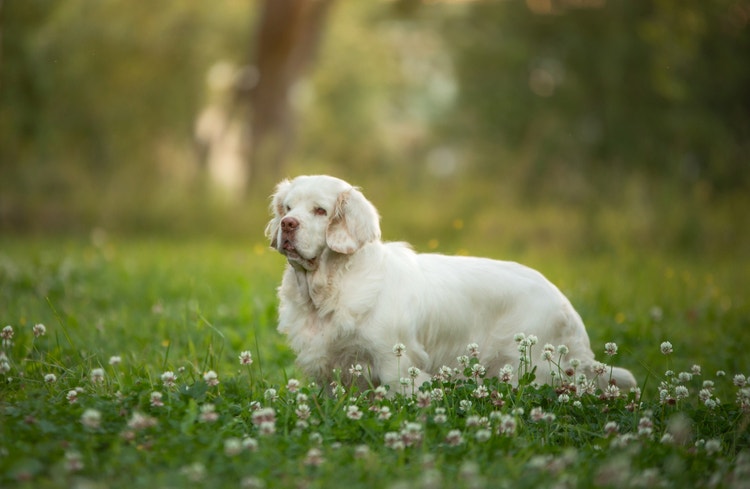 Where Are Clumber Spaniels From?
It is believed that members of this spaniel breed were gifted to the Duke of Newcastle in the late 18th century by French nobles. The Duke named the breed after his estate (Clumber Park) and was responsible for their development. The breed's low-slung body and mellow personality are likely the result of crossbreeding with the Basset Hound.
Clumbers maintained their popularity with nobles through the 20th century, finding a place in the hearts of King George V and King Edward VIII. They found their way to Canada in the 1840s and reached the United States thirty years later. The breed has been registered with the American Kennel Club since 1878.
Caring for a Clumber Spaniel

What Kind of Diet Does a Clumber Spaniel Need?
What Kind of Diet Does a Clumber Spaniel Need?
Keeping your Clumber Spaniel lean and trim will help avoid any potential back issues, so be sure to keep an eye on calories and feed a high-quality, age-appropriate diet.

How Much Grooming Does a Clumber Spaniel Need?
How Much Grooming Does a Clumber Spaniel Need?
The Clumber's luxurious hair coat sheds frequently and requires brushing at least once a week to prevent mats from forming. Monthly baths are also recommended to keep their coat silky.
As with all spaniels, routine ear cleanings are recommended. The wrinkles in their face should also be kept clean and dry to prevent yeast infections.

Are Clumber Spaniels Healthy Dogs?
Are Clumber Spaniels Healthy Dogs?
The breed's large eyes and strong brow make them prone to several ocular issues, particularly progressive retinal atrophy (a degeneration of the retina). They are also prone to entropion, in which the eyelid rolls inward, resulting in irritation from the eyelashes.
Clumbers are also known to suffer from hip dysplasia, intervertebral disk disease (a result of herniated disks along the thoracolumbar spine), and allergies. Routine physical examination by a veterinarian is recommended.
Their life span is 12 to 13 years.
Clumber Spaniels are predisposed to: progressive retinal atrophy, entropion, ectropion, cataracts, hip dysplasia, allergies, and intervertebral disk disease.

How Much Training Does a Clumber Spaniel Need?
How Much Training Does a Clumber Spaniel Need?
This is an intelligent breed, making training with persistent positive reinforcement methods fairly easy. However, they can be sensitive and do not respond well to strict discipline.

How Much Exercise Does a Clumber Spaniel Need?
How Much Exercise Does a Clumber Spaniel Need?
This is an energetic breed that needs daily exercise. They absolutely love retrieving things, so an adequate form of exercise is playing fetch in the yard. Agility training and short walks are also great ways to keep your Clumber in shape.
What Are the Physical Characteristics of a Clumber Spaniel?
What Do Clumber Spaniels Look Like?
They have a solid, low-slung body with luxurious hair and a massive head. Their tail is typically docked and held level with the body. The face has wrinkled skin and a strong muzzle. Height is 17 to 20 inches with an average weight of 55 to 85 pounds.
Do Clumber Spaniels Have Big Heads?
Yes, the Clumber head is massive, boasting a strong brow and noticeable wrinkle between the eyes. They have a square jaw, strong muzzle, and a large, brown nose. They also have large, amber-colored eyes.
The Clumber Spaniel Body
This breed carries itself with dignity. They have a solid, low-slung body, with straight back and deep chest. The neck is long and muscular, and hair feathers along the legs, belly, and chest.
Do Clumber Spaniels Have Tails?
Yes, Clumbers have tails, though they are commonly docked to 1/3 of their natural length. Hair on the tail is feathered, and it is carried level with the body.
Clumber Spaniel Front Legs
Forelimbs are short, featuring dense bone and large feet. Shoulders are laid back and elbows are carried close to the body.
What Colors Are Common for Clumber Spaniels?
White is the predominant color of the Clumber Spaniel hair coat, paired with either lemon or orange markings.
Clumber Spaniel Back Legs
The hind limbs contain muscular thighs and well-angulated stifles.
Clumber Spaniel Facts
Clumber Spaniels were famously featured alongside the Duke of Newcastle in Francis Wheatley's Return from Shooting.
The DuPont family kept a kennel of Clumber Spaniels, preventing the breed from becoming obsolete in the United States. They were used in both the field and dog show rings.
The Clumber Spaniel is known as a silent hunter, making it very easy for them to sneak up on and startle game while on the job.
Other Breeds to Explore
References
Morris, Desmond. Dogs: The Ultimate Dictionary of Over 1,000 Dog Breeds. Trafalgar Square, 2002.
Wilcox, Bonnie and Chris Walkowicz. The Atlas of Dog Breeds of the World. T.F.H Publications, Inc., 1995.
Clumber Spaniel Dog Breed Information. American Kennel Club, 2021.