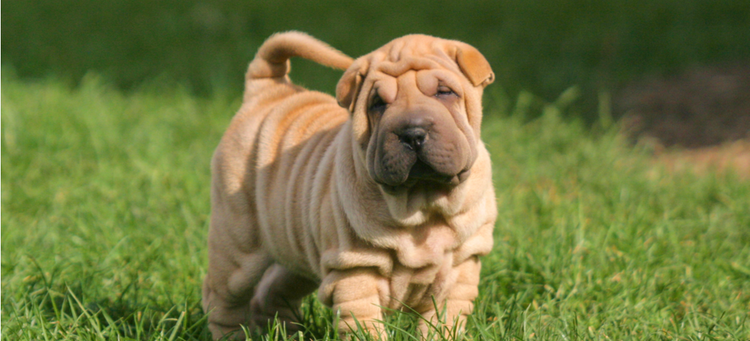 Shar Pei
Life Expectancy
9 - 11 years
The Shar Pei (also known as the Chinese Shar-pei and Chinese Fighting Dog) is an ancient dog breed with a dominant personality. In Chinese, Shā pí means "sand skin," which is a direct reference to the breed's coarse hair coat. They were initially bred by peasants for fighting, hunting, and guarding, but have an appealing appearance that stands in contrast to their ability as brawlers. The breed is known for their signature loose, wrinkly skin, and "hippopotamus" face. The bristly texture of their skin and thickness of their muzzles makes it difficult for opponents to latch onto them during a fight. The Shar Pei has become less aggressive and more manageable over the years, but still requires the firm hand of a strong leader. They are best as the only pet in a household, as their assertive, stubborn nature may lead to fights with other dogs. They also lack the patience needed for interaction with kids, and, therefore, are not recommended for families with small children. The breed also requires frequent exercise, particularly agility training and brisk walks. Though they may be a bit headstrong, they are rather intelligent and easily house broken.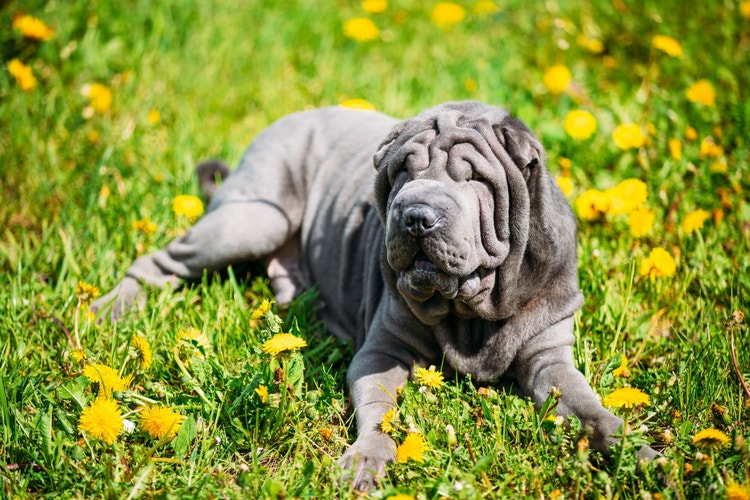 Friendliness to strangers
2
friendliness to other pets
1
Where Is the Shar Pei From?
The Shar Pei is believed to an ancestor of the Han Dog, which originated in Ancient China. They also share physical similarities with Mastiff breeds and the Chow Chow. Early breeders sought to maintain the wrinkly nature of their skin, since it benefitted them in battle and prevented traumatic injuries.
The breed faced extinction in the 20th Century, due in large part to bans placed on domesticated animals under Communist rule in China.
In 1973, Matgo Law, a Hong Kong-based breeder, sought the assistance of American breeders to help save the Shar Pei from extinction. His plea was a success, and Shar Peis were shipped to the United States for repopulation.
Thankfully, their numbers increased over the years, and they were eventually added into the American Kennel Club Studbook in 1988.
Caring for a Shar Pei

What Kind of Diet Does a Shar Pei Need?
What Kind of Diet Does a Shar Pei Need?
Shar Peis need a diet that takes their potential for food allergies into consideration. It is recommended that you monitor their eating habits closely and consult a veterinarian if they have any adverse reactions to their diet. These could manifest as gastrointestinal issues like vomiting and diarrhea or skin issues like itching and redness.

How Much Grooming Does a Shar Pei Need?
How Much Grooming Does a Shar Pei Need?
The Shar Pei hair coat requires minimal grooming. Their wrinkly skin, however, makes them prone to skin infections, so be sure to monitor them closely. Monthly baths, regular cleaning of the ears, and frequent nail trims can help avoid infection.

Are Shar Peis Healthy Dogs?
Are Shar Peis Healthy Dogs?
The Shar Pei is predisposed to a variety of illnesses, most of which are related to their unique appearance. Their excess skin around the face and eyes makes them prone to several ocular diseases, including entropion (when the eyelid folds inward) and glaucoma. They can also have a third eyelid prolapse, which typically requires surgical correction. Routine ocular exams by a veterinarian are recommended.
The breed is also prone to several skin diseases, including demodectic mange (a parasitic skin disease), pyoderma (skin infection), atopy (allergic skin disease), primary seborrhea (scaly skin), demodicosis (red mange), mast cell tumors (malignant tumors on the skin or within the body), and otitis (ear infection).
The Shar Pei is predisposed to: entropion, glaucoma, demodectic mange, food allergy, pyoderma, atopy, hypothyroidism, primary seborrhea, otitis, Shar Pei fever, mast cell tumors, gastric dilatation volvulus, hip dysplasia, congenital idiopathic megaesophagus, demodicosis, elbow dysplasia, renal amyloidosis, and third eyelid prolapse.

How Much Training Does a Shar Pei Need?
How Much Training Does a Shar Pei Need?
Shar Peis are relatively receptive to training if started at an early age. Their dominant personalities require a firm hand, and it's always best to establish your role as leader early to make them more manageable and loyal.

How Much Exercise Do Shar Peis Need?
How Much Exercise Do Shar Peis Need?
The Shar Pei breed requires a moderate amount of exercise. They are content with either long or short walks and can thrive in urban and suburban settings. However, they dislike being kenneled, as they enjoy their freedom immensely. Activities such as agility and obedience exercises can help keep them occupied.
What Are the Physical Characteristics of a Shar Pei?
What Do Shar Pei Dogs Look Like?
Shar Peis are well loved for their wrinkly bodies. Their faces bear a striking resemblance to the hippopotamus, and are accompanied by tiny drop ears and thickened muzzles.
What Color Eyes Do Shar Peis Have?
Shar Peis typically have sunken, dark brown eyes, though color may be lighter in relation to the pigmentation of the dog.
Are Shar Peis Strong?
Like their kindred spirit the Chow Chow, Shar Peis are physically strong (and strong-willed) dogs. Their history as fighters is reflected in their deep, wide chests and muscular frame.
Do Shar Peis Have Curly Tails?
Shar Peis have a very distinctive tail. It is held high on their backend and curls upward, resting on either side of the back. The base is thick and tapers towards the tip.
Shar Pei Front Legs
A Shar Pei's front legs are strong and straight. Their feet are compact and shoulders are muscular and laid back on the torso.
What Colors Are Common for Shar Peis?
Shar Peis come in a variety of colors, including fawn, cream, red, black, chocolate, and sable.
Shar Pei Back Legs
The hindquarters of a Shar Pei are brawny and angular. Legs are parallel with short hocks, and feet are compact and of a medium size.
Shar Pei Facts
The Guinness Book of World Records named the Shar Pei the rarest dog breed in the world in 1978. At that point, only 60 Shar Peis remained.
Ancient Chinese statues depicting dogs that resemble the Shar Pei date back to the Han Dynasty (200 BC).
The Shar Pei and Chow Chow are the only dog breeds to possess blue-black tongues.
Other Breeds to Explore
References
Morris, Desmond. Dogs: The Ultimate Dictionary of Over 1,000 Dog Breeds. Trafalgar Square, 2002.
American Kennel Club. The Complete Dog Book. Random House Digital, Inc., 2006.
Wilcox, Bonnie and Chris Walkowicz. The Atlas of Dog Breeds of the World. T.F.H Publications, Inc., 1995.
Chinese Shar-Pei Breed Information. American Kennel Club, 2021.