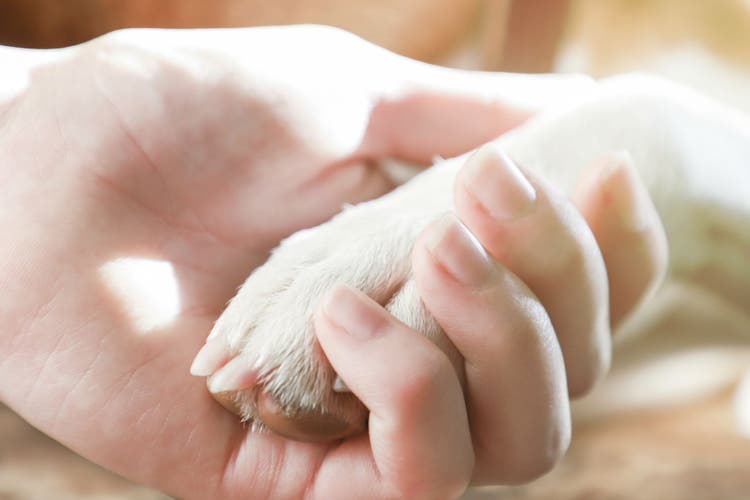 Pet Loss Support: Helping You Cope After Your Dog's Death
Losing a Dog is Hard: Pet Loss Support for Dog Death
The loss of a close friend can be devastating, and pets can be among our dearest companions. A pet frequently provides unconditional love, emotional security, and loyalty. It can be difficult to understand dog death and even harder to grieve and eventually move on.
Routine activities with an animal companion often provide structure, fun, relaxation, and social contact in our daily lives. The death of a cherished pet can mean the loss of an entire lifestyle as well as a devoted companion. Lack of understanding and support from people around us can make this period even more difficult.
Depending on the nature of the relationship with the dog you've lost and on the effectiveness of the coping skills you've developed in your life, the time it takes to feel better after losing a dog can vary widely. What I tell people is that if after one year you feel no different from your worst emotional pain right after the loss of your dog, then you're a good candidate for individual counseling.
Seek medical help if a few days after your loss you still feel so depressed or sad that you cannot handle even the basic tasks of your life. If you ever feel so hopeless as not to want to continue living without your dog, tell your doctor about these feelings as soon as possible.
Dog Death: Handling the Loss of a Dog
Here are some tips to help you handle dog death.
Be prepared. In some instances the death of a pet can be anticipated; the animal may be old or suffering from an extended illness. Other pet owners will be faced with a sudden loss, the result of an accident or short-term illness. Things that will need to be considered with a gravely ill or seriously injured animal include the pet's quality of life, emotional and financial cost, and when, or if, euthanasia should be considered. It is best to have contemplated these difficult matters beforehand.
Accept and express your feelings. It is important to understand that grief is a personal experience and there are no right or wrong ways to express it. The most important part of healing is to acknowledge what you are feeling and somehow release it. Try writing your thoughts in a journal or talking with family and friends. A good long cry can help, too.
Perform rituals. Many people find comfort in rituals, like paying their final respects with a service or setting up a small memorial with photos and objects that had significance in their pet's life, such as a collar, bowl, or toy. It is important to set aside time to think about the good times and remember to pay extra attention to surviving pets. They may need consolation during this difficult period too.
Seek support. You may be admonished by well-meaning friends saying, "He was only a dog." Others may encourage you to "get another one," as if your longtime companion could easily be replaced. This can make expression of your pain even harder. It is important to realize that you are not alone. Speaking with a counselor, joining a support group or participating in an Internet chat room can act as a wonderful resource for consolation and affirmation.
Feeling connected to other people or animals makes it easier to cope with dog death. The more emotionally isolated you are, the harder it can be to heal.
Pet loss support groups are available throughout the country. If you have specific questions about euthanasia or you would like more information about pet loss support groups, contact your veterinarian or check your local telephone directory or pet store.
One such group – Pet Loss Support Hotline at the University of California, Davis, School of Veterinary Medicine – was co-founded by Bonnie Mader. See the list of options below.
Deciding that you want to feel better is healthy. Some people think that feeling better will take them further away from the relationship they had with their pet. What might be helpful in cases like this is to learn to realize that recovery from grief doesn't mean forgetting about your beloved dog.
Pet Loss Hotlines
Talking to someone can help you to deal with dog death. The AVMA (American Veterinary Medical Association) provides this list of grief support resources:
Understanding Dog Death: The Stages of Grief
Recognizing the stages of grief can give you landmarks on the path to resolution, and help you recognize that your feelings are normal. The term "task" is used rather than "stage" to avoid giving the impression that grief is something marked by well-defined milestones. The mourner should not feel that he or she must follow some pre-set list, each lasting a determined period of time.
Remember that the grieving process for each individual is as unique as each lost relationship. There is no set pattern or time period for recovery, but there are some general patterns.
Denial. Most people will experience a period of denial, refusing to believe the pet is dying or has died. Denial usually is strongest when there is little time for preparing, such as with an accident or short-term illness.
Bargaining. For pets facing imminent death, many people will try to make a deal with God, themselves, or even the pet, in a desperate attempt to deter fate.
Anger. In frustration, anger may be directed at anyone involved with the pet, including friends, family, veterinarians, and even the pet owner himself. Blame directed at oneself often can lead to guilt.
Guilt. Guilt is probably the most common emotion resulting from the death of a pet. As the pet's primary caretaker, all decisions regarding care are the pet owner's responsibility. When a pet dies, the owner often feels guilty about actions taken or not taken – even about things that happened before the pet became ill. The most attentive caretaker may feel he or she should have somehow done more. It is important to try not to second-guess the decisions you made, and to remember that you tried to act in your pet's best interest.
Depression. Depression can indicate the start of acceptance. It is normal to withdraw and contemplate the meaning of the relationship in solitude. Deep and lasting despondency, however, requires professional help.
Acceptance. Now is the time to remember the good times. The daily reminders become a little less painful. You find you can start to think about the future.
Considering Another Dog After Losing a Dog
A new pet is just that – a new pet. He or she can never replace the pet you lost. If you decide to get another pet, you will be entering into an entirely new and different relationship. Be sure that you are psychologically, physically, and financially ready and willing to commit the time and energy needed to care for a new animal companion, without resentment or unrealistic expectations.
Pertinent Reading to Help You Cope with Dog Death and Loss
A Final Act of Caring, Mary and Herbert Montgomery, Montgomery Press, Minnesota 1993.
Caring for Older Cats and Dogs, Robert Anderson and Barbara Wrede, Williamson Publishing, Vermont 1990.
Coping with Sorrow on the Loss of Your Pet, Moira Anderson, Peregrine Press, Colorado 1991. Chapter 5: "The Final Decision."
When Your Pet Dies: How to Cope with Your Feelings, Jamie Quackenbush, Simon & Schuster, New York 1985, Chapter 3: "Your Reactions to Choosing Euthanasia."
Pet Loss: A Thoughtful Guide for Adults & Children, Herbert Neiburg and Arlene Fischer, Harper & Row, New York 1982.
Read Other Articles Related to Dog Death