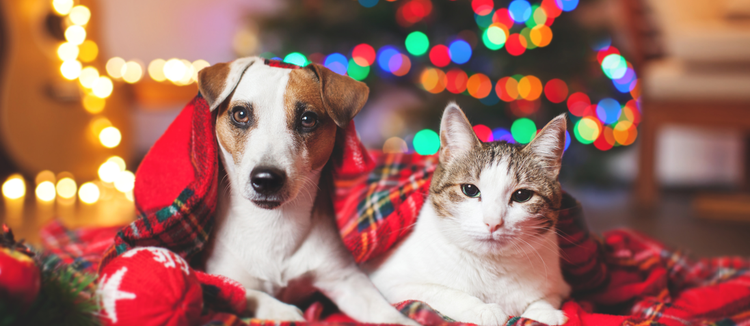 11 Pet Influencers Getting into the Holiday Spirit
It's the busiest time of the year! A variety of fun winter activities and festive chores means that Santa isn't the only one with a big list come December. These 11 pets are getting in the spirit while taking care of their own holiday to-do lists.
11 Festive Pet Influencers
The days may be getting shorter and colder, but all is bright when Samson helps hang the holiday decorations.
No-bunny loves Christmas more than Periwinkle. Some folks wait until the last minute to put up their trees, but she was ready for this year's festivities all the way back in November.
@neilpatbg is enjoying a festive beverage
Drinks like eggnog and hot chocolate just taste better this time of year. Neil Patrick, the Brussels Griffon, prefers a peppermint mocha.
The cat's out of the bag and in the kitchen! Angel the festive feline is whipping up a gingerbread house that almost looks too good to eat.
Benny is definitely having an "ice" time skating around this starlit rink.
@mistermimz is relaxing in his holiday PJs
After a ruff year and a busy holiday season, Mimzy is ready for rest and relaxation in these adorable seasonal pajamas.
Bennie the Golden Retriever is out and about enjoying the winter weather. Check out his cute and cuddly "snow dog."
@cityturtles are bundling up for fun in the snow
Squishy and Rosy may have protective shells, but they're still bundling up with hats and scarves before braving the elements for outdoor fun.
@arnedoodle is watching classic holiday movies
The holidays are the perfect time to rewatch favorite festive flicks. Take one guess what Arne's been watching this year.
@as9porquinhas are enjoying quality time with family
When it comes to seasonal fun and festivities, the more the merrier. These guinea pigs definitely agree!
@walterpig is collecting holiday cards from friends and family
Walter is catching up with pals who've sent holiday cards and sending out a few season's greetings of his own.
More Seasonal Pet Pictures
Need another dose of four-legged holiday cheer? Check out more posts from pets enjoying winter and the holiday season: