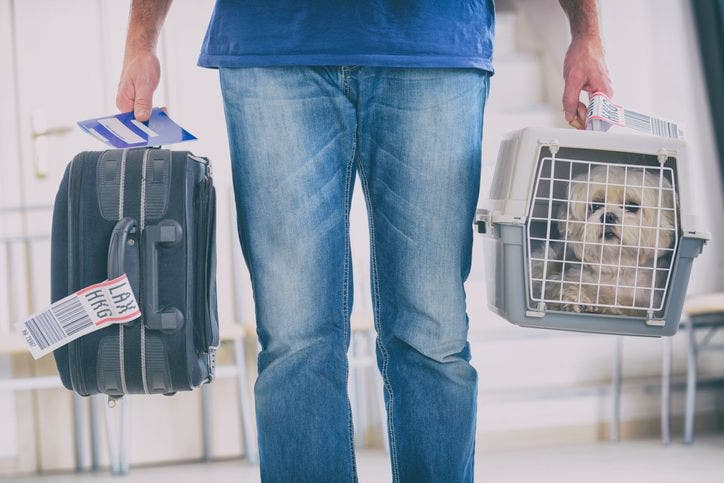 How to Use a Pet Travel Service
If you're a pet owner, it's inevitable that you've found yourself in a situation at least a couple of times in your life where you're traveling and you're required to figure out what to do with your pet. Whether you've got a cat or dog, you're tasked with the responsibility of figuring out what you're going to do with your pet while you're gone, which is one of the more challenging tasks when it comes to pet ownership.
Do you leave your pet at home and have someone come over to pet sit? Do you take your pet to a friend's house? Maybe you're willing to pay and decide to leave them at an overnight daycare. Probably not, because as we all know, those can start to get a little pricey after a couple of days. If that's not an option, have you considered using a pet travel service?
What is a Pet Travel Service?
So, you're picking up and moving your entire family across the country, but what are you supposed to do with Roxy, your beloved 10-year old poodle? She has terrible anxiety and there's no way she'd be able to sustain the 24-hour drive you're making. Sounds like you're in the market for a pet travel service.
Pet travel services are just what they sound like: a travel service for your pet. They allow you to transport your pet to a location of your choosing, just as if you were sending off your luggage. Of course, they're handled with better care than your suitcase would be, but similar nonetheless. Your pet's safety and well-being is every agency's greatest concern and is the key to their success — so you can be assured that your pet will be well taken care of during their trip.
Similarly to human travel agents, pet travel services function as travel agents for your pet. Most pet travel services will provide a customized consultation from start to finish, arranging professional pick up and delivery, which provides you with peace of mind knowing that Roxy will be taken care of and that you'll see her when you arrive at your destination! It depends on which agency you decide to go with, but some will even ship your furry friends internationally if needed. If you're moving to a different country, or even just having an extended vacation, this is just the service for your needs.
Pet Travel Service Requirements
When it comes to pet travel, there are certain requirements that must be met in order for your pet to be able to travel. For one, they must meet all rules and regulations when it comes to travel by flight, and especially internationally. For example, there are certain breeds of dogs that are sensitive to air travel and changes in temperature. This is the case for snub-nosed breeds such as English Bulldogs, French Bulldogs, or Boston Terriers. Make sure to identify whether your pet is first able to physically handle the demands of traveling long distances before trying to send them on a flight across the country.
Pets need to have all of their updated vaccinations before traveling and need to be deemed "healthy for travel" by an accredited veterinarian. This is an absolute must when it comes to international travel, so it would be helpful to go get this done just to make sure your pet is healthy enough for travel before making any big decisions. For example, if you wanted to send your pet to France, you would require a health certificate with a USDA Accredited Veterinarian signature, as well as an APHIS Veterinary Medical Officer signature that qualifies your pet as healthy.
Remember that while some animals are deemed to be socially accepted as pets, they may not legally qualify as pets, thus disqualifying them from being able to travel. The first step you would need to take is to find out whether there would be any reason your pet may be disqualified from traveling. The friendly benefit of working with a pet travel service is that they can help you fulfill all the necessary requirements needed for your pet to be able to travel and answer any questions that you may have in regards to your pet.
Costs of a Pet Travel Service
When it comes to your pet travel costs, the price will vary on a couple of different things: whether they're being transported via ground or air, the distance they're traveling, the time it takes to travel said distance, and if they're traveling domestic or international. All of these things can quickly add up. Some pet travel services will provide you with an example of their prices for every service they provide you with so you that you're able to get a ballpark estimate of what it would cost you to ship your pet, whereas other services don't tell you until you actually submit all of your information to them, which then allows them to calculate the total cost for you.
Every pet travel service sets its own prices, but to give you an idea of what to expect, one popular pet travel service sets the standard base cost for domestic air travel is $425 for a single pet (not including airfare cost). Their airport transportation fee after the trip ranges anywhere from $375–$550 depending on where they're dropping off your pet after they get off the flight, if you require this service.
Overall, you can expect to spend a fair amount of money for pet travel services when all the fees add up, but the peace of mind you'll have knowing your pet is being cared for and you don't have to worry about a thing is worth every penny.
Learn More About Pet Travel