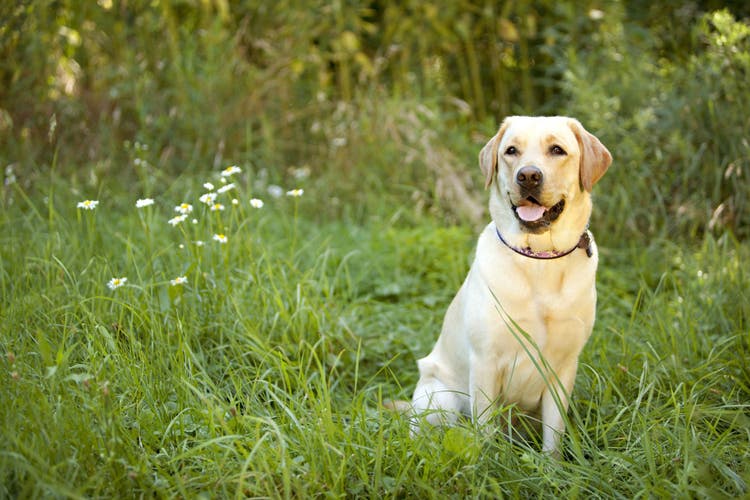 Labrador Retriever Dog Names: Cool Names for Labrador Retriever Breed Dogs
Are you looking for that perfect dog name that just fits your Labrador Retriever? Naming a dog can be difficult.
We have gotten several emails from wonderful and dedicated Labrador Retriever owners over the years asking for their own article on Labrador Retriever name suggestions! Here are some suggestions from them!
We hope this list of Labrador Retriever names gives you an idea on naming your pup. Do you have a good Labrador Retriever name suggestion? Email us your dog name ideas and we will try to add them to our Labrador Retriever name list!
      Abbey
      Ammo
      Apollo
      Autumn
      Bailey – Bailey's Irish Cream
      Bam Bamm –the sound he made going thru the screen door as a pup
      Barney
      Bastian – from "The Neve rEnding Story"
      Beaux
      Beck (for David Beckman)
      Bella
      Bentley ( like the car)
      Biscotti
      Biscuit
      Blasie
      Bodie
      Bruiser
      Cabo ( Cabo San Lucas)
      Casey
      Cadbury
      Cadeau (which is the french word for gift)
      Candy
      Carob (because she wasn't a real "Chocolate")
      Chamois
      Chase
      Chip – chocolate chip
      Cleo
      Codi
      Cody
      Cooder Blue : Ry Cooder. blues musician
      Cookie
      Cooper
      Corona
      Cowboy
      Crickett
      Crockett – Miami Vice
      Crockett – from a character in John Wayne's The Alamo
      DaKota
      Daisy
      Darius
      Dash
      Dudley
      Ellie
      Elvis
      Emily
      Fern
      Fey
      Fidget- We named our yellow lab. When she was a [puppy](/puppies.aspx "'Click here for more information. '") she didn't want to sit still. She was fidgeting while she liked to cuddle.
      Fischer
      Flower
      GatorBoy – because he's moaned like a gator
      General (General Ulysses Grant)
      Gracie
      Griffey
      Gunner – (the hunter)
      Gypsy
      Heath
      Heff – for Hugh Heffner! At the park He would go after the youngest female dog he could find and would not leave her alone.
      Hendrix
      Henry
      Holly
      Hoss
      Hunter
      Jake
      Jardis
      Jersey – from the bowling term "Jersey
      Jess
      Juno
      Kabota (like a big tractor)
      Kani – for Cani wine
      Karla
      Katie
      Kayla
      Kilo (narcotics dog)
      Kindle
      Kiwi
      Kleo
      Knut (canute)
      Kody
      Labacious
      Labadore
      Labagranate
      Labano
      Labbie
      Labby
      Labello
      Lady Godiva
      Lambert – named after Pittsburgh Steeler, Lambert number "58".
      Lexus
      Loki
      Loki
      Lu-Lu
      Luke
      Magic
      Maverick (We chose it because of the movie Top Gun)
      Max
      Maya
      Mocha
      Molly Brown
      Moose
      Mousse/Moose
      Nemo
      Nero
      Netsle
      Nova and Sable
      Odie (after Garfield's dog Odie)
      Ollie
      Onyx
      Oreo
      Oscar
      Ozlo
      Pearl (A black pearl is the most rare and beautiful. Also for Pirates of the Caribbean.)
      Pharaoh (after Tutenkamun)
      Phoenix
      Phoebe
      Piper
      Polo
      Purdue Pete- after the Purdue University school colors of gold and black
      Raineer (rain-ear). He is named after the beer.rainer.
      Ranger (was named after The POWER RANGERS toys)
      Remington
      Remmy
      Remy
      Ridley – for Chuck Yeager's assistant in "The Right Stuff"
      River
      Rolo
      Rosie
      Ruby ( for her golden color)
      Rudy – Like the Notre Dame movie, Rudy.
      Sadie
      Sailor
      Sampson
      Samson
      Sandy
      Sandy River Nuphar – river running down from Mt. Hood here in Oregon –
      Scout
      Scout
      Siena ( Siena Italy)
      Sienna" because she has a rich reddish-brown chocolate coat.
      Skeet
      Slinky
      Smudge –(Smudging' every surface she could find with tongue and nose prints!)
      Snickers & Hershey (user wrote they named their choc labs these names)
      Snoopy
      Sperry
      Starr
      Sundae
      TAKI MAH
      Tax – dumped on April 15, (which is Tax day)
      Taz
      Teton – Teton Mountains in Wyoming.
      Thor
      Tidus
      Titan
      Tank (we love this one!)
      Tritan
      TRUCK because he is built like a truck and Truck tough
      Tubbs – Miami Vice
      Tucker
      Tuff
      Tula ( from "My Big Fat Greek Wedding")
      Vinni (Vincent Van Gogh)
      Warren
      Yukon
      Zepi
      Zuzu – after the little girl in the movie, "It's a Wonderful Life"

Do you have a cool dog name? Or better yet, a cool Labrador Retriever dog name? Tell us the cool dog name and how you came up with it in the comments below.
Doesn't matter how or what you would like to name your dog, we have the perfect name for you. Are you looking for a dog name to go with personality traits for sweet dogs, small dogs, smart dogs, not so smart dogs, fast dogs, ornery dogs, or talkative dogs?
Or are you looking for a name your dog based on his hair coat color or type such as he is white, yellow, red or brown, silver or grey, black, black and white, spotted, wrinkled or a fluffy dog? Check out the links associated with any of those words and get our list! We have the perfect name for your dog!
Or have you found a stray dog or rescued a stray and want a name that fits?
Here is even a list of over 1200 common dog names. Or maybe you just want to look for an unusual dog name. How about cool dog names? We have tons of those!
Do you want to know what the most common dog names mean? Learn about the "meaning" behind common Male dog names and Female dog names.