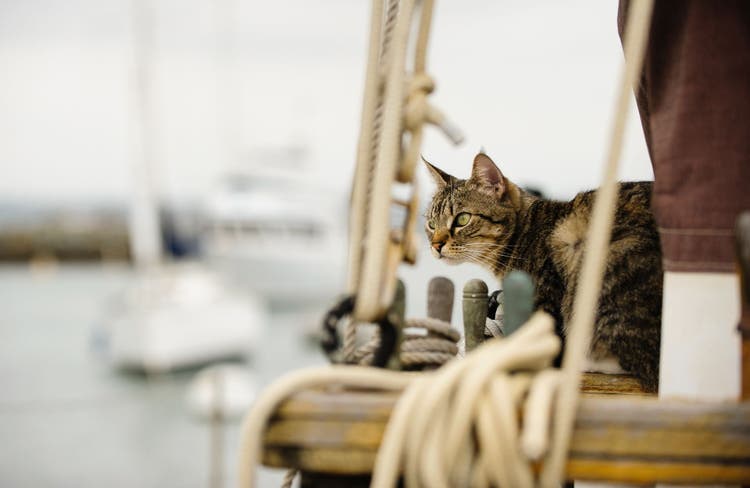 Naming Your Tabby Cat: Name Ideas for Cats with Tabby Haircoats
We have accumulated some favorite cat names for cats with tabby hair!
Are you looking for that perfect cat name that just fits your tabby kitty? Does your cat have tabby hair?
Naming a cat can be difficult. One way many pet owners do it is to look for a name that goes with your cat's physical characteristic such as his coat color.
What is a tabby? A tabby cat has distinctive markings associated with stripes, swirls or dots. They are a coloration of many domestic cats.
Here are some cat names that can be associated with those tabby hair-coated cats! I hope this helps you find the perfect name for your cat! If you don't see your favorite cat name below, check out the Ultimate Guide to Naming Your Cat. Choose your cats name by hair color, personality traits and even your personality!
Do you have any suggestions for cat names? Email us or add your names below and we will try to add them to our cat name list!
Favorite Names for Tabby Cats
Amber
Bloche
Cammi, short for camouflage
Canoli – cream color with drizzles of chocolate so I named him Canoli
Chutney
Cappuccino
Candy Cane
Cookie – because she was a light brown with dark brown splotches and looked like a chocolate chip cookie.
Colo (for frothy coca cola)
Dapple
Dumpling
Fruitcake
HodgePodge
Knick-knacks
Indy. We thought she looked like what we call Indian corn.
Jennyanydots- for character from the musical CATS whose "coat is of the tabby kind with tiger stripes and leopard spots"
Harlequin
Nutmeg
Nick
M & M (for lots of colors)
Mimi
Marble…….my found little kitty look like beautiful black veined marble….
Marbella. Marb from the word marble since she looks like a marble cake and Bella because she is a beautiful little girl.
Max or Maxine (for Max a million colors)
Mr. Bing Bing (Bing-a-Ling or Bing-Bing for short
Mottle
Mudge (he was sort of smudged and mottled)
Piper (she has piping type stripes)
Oliver
Quin – My cat, Quinn, has the typical tortie coloring except that her face is half black. She looks as though someone painted the right half black with the separation between the black and multi right down the middle of her sweet face. I thought of harlequin and then Quinn.
Panther
Patches
Pebbles
Raya (means stripes in Spanish)
Reese – like the candy, named for a cat that has orange, brown, black, and a hint of yellow. I got her from my cousin, and her neighbor called her "R.P." for Reese's Pieces.
Ringo
Samuda
Spotty
Scraps
Speckles
Splatters
Spice
Streak
Stripe
Stripey
Sausage" – Saucy for short
Swirly
Smuze
Tuppence
Tabetha
Tapestry
Tabby
Tabis (Tabby comes from French Word Tabis)
Tabs
Taz
Tiger
Tigger Lilly
Tigg Mo – short for "tigger mous".
Tiggus – for a tigger – this owner often calls him Piggus"
Tigerfuzz (named cuz he was just a ball of fuzz with tiger stripes)
Tigger
Timber
Twinkle
Twanny
Tawny
Tolkien after the author of Lord of the Rings
Whiskey
Zeeman – from zebra because of the stripes
Do you have a tabby cat name suggestion? Tell us about the cat name and how you came up with it! Email us!
More Name Ideas for Tabby Cats
Doesn't matter how or what you would like to name your cat, we have the perfect name for you. Are you looking for a tabby cat name to go with personality traits such as independent cats, playful cats, funny cats, cute or beautiful cats, loving cats, sweet cats, big cats or cats with big personalities, small cats, smart cats, not so smart cats, ornery cats, or talkative cats? Or how about a stray or rescued cat?
Or are you looking for a name your cat based on his hair coat color or type such as he is white, brown, orange or red, grey, black, black and white, calico, yellow or a fluffy cat? Check out the links associated with any of those words and your get our list! We have the perfect name for your cat!
Here is even a list of over 1200 common pet names. Or maybe you just want to look for an unusual name. How about cool cat names? We have tons of those!
Do you want to know what the most common cat names mean? Learn about the "meaning" behind common Male cat names and Female cat names.