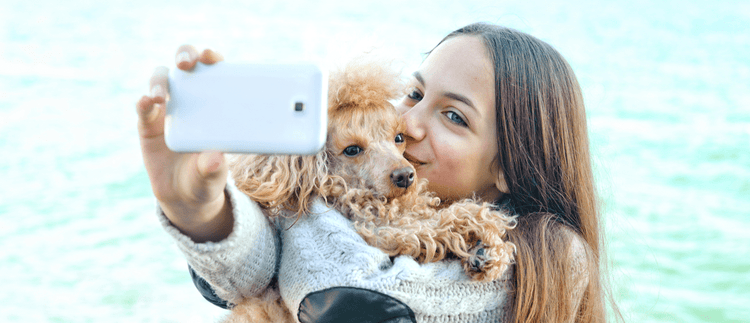 3 Pet Influencers Share Their Instagram Tips
Want to make your pet Instagram-famous? You're not alone. Animal content has come a long way since the early days of viral cat videos. Today, pets aren't just online celebrities — many are verified influencers. They're courting likes, building followings, and earning advertising dollars with even more skill than their human counterparts.
Social media is a dog-eat-dog (and cat-eat-cat) world that's getting more competitive all the time. Countless would-be influencers have started accounts only to grow discouraged by disappointing engagement. One New York Times contributor even catalogued his failed attempt to make an Instagram star of his Pembroke Welsh Corgi, Max.
While hundreds of pet-centric accounts come and go, some manage to stand out from the pack and build large, devoted audiences. The PetPlace.com team reached out to three accounts that have not only stuck it out, but also engaged a wide swathe of the pet-loving community and distinguished themselves as Instagram-famous animals.
Here's what they had to say about crafting compelling content, finding the right audience, and standing out in a crowded digital field.
Sure-Fire Instagram Tips from Pet Influencers
Use High-Quality Images: This is an obvious, but important, one. No one wants to wake up, grab their phone to scroll through Instagram, and see a blurry picture of what might be a cat, but could also just be a piece of fluff on the ground. Make your photos crisp and clear and you'll already be winning. You don't need a fancy camera for this, your phone will do just fine!
Choose Your Tone and Stick to It: My followers know me as Cheddar – the lover of bread, wine, and self-love, who is equally self-deprecating and sassy. They know this because I decided what my tone of voice would be and have remained consistent. My followers have gotten to know and love my personality and that is what keeps them coming back (also my cute, fluffy tummy — that keeps them coming back too).
**Know Your Target Audience: **There are so many different people you can make smile with pet content. Maybe your target audience are lovers of big cats, movie buffs, or folks who love fashion. By identifying who you think will be your biggest fans, you can create content that the right people will relate to or want to share with others. I generally attract women who can relate to my struggles with getting out of my bathrobe to go out on a Friday night. I've even had lots of my followers say that I've converted them from being cat haters (*gasp*) to cat lovers thanks to my shenanigans.
Video Content for the Win: In my short career as a cat-fluencer, I have found that video content on my account receives the highest engagement. Whether it's a music video, a cooking demo, or my attempts to run a marathon (spoiler alert: I failed), it's videos that my followers love to engage with the most.
Engage With Your Followers: Don't forget that your followers are your everything. I attempt to reply to every direct message I receive. I even have followers ask me for advice, which flatters me endlessly. Cheddar knows best, after all.
Quality Over Quantity: At the end of the day, although beautiful, inspirational, and incredible — I am still just a cat. If I don't feel like posing on a particular day, my owners never force me. I only have to partake in photo shoots when I'm in the mood to shine. Please remember to treat your fur baby/star with respect. You don't need to post everyday to have success. 2 to 3 high quality posts a week is better than a grumpy cat or doggo.
Build a Community: Instagram stories are a great place to build connections with your community. I frequently put up an 'Ask Me Anything' box and get many questions from my followers with everything from "Cheddar, what is your favorite cocktail?" to "How do you learn to deal with your insecurities?" Yes, it can get pretty deep.
Only Collaborate With Brands That Make Sense: Having a following means brands may start to reach out to you for collaborations. Whenever this happens, it is important to consider how you can still create content that adds value for your audience and makes sense to your overall vibe. As a queen of self-love and body positivity, if I suddenly started talking about waist trainers or diet pills because a brand paid me to, my audience would not be pleased. If I'm getting pampered with the latest beauty products, however, or sipping on a Pinot Noir — well that's the Cheddar they know and love!
Be Consistent: Regularly posting compelling, new content is essential for maintaining steady engagement. More content means more likes, comments, and shares.
Engage the Community: Be consistent when it comes to other people's posts too. Liking and commenting on similar accounts is a great way to attract attention to your page. It's also helpful for making new friends and picking up tips from other pet influencers.
Take Unique, Clear Photos: Phones these days are just as good as high-quality cameras. That means there's no excuse for an unclear photo or video. Try out props, costumes, and scenic backdrops to help make posts especially eye catching.
Pay Attention to Your Audience: Take note of what your audience likes to better tailor your content. Switching to a Business account will give you additional insights into engagement, as well as your audience's preferences.
Use Hashtags: This doesn't necessarily mean using the latest or most active hashtags. Experiment with different hashtags and see which ones you rank for. Stick with these to reach the widest and most active audience possible.
Don't Get Discouraged: Instagram's algorithm is always changing. You never know what topics will trend next or when your next post will find an audience.
Although we didn't originally set out to make Donut Instagram famous, by the time he turned six months old (and had lived with us for four months), he was a star. He surpassed 10K followers, started consistently gaining 100-200 new followers a day, and had his photos and videos shared on countless profiles across the Internet. Here are three simple principles that have helped us create and maintain a successful pet Instagram:
Interaction: Follow, like, comment, and engage with other similar accounts! A couple weeks before we even met Donut and brought him home, I created his account. First, I uploaded a picture or two from his breeder and then I spent some time following other similar accounts. By the time he was home, 400 followers were already excited to watch him grow!
Consistency: Post as consistently as possible (for example: every other day, once a day, twice a day–whatever works for you), just don't over-post! Since the day Donut officially became part of the family, I tried to post one picture or video per day, as well as a few stories and/or reels here and there. I didn't go crazy and post every single thing he did any given day, but I'd pick a favorite picture or video to share.
Creativity: Try not to post your pet in the same place doing the same kinds of things everyday. That gets boring really fast! Try different angles, places, and activities (don't forget to include the appropriate hashtags!) to not only keep your followers interested and engaged, but to also gain more followers. I make sure to put just as much time into writing captions and hashtags as I do into taking and editing Donut's photos or videos. I try to add humor wherever possible and I always add the maximum amount of hashtags to each post. The more diverse the hashtags, the more engagement a post will receive. For instance, one day I posted a picture of him with headphones and an Xbox controller and added hashtags we wouldn't normally use such as #pcgaming and #xboxpets. Many of the people who search for or already follow those hashtags saw that post and gave a like and follow.
More Cute Posts from Pet Influencers
Want some more inspiration for your pet's Instagram feed? Check out these adorable posts from social media savvy pets: