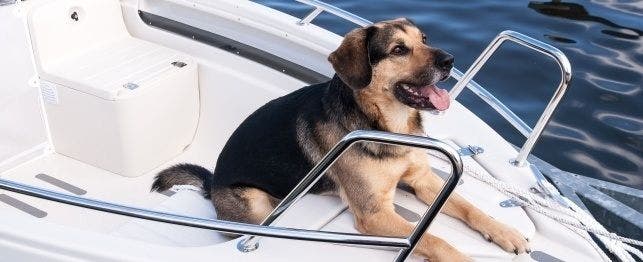 Boat Themed Dog Names
Anchors aweigh! Do you love the water, the peacefulness of watching or the fun of being in it? If so, you might want to give your favorite canine companion a boat-themed name.
We want to help, so we came up with a list of our favorite boat-themed dog names right here. Some are regal, some are silly, and they're all perfect for a sea-faring pup.
Favorite Boat-Related Dog Names
4-Winds
Admiral
Anchor
Bass
Bay
Bayliner
Beach
Bennington
BH (for boat house)
Biminis
Bo-po ("boat police")
Buoy
Canal
Canoe
Captain
Castaway
Catalina
Catch
Catfish
Checkmate
Chriscraft
Cigarette
Club
Commodore
Compass
Corona
Crew
Crosswind
Crownline
Cruise
Cruiser
Cutty
Detour
Diesel
Dock
Dockage
Express
First Mate
Flip-Flop
Float
FriendSHIP
Harbor
Haul
Isle
Journey
Kayak
Landing
Latitude
Launch
Lift
Lighthouse
Lilly Pad
Longitude
Marina
Mast
Mate
Mercury
Nautical
Niche
NS (short for "no shoes")
Ore
Pelican
Pibs (for "Put-in-Bay")
Picnic
Pier
Pointe
Pontoon
Port
Raft
Regal
Rinker
Sail
Sailor
Sand bar
Sea-sea (or C-C)
Sea Doo
Shore
Sinker
Ski
Spillway
Starboard
Sub
Sundancer
Sunrise
Sunset
Swimmer
Tackle
Tequila
Wake
Waves
Whaler (for Boston Whaler)
White Cap
Yacht
Yamaha
Still looking for the right name for your dog?
Are you looking for a dog name to go with personality traits for sweet dogs, small dogs, smart dogs, not so smart dogs, fast dogs, ornery dogs, or talkative dogs?
Or are you looking for a name your dog based on his hair coat color or type such as he is white, yellow, , red or brown, silver or grey, black, black and white, spotted, wrinkled or a fluffy dog. Check out the links associated with any of those words and get our list! We have the perfect name for your dog!
Here is even a list of over 1200 common dog names. Or maybe you just want to look for an unusual dog name. How about cool dog names? We have tons of those!
Do you want to know what the most common dog names mean? Learn about the "meaning" behind common Male dog names and Female dog names.
We hope this helps you pick the best name for your dog especially Boat themed dog names!